Inner Wheel Club of Sandbach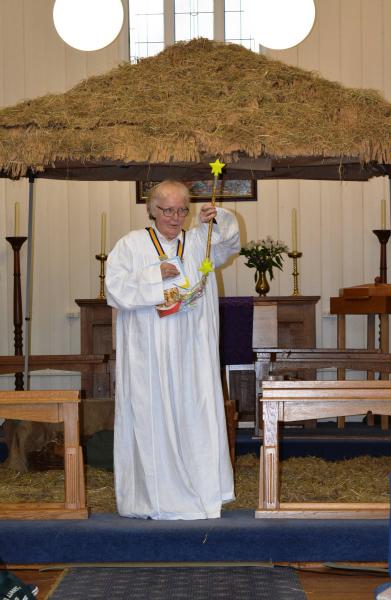 Club correspondent Lalita Unnithan writes about the activities of the club during November and December 2015.
Update
9th November ,
President Ginny Lewis, invited Deborah Darnes and Karen Foster, members of Sandbach Methodist Church to speak about Food banks.
Started in St. Mary's in Arizona USA, Food Banks, now exist in thousands in the world. Loss of income to support families arises from a number of reasons, ill health due to physical or mental, leading to loss of jobs or unable to work. Some have no money left to buy food after paying bills and rent. The years 2010 -2013 has seen a rise in the need for the Food banks
Sandbach Food Bank was set up in April 2013 by Debra and Karen (Churches Together). Food Banks serve many needy people referred by agencies and certain rules apply . Referral rating in Sandbach is low compared to some other areas.
After the talk Gill Merry thanked the speakers and members handed the food parcels that they brought along with them.
16th November
Inner Wheel held the Christmas Coffee morning .There was good attendance, it was a venue for friends to catch up on news over a cup of coffee. Along with the ever popular home made cakes stall, there were St Lukes hand made cards, stallsl for jewellery and fresh flower arrangements and Gwen's teddy bears.
It is also a time for donating some of the money we raised during this year. To receive the donation, there were representatives from the Parkinsons Appeal, Royal British Legion, NSPCC, St. Lukes Hospice Cheshire, and Salvation Army.
The raffle went well and prizes were cheerfully won by some lucky winners.
7th December
A change of scene for our end of year, Christmas Meeting, it was held at St Mark's Church Shavington, this is also where our President Ginny conducts services. It was a lovely setting with a manger and a crib. It was entertaining, poems read by President Ginny, Judi Baxter and Gillian Merry highlighting the significance of the festive season, as well as funny ones. We also had a surprise, when Father Christmas arrived and made us laugh when he invited ladies to sit on his knee, Judi, Carol and Maureen accepted the invitation!
10th December
President Ginny Lewis and four members also attended the District Meeting and lunch at Bramhall .District Chairman Diana Ayres and her committee members produced an enjoyable afternoon of lunch and entertainment .The District Choir was excellent .This was followed by the meeting.
15th December
A few members of our club went carol singing to the elderly residents of St. Stephens Nursing Home in Elworth. We were warmly welcomed by the staff. We sang carols requested by the residents, accompanied on the piano was Rotarian John Higgins, poems too were read by President Ginny Lewis, Gill Merry and Judi Baxter. There was festive food of mince pies and cakes, pastries and cups of tea. We wished them Merry Christmas and A Happy New year.
Our past active members, who no longer can join us at regular meetings were not forgotten and on the 17th December, Maureen Williams visited Joyce Jennings at her nursing home to convey her our warm wishes for the festive season and some of us also went to the home of Kath Hovey and spend sometime with her enjoying a chatter and mince pies and cups o f tea.
Lalita Unnithan (Club Correspondent)