NEWS
Sportive/ Young Photographer / Young Chef / Young Innovators / 23rd Classic Car Run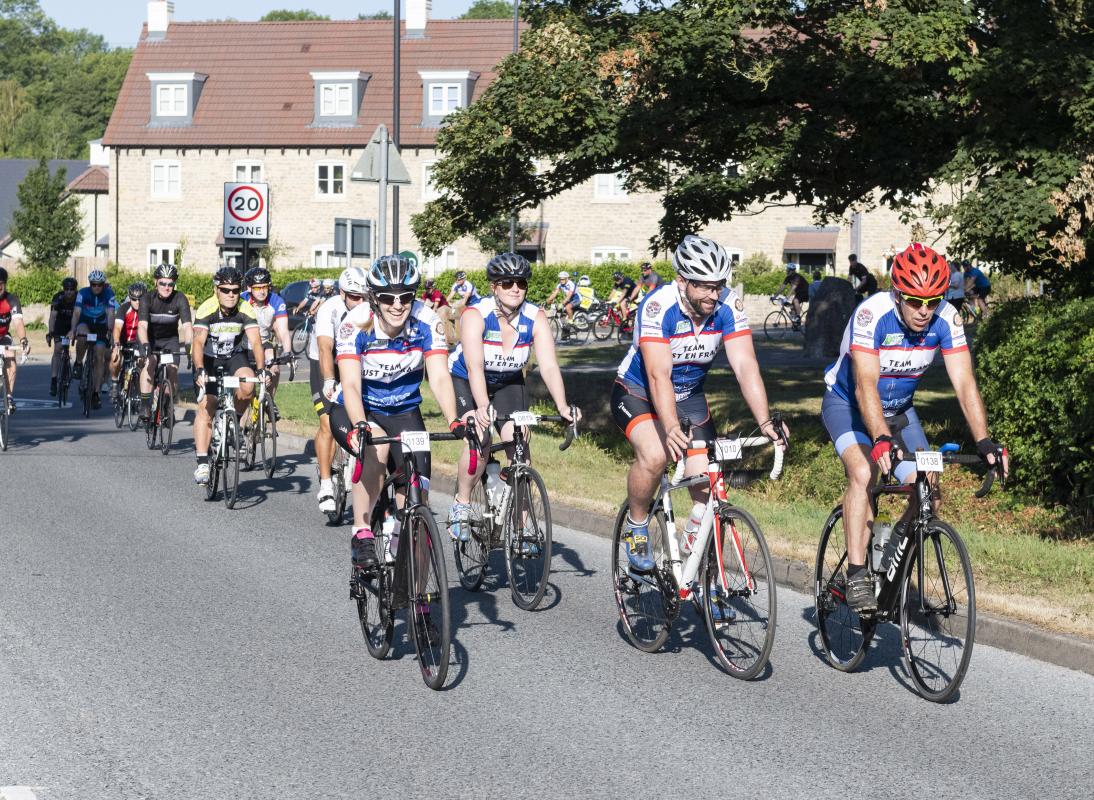 Hundreds of Cyclists Take On Sportive Challenge
Almost a thousand cyclists took to the road on Sunday 5th August for one of the major events in the Cycling calendar - the Sodbury Sportive.
Actively supported by members and friends of the Rotary Club of Chipping Sodbury, the Saddleback Sodbury Sportive is regarded as one of the UK's most popular cycling sportives. The wonderful countryside, quiet lanes and beautiful views regularly attract cyclists from all over the country.
Following three circular routes of 30, 60 or 100 miles, riders set off from Chipping Sodbury Rugby Cub. This year, excellent weather and spectacular views across three counties made it a ride to remember.
From lunchtime onwards, friends and relatives were waiting back at Chipping Sodbury Rugby Club to welcome back weary riders. On site the Event Village provided riders with the opportunity to relax with a drink and free food, take advantage of a sports massage, ice cream or a barbeque, all whilst swapping stories with other cyclists and enjoying live music.
"This is a significant event in our fundraising calendar", said Rotary Club President Richard Little. "The sportive is a huge undertaking and congratulations must go to everyone, in particular at least 70 Rotarians, members of Inner Wheel plus friends and relatives who helped to make this such a successful event."
Those taking part were full of praise.
Rider Nicola Cannon posted on Facebook. "My first ever Sportive. Fantastic event, well organised, a big thank you to all the helpers. The fruit cake and flapjacks were amazing and kept us going to the end".
Creative Flair Shown By Young Photographers
The Rotary Club of Chipping Sodbury regularly sponsors a photography competition for A-level students to enable them to exhibit their work and to have it examined and apprised by professional photographers.
The finals of this year's competition took place last week when eight students from Chipping Sodbury's Cotswold Edge Sixth Form photography group, accompanied by Head of Sixth form Gillian Hilleard, presented their images for final judgement.
Casting an expert eye on the results were international photographic judge Betty Billingham, FDPS, AFIAP, ARPS, APSA and local commercial photographer Rich McD. They were joined by Rotarians Richard Little and Doug Lodge.
Each student presented their work, explaining why and where the picture was taken, any editing they had done and their feelings about the pictures. They were then quizzed by the judges.
The judges agreed that the quality of work presented was very high and had some difficulty in deciding the final placings. Eventually they came to a decision and the winner, with her picture of burning flowers, was Ellen Bush. Second prize went to Matt Bailey for his picture of melting ice droplets, Beth Goodchild's picture of a perfectly lit skull was highly commended and Owen Ladip'spicture of two girls in the sea at sunset was commended.
Following the presentation, the judges spent time with the students giving them a detailed critique of each picture, answering questions and giving suggestions.
Rich McD commented "I have judged similar competitions previously but the standard this year was higher than ever. The students had the opportunity to talk about their work helping the judges understand why each photograph had been presented".
Hot Young Chefs Cook Up Feast
As outside temperatures soared last week, twelve Year 9 students at Brimsham Green School moved into the kitchen to undertake the annual Young Chef challenge. Organised by the Rotary Club of Chipping Sodbury the competition required the young chefs to prepare and plate two high-quality dishes – a main course and dessert – all in 105 minutes
The main stipulation was that the finished food was full of flavour, professionally presented and contained at least one 5-a-day ingredient. This done, the contestants were then required to discuss with judge Sam Wells, from Hobbs House Bakery, how the ingredients they'd used meet the Eatwell Guide.
Cooking for the competition took place under the watchful eye of Mr Adam Mills, Brimsham Green School's teacher of food preparation and nutrition.
The consistently high standard of the food prepared certainly had the judges tasting a little bit more than usual. After considerable deliberation judges Sam Wells and Rotary's Ian Hodgson decared Leah Walker as the winner. Her winning entry was Moroccan chicken with vegetables followed by lemon cheesecake. Four other cash prizes were awarded, and participation certificates were given to all the students.
In case you were wondering, The Eatwell Guide is issued by the Government and divides the foods we eat and drink into 5 main food groups. The Guide then shows how much should come from each food group to achieve a healthy, balanced diet.
Young Innovators Shine
Students from Chipping Sodbury and Brimsham Green Schools recently took part in the testing Young Innovator Competition.
Held annually in Chipping Sodbury Town Hall and organised by the Rotary Club of Chipping Sodbury, the competition challenges young people to find new ways to design and make products across a number of different areas.
In all 55 students voluntarily took part, offering their work to judges representing the local community sponsors Hanson Quarries, Renishaws and Waitrose.
The eventual winners were declared as Stephen Hobbs (Product Design,) Aaliyah Wilmott (Senior Product Design), Rochelle Brooks ( Textiles) and Tilly Crowley ( Graphics) with George Birnie voted Young Innovator
Organiser Keith Pattison said "Rotary is always happy to support the work and aspirations of young people in the area. Sometimes we do this financially, sometimes with prizes and also by running competitions such as this".
Classic Cars Attract Large Crowds to Town
Hundreds of residents took an early breakfast on Sunday in order to catch the array of stunning vehicles assembling in Chipping Sodbury High Street.
The Classic Car Run, organised by the Rotary Club of Chipping Sodbury and now, in its 23rd year, is one of the most popular events in the annual calendar.
Enthusiasts from as far afield as Plymouth, Watford and South Wales brought almost 200 cars and motor cycles to the town. Immaculately presented, the age of vehicles spanned almost the whole of the past century.
First away was Neil McLagan's Austin Clifton Tourer, made in 1926. He was closely followed by Steve Sage in his 1927 Donnet G2 Torpedo Lux.
The route this year took the drivers through some spectacular Gloucestershire , Wiltshire and South Gloucestershire countryside. A mid-morning break for coffee and cake at Chippenham Rugby club made this a memorable drive.
The end of the route was the Chipping Sodbury Rugby Club at the Ridings Playing fields. The cars lined up for judging by Rotary Club president John Berridge, whilst the drivers took a well- earned lunch provided by the Rotary Club.
Judged Best Car was the 1967 Mark 1 Aston Martin owned by Peter Hickling of Plymouth. The best motor cycle was Michael Williams' 1956 Norton 99 and the best themed vehicle was the 1967 Volkswagen Camper D86 Vantage, driven by Robert Carr.
At least 500 visitors came along during the afternoon to see the cars and to enjoy the party atmosphere. At the centre Rotarian Nick Cragg acted as MC from a stand donated by Williams Automobiles, next to which a gleaming new Morgan sports car attracted admiring glances. Music was provided by For the Record and number of charities and organisations such as the Bristol Motor Club , the Teenage Cancer Trust and Blood Bikes were present.
A great deal of interest was also shown in the Chipping Sodbury School stand which featured their famous award-winning Rotary Racer along with their newest car, both built by students and parents.
"This was probably the best event we've held", said co-organiser Mark Benstock. "The weather was perfect and about 70 Rotarians and friends helped the day to go smoothly. I'd like to say a big thank-you to all of those who supported us and, in particular, all those who came along on the day."