NEWS
Rotary Donation Helps School Literacy
New international test results have shown that the use of phonics has led to a dramatic improvement in children's attainment. Currently reading standards in England are the best in a generation.
Old Sodbury Primary School is keen to ensure that their pupils meet the national standard.
However, with a lack of early reading that would support phonics learning, the school desperately needed new early years phonic books to help their younger pupils.
Following a request for help from the school, Chipping Sodbury Rotary Club stepped into the breach and agreed to fund the purchase of new books.
Rotarians Ian Lowe and Keith Pattison recently visited the school and, to the delight of head teacher Bernice Webber-Brown presented her with a cheque for £550. They then visited the reception class to see the books being used.
"It is very important to have good reading standards" said Mrs Webber-Brown, "not only for when the children are tested at an older age, but right from the beginning when they first start school. These books will really help our children build a strong foundation for reading."
Rotarians Experience Wartime In The USA.
Over paid, over-sexed and over here was a phrase often used to describe the American GI. In World War II. But how much do we really know about the life they left behind in America?
Aside from Pearl Harbor, the USA avoided bombing, But, like Britain, did they have rationing, did they resort to growing their own food and, without mainland bombing did they have a light's out policy?
These and other questions were answered recently when Old Sodbury Village Hall took a step back in time for a 'World War II in the USA" evening, organised by Chipping Sodbury Rotary Club.
This year is the 80th anniversary of the outbreak of the second World War so, initially, it was thought that the club might mark the event by holding a dinner using recipes from that period.
"We soon decided that a menu such as this might not be too appealing to modern tastes," said club president Richard Little, "So we began to look at what effect the war had on America. The more we researched the more we discovered facts that were totally new to us".
The event proved to be extremely popular. In a hall festooned with Stars & Stripes and the music of wartime favourites Glen Miller, Benny Goodman and Lionel Hampton in the background, sixty people sat down to eat delicious potato soup and chicken stew followed by Brown Betty for dessert. The evening ended with a half-hour film show consisting of a news report of General Patton's 5th Army crossing the Rhine, plus three propaganda cartoons that featured childhood favourites Tweety Pie and Donald Duck.
"It was a great opportunity for club members and guests to let their hair down and dress up a little, whilst learning something about life on the other side of the Atlantic", said organiser Stuart Hobday
And the answers to those earlier questions?
In the USA, tires were the first item to be rationed in January 1942. Petrol, meat, and clothing were also tightly rationed. Most families were allocated 3 US gallons (2.5 imp. gal) of petrol a week, which sharply curtailed driving for any purpose. Production of vacuum cleaners, and kitchen appliances was banned.
During World War II Americans planted "victory gardens," in which they grew their own food. By 1945, some 20 million such gardens were in use and accounted for about 40 percent of all vegetables consumed in the U.S.
Early in the war, German U-boats were using the backlighting of coastal cities in the Eastern Seaboard to destroy ships leaving harbours. It was the duty of local civilian defence to ensure that lights were either off or thick curtains drawn over all windows at night.
Richard Williams' Short Jaunt with
Sweaty Betty or Round the World on a
Shoestring

On 7 November 1971 four young men – Richard, Tim, Pete and Ron (a late replacement for Dennis who had been arrested) set out to travel across the world in Sweaty Betty, a 1950 Series 1 canvas top unheated short wheelbase Land Rover, crammed with themselves, their gear, petrol and tinned food.
They had no real maps, real plans, mobiles, satnavs, or credit cards, very little cash and no language except English. It was, Richard said, sheer stupidity. Richard's memories had been refreshed when Pete Strickland asked him last year to proof read his book Round the World on a Shoestring. He was fascinated to read of himself, 21 year old "Dick".
It had started for him, an engineer, when he answered a small ad Person Wanted to Drive to Australia. He thought that when they got over the Alps, the climate would be tropical and they would be able to live off the land. Those proved mistaken expectations.
From their many visits en route Richard spoke of several cities. First stop was Paris, where it was cold. In the Swiss, Austrian, Italian and Iranian mountains they encountered ice, snow, blizzards and intense cold, not suited for camping in a flimsy tent or for driving or sleeping in Betty. Venice was warmer. Dubrovnik had not yet been bombed. The roads in Dalmatia along the coast were rough and precipitous. In Yugoslavia, fearing bandits, they ignored warning wave downs but found their shortcut track over the Cakor Pass blocked by 6 ft of snow, and had to return to take the longer lower route – a wasted 60 miles. Istanbul was a hardly visited city. In Turkey they headed for Syria via Ankara.
Roads were rare, wheel marks in the sand confused and sometimes, to confirm compass and telegraph wires, they swivelled their radio to find where the Ankara signal was strongest. They passed Snake Castle, Aleppo, Saladdin's Citadel, the Euphrates River, the so-called Hanging Gardens of Babylon, the Caspian Sea, Teheran and in Afghanistan Herat, whose citadel was built by Alexander the Great. Everywhere they met friendship and hospitality. Betty, the Land Rover, needed exhaust repairs but ground to a halt only once – the cause a blocked hole in the petrol filler cap.
At Kabul however they sold her. Unbelievably complex manoeuvres evaded import taxes. They made two innocent mistakes. Opening the barrier at a seemingly deserted Syrian border resulted in being surrounded by angry Army officers (who had been at prayers). Another was photographing Josef. He demanded the photo as it contained his soul and when they could not produce the photo (this was all pre-digital) drew a gun on them. As the Pakistan – India border was blocked through conflict, after the Khyber Pass they flew from Karachi to Ceylon and lived on the beach. Richard took the steamer from Madras to Penang and hitched through Malaya to Singapore where a haircut was essential to avoid arrest. He stayed with a college friend whose father was in the vice squad.
He sailed to Perth, Australia on the Kota Singapurra, a ship which had to be run by the passengers as the crew were on strike. He made his way to Sydney which was too cold. Richard worked at a cattle ranch in Queensland before eventually flying home from Darwin. (Where, you will remember from September ChipChat cover, Rotarians wear shorts.)
Sodbury Slog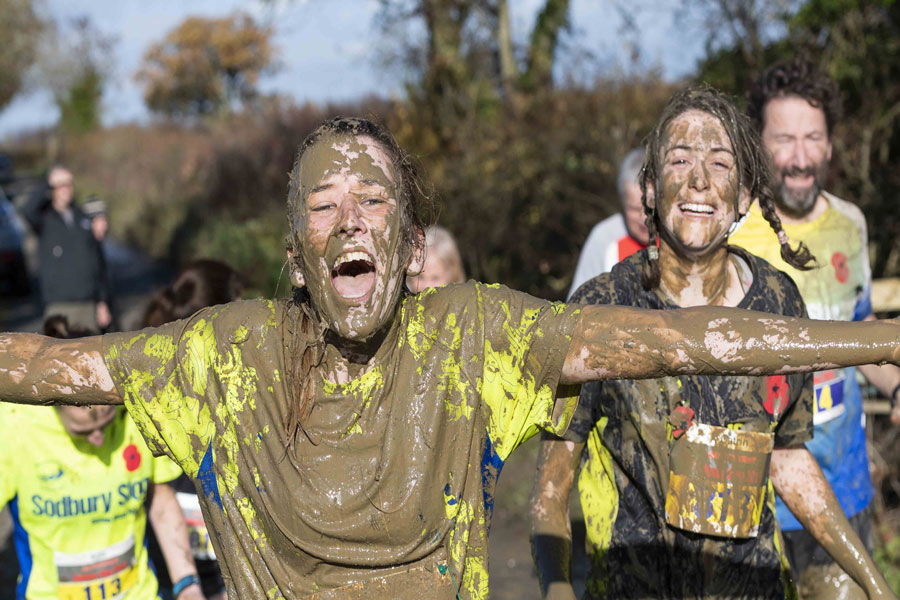 The weather for the Sodbury Slog was ideal – rain before, sunshine during. We received a cheque for £2,500 with thanks for our marshalling. Thank you especially to John Ludlow whose personal contribution is much greater than the rest of us.
Classic Christmas Fare Raises Over
£1000 For Charity
A team of jolly Rotarians raised over £1000 at Chipping Sodbury's Victorian Day, by entering into the spirit of the annual event selling Mince Pies, Mulled Wune and Hot Chocolate
Their stall was one of dozens that lined the High Street offering a wide variety of gifts and goodies for sale to the hundreds of visitors.
"With the help of superb pies from Hobbs House Bakery, we've offered this traditional fare for several years", said Rotary President Rich Little. "Judging by the number of people who come to us every year, I think that we've now become part of the tradition that Victorian Day brings to the town".
Money earned from sales at the stall goes back into the community helping to fund local charities and individuals in need, plussome national charities.
Rotary Support Helps Tea Dances to
Succeed
Many local organisations are supported by the local Rotary Club and one which has cause to be grateful for that help is Chipping Sodbury Dementia Support Group.
The recently formed organisation, co-ordinated by Jacki Hebblethwaite, grew out of an original idea of forming a Memory Café in the town. That in turn led to forming links with the Alzheimer's Society.
"A grant from South Gloucestershire County Council started the whole thing off", says Jackie. "Since then Chipping Sodbury Rotary, together with the Inner Wheel Club, has been totally supportive. Their help and support has been fantastic".
One of Dementia Support's great success stories has been their regular tea dances.
Held at the Chipping Sodbury Town Hall these have grown in popularity and regularly entertain over 80 local people. Focused on local residents with dementia, they provide an afternoon of musical entertainment with friends and family and an opportunity to dance in a friendly and welcoming environment.
"As well as Rotarians, we also receive help from lots of different people" added Jackie, "so it's very much a community event".
Donations from Rotary, Inner Wheel, the Townlands Charity and Waitrose allow all expenses to be met and ensure that this event remains free.
For anyone who has a family member with dementia. or who might be personally affected, the next dance will be held on Wednesday 30th January 2019.
Hundreds of Cyclists Take On Sportive Challenge
Almost a thousand cyclists took to the road on Sunday 5th August for one of the major events in the Cycling calendar - the Sodbury Sportive.
Actively supported by members and friends of the Rotary Club of Chipping Sodbury, the Saddleback Sodbury Sportive is regarded as one of the UK's most popular cycling sportives. The wonderful countryside, quiet lanes and beautiful views regularly attract cyclists from all over the country.
Following three circular routes of 30, 60 or 100 miles, riders set off from Chipping Sodbury Rugby Cub. This year, excellent weather and spectacular views across three counties made it a ride to remember.
From lunchtime onwards, friends and relatives were waiting back at Chipping Sodbury Rugby Club to welcome back weary riders. On site the Event Village provided riders with the opportunity to relax with a drink and free food, take advantage of a sports massage, ice cream or a barbeque, all whilst swapping stories with other cyclists and enjoying live music.
"This is a significant event in our fundraising calendar", said Rotary Club President Richard Little. "The sportive is a huge undertaking and congratulations must go to everyone, in particular at least 70 Rotarians, members of Inner Wheel plus friends and relatives who helped to make this such a successful event."
Those taking part were full of praise.
Rider Nicola Cannon posted on Facebook. "My first ever Sportive. Fantastic event, well organised, a big thank you to all the helpers. The fruit cake and flapjacks were amazing and kept us going to the end".
Creative Flair Shown By Young
Photographers
The Rotary Club of Chipping Sodbury regularly sponsors a photography competition for A-level students to enable them to exhibit their work and to have it examined and apprised by professional photographers.
The finals of this year's competition took place last week when eight students from Chipping Sodbury's Cotswold Edge Sixth Form photography group, accompanied by Head of Sixth form Gillian Hilleard, presented their images for final judgement.
Casting an expert eye on the results were international photographic judge Betty Billingham, FDPS, AFIAP, ARPS, APSA and local commercial photographer Rich McD. They were joined by Rotarians Richard Little and Doug Lodge.
Each student presented their work, explaining why and where the picture was taken, any editing they had done and their feelings about the pictures. They were then quizzed by the judges.
The judges agreed that the quality of work presented was very high and had some difficulty in deciding the final placings. Eventually they came to a decision and the winner, with her picture of burning flowers, was Ellen Bush. Second prize went to Matt Bailey for his picture of melting ice droplets, Beth Goodchild's picture of a perfectly lit skull was highly commended and Owen Ladip'spicture of two girls in the sea at sunset was commended.
Following the presentation, the judges spent time with the students giving them a detailed critique of each picture, answering questions and giving suggestions.
Rich McD commented "I have judged similar competitions previously but the standard this year was higher than ever. The students had the opportunity to talk about their work helping the judges understand why each photograph had been presented".
Hot Young Chefs Cook Up Feast
As outside temperatures soared last week, twelve Year 9 students at Brimsham Green School moved into the kitchen to undertake the annual Young Chef challenge. Organised by the Rotary Club of Chipping Sodbury the competition required the young chefs to prepare and plate two high-quality dishes – a main course and dessert – all in 105 minutes
The main stipulation was that the finished food was full of flavour, professionally presented and contained at least one 5-a-day ingredient. This done, the contestants were then required to discuss with judge Sam Wells, from Hobbs House Bakery, how the ingredients they'd used meet the Eatwell Guide.
Cooking for the competition took place under the watchful eye of Mr Adam Mills, Brimsham Green School's teacher of food preparation and nutrition.
The consistently high standard of the food prepared certainly had the judges tasting a little bit more than usual. After considerable deliberation judges Sam Wells and Rotary's Ian Hodgson decared Leah Walker as the winner. Her winning entry was Moroccan chicken with vegetables followed by lemon cheesecake. Four other cash prizes were awarded, and participation certificates were given to all the students.
In case you were wondering, The Eatwell Guide is issued by the Government and divides the foods we eat and drink into 5 main food groups. The Guide then shows how much should come from each food group to achieve a healthy, balanced diet.
Young Innovators Shine
Students from Chipping Sodbury and Brimsham Green Schools recently took part in the testing Young Innovator Competition.
Held annually in Chipping Sodbury Town Hall and organised by the Rotary Club of Chipping Sodbury, the competition challenges young people to find new ways to design and make products across a number of different areas.
In all 55 students voluntarily took part, offering their work to judges representing the local community sponsors Hanson Quarries, Renishaws and Waitrose.
The eventual winners were declared as Stephen Hobbs (Product Design,) Aaliyah Wilmott (Senior Product Design), Rochelle Brooks ( Textiles) and Tilly Crowley ( Graphics) with George Birnie voted Young Innovator
Organiser Keith Pattison said "Rotary is always happy to support the work and aspirations of young people in the area. Sometimes we do this financially, sometimes with prizes and also by running competitions such as this".
Classic Cars Attract Large Crowds to Town
Hundreds of residents took an early breakfast on Sunday in order to catch the array of stunning vehicles assembling in Chipping Sodbury High Street.
The Classic Car Run, organised by the Rotary Club of Chipping Sodbury and now, in its 23rd year, is one of the most popular events in the annual calendar.
Enthusiasts from as far afield as Plymouth, Watford and South Wales brought almost 200 cars and motor cycles to the town. Immaculately presented, the age of vehicles spanned almost the whole of the past century.
First away was Neil McLagan's Austin Clifton Tourer, made in 1926. He was closely followed by Steve Sage in his 1927 Donnet G2 Torpedo Lux.
The route this year took the drivers through some spectacular Gloucestershire , Wiltshire and South Gloucestershire countryside. A mid-morning break for coffee and cake at Chippenham Rugby club made this a memorable drive.
The end of the route was the Chipping Sodbury Rugby Club at the Ridings Playing fields. The cars lined up for judging by Rotary Club president John Berridge, whilst the drivers took a well- earned lunch provided by the Rotary Club.
Judged Best Car was the 1967 Mark 1 Aston Martin owned by Peter Hickling of Plymouth. The best motor cycle was Michael Williams' 1956 Norton 99 and the best themed vehicle was the 1967 Volkswagen Camper D86 Vantage, driven by Robert Carr.
At least 500 visitors came along during the afternoon to see the cars and to enjoy the party atmosphere. At the centre Rotarian Nick Cragg acted as MC from a stand donated by Williams Automobiles, next to which a gleaming new Morgan sports car attracted admiring glances. Music was provided by For the Record and number of charities and organisations such as the Bristol Motor Club , the Teenage Cancer Trust and Blood Bikes were present.
A great deal of interest was also shown in the Chipping Sodbury School stand which featured their famous award-winning Rotary Racer along with their newest car, both built by students and parents.
"This was probably the best event we've held", said co-organiser Mark Benstock. "The weather was perfect and about 70 Rotarians and friends helped the day to go smoothly. I'd like to say a big thank-you to all of those who supported us and, in particular, all those who came along on the day."