Two very special Christmas events at Gt St Mary's Church
Carol Concert and Christmas Tree Festival for the homeless and the Arthur Rank Hospice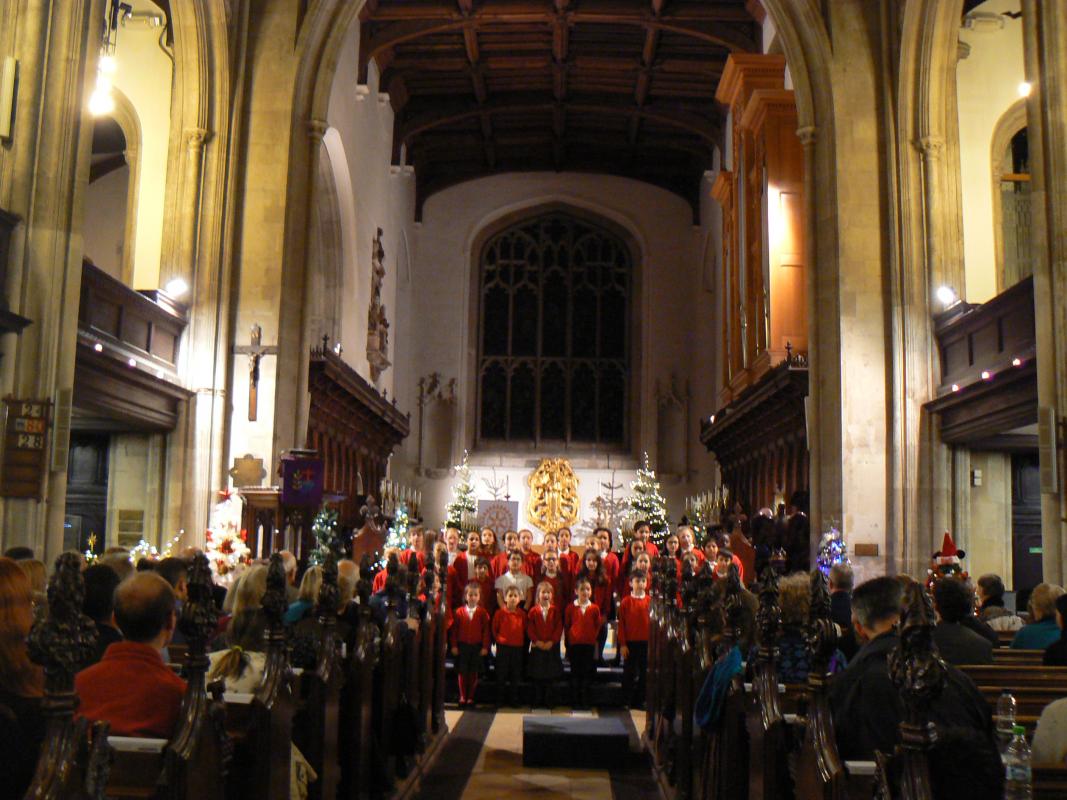 The Rotary Club of Cambridge is holding two very special Christmas events at Great St Mary's Church in the centre of Cambridge from 11 to 15 December.
These are in aid of the Cambridge Churches Homeless Project and the Arthur Rank Hospice.
There will be a Carol Concert on the evening of the 11 December which is being masterminded by a committee chaired by Rotarian John Barrett and a Christmas Tree Festival, to coincide with the Carol Concert, from 11 December through to 15 December which is being driven by Rotarians John Martin and Paul Henry.
If you have a business please join Marks & Spencer and Premier Travel and dozens of others local business organisations in taking part in the Christmas Tree Festival.
You simply need to supply a decorated tree for this fund-raising event and are welcome to place an A3 size advertisement beneath the tree.
This year we would also like to ask families to supply a commemorative tree to remember a family member or to celebrate an event in their lives over the past year.
Please contact Rotarian John Martin (our Vice-President) on Cambridge 01223 364954 if you want to take part in this sparkling event to celebrate Christmas or email him on j.martin20111@btinternet.com
He asks for all trees to be delivered and decorated on the morning of Monday 11 December and taken back on Friday 15 December before 3.30pm.
John and Paul have organised this event in previous years for the Rotary Club of Cambridge and it is steadily gathering pace.
We attract more and more visitors to the display from all over the world. They love to look round, see the inside of Great St Mary's Church and admire the display of trees.
Those volunteers from our Club who man the display hear interesting stories from far and wide!
Entrance is free and visitors are simply invited to make a donation in the buckets provided for the charities that we are suppoting.
John Martin is hoping for over 40 trees which will not only fill the nave but also enable some to be placed in the stained glass windows in the gallery.
He says "The staff at Great St Mary's are brilliant and as helpful as they can be! I think we will break our record this year."
Meanwhile the arrangements for the Carol Concert on 11 December are falling into shape.
This year seven school and youth choirs will take part, singing a variety of Christmas music.
Each half of the concert will conclude with carols for all the audience to join in.
There will be an interval during which mince pies will be available, kindly provided by Barkers.
Amongst other sponsors Millers Music is providing an electronic keyboard.
The MC will be Mandy Morton of 105 Radio, and the concert will be recorded to be broadcast on Christmas Day.
Tickets (£10 and £5) are available from Cambridge Live. www.cambridgelivetrust.co.uk
Rotarian John Barrett says " The vitality of the childrens' singing is always uplifting. It is a great way to celebrate Christmas!"