President's Night at Fitzwilliam College
Tue 22nd May 2018 at 19.00 -
Arrive 7.00 for 7.30 pm. President's Night at Fitzwilliam College when Suzi Digby will open a debate on the 'Future of music in state schools' with three other speakers. Host - Edward Thackray; Cashier - Rosemary Turner; Reception - Jim Stewart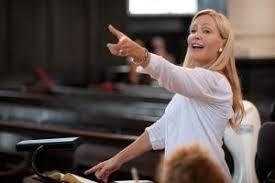 Suzi Digby will open a debate on 'The future of music in state schools'
Suzi Digby OBE, Lady Eatwell, was born in Japan and lived in Hong Kong, Mexico and the Philippines before settling in London and Cambridge. She is an internationally renowned Choral Conductor and Music Educator. She has trail blazed the revival of singing in UK schools and the community over two and a half decades. Digby is also a Visiting Professor at the University of Southern California (Choral Studies). In 2014, she launched her Californian professional vocal consort, The Golden Bridge.
Our President, Julian Landy maintains:
"The music industry is one of the biggest export earners for the UK and has been for years. Not just the Beatles. Think of all the performers, pop and classical, the musicals, the CDs and downloads from British performers. All over the globe they have appreciative customers. The vast majority of the talent began their musical journey at school. Mostly at state schools. Now the possibility of continuing this tradition is under threat from the trend away from teaching music in schools. Why?"
The principal of Impington Village College and the head of music education at the County Council will both speak for the status quo. IVC is the one school locally that uses the EBACC, the English Baccalaureate, which cuts music teaching completely from the curriculum.
Lady Eatwell (Suzi Digby) will speak against the current provisions and a head teacher from Birmingham who started her own music school in order to escape the state system will speak likewise.