GRAND CHARITY AUCTION
All proceeds will go to the Southmead Hospital Prostate Cancer Care Appeal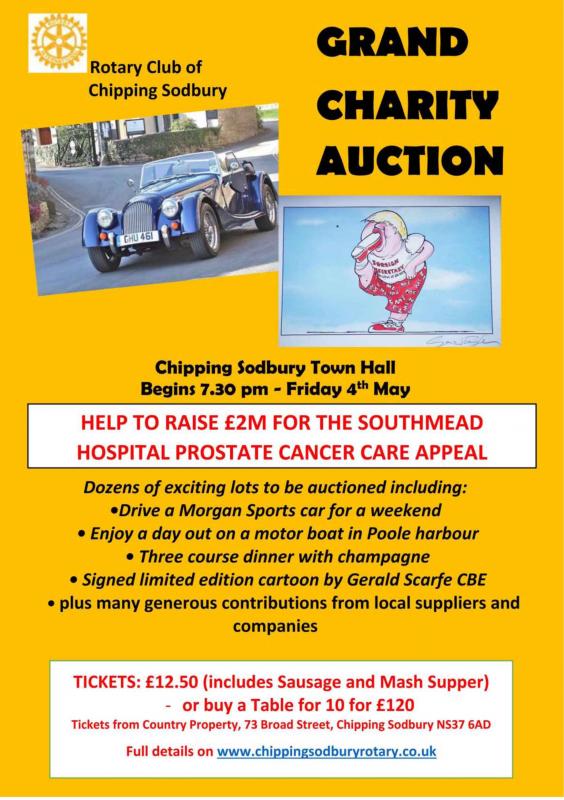 To find out about the appeal use this link:
SEALED BIDS WILL BE ACCEPTED
Please email nickcragg@countryproperty.co.uk for a proxy voting form
Bids on the night must be paid by CASH or CHEQUE please
So, see what is lined up for auction so far:
Drive your own Morgan for a whole weekend, (donated by Williams Automobiles). Morgan's distinctive, classic features stand in contrast to the mass-market vehicles of today. This range of hand-crafted sportscars epitomises a bygone age of uncomplicated driving pleasure. Drivers must hold a full and current driving licence and should have more than 3 years driving experience.
A signed print of a Gerald Scarfe political cartoon featuring Boris Johnson - Donated by Gerald Scarfe CBE, famous for his political cartoons, plus TV and film collaborations such as Yes Minister, Pink Floyd's The Wall and Walt Disney's 'Hercules'
A day on a 25ft motor boat based in Poole, dates and destinations (harbour/river/sea) to suit weather, tides and crew. Includes a briefing over coffee in the marina clubhouse on arrival, lunch, hospitality, lifejackets and lashings . . . of fun, often finished with an Italian meal on the Quay. Ideally 4 persons to share. Maybe book yourselves into RNLI College and build your trip into a long weekend?
Celebrate the Royal Wedding in style with this gift from Prince Charles, a Highgrove Champagne and flutes set (Donated with best wishes from His Royal Highness and the Trustees of the Prince's Charitable Trust)
PLUS:·
Opportunity to spend a wonderful week in the Haute-Garonne (region of Occitanie) in South West France staying in a delightful farmhouse in a quiet rural location. Perfect for a peaceful getaway break for up to six people. (Donated by Bob Holt)
For soccer fans … a chance to own a Liverpool Football Team shirt signed by 2007/8 squad. Autographs include Daniel Agger, Xavi Alonso, Peter Crouch. (Shared lot with Barnardo's)
Six-month's worth of gym membership. (Donated by Anytime Fitness Gym)
Take a team of four people out for a round of golf for at the beautiful course in Chipping Sodbury. (Donated by Chipping Sodbury Golf Club)
Learn to shoot. Have one hour's shooting lesson for two people at Lady's Wood shooting school. (Donated by Lady's Wood Shooting School)
Take a tour round a brewery at Wickwar Brewery for 2 people – (Donated by Wickwar Brewery).
· 12-bottle Wickwar Brewery gift pack. (Donated by Wickwar Brewery) and 4-bottle Wickwar Brewery gift pack. (Donated by Wickwar Brewery)
Guided Tour for two people of the Morgan Car Factory at Malvern – perfect for petrol heads! (Donated by Morgan Cars Ltd.)
Four passes to spend the day at Cattle Country Adventure Farm Park near Berkeley, Gloucestershire. A fun day out for all the family (Donated by Cattle Country)
Chance for the whole family to spend the day at historic Berkeley Castle which also includes the Butterfly House. (Donated by Berkeley Castle)
· Rare chance to own a presentation case containing a cricket bat signed and authenticated by Sir Ian Botham and personal photographs. (Donated by David & Jackie Hebblethwaite)
· Vouchers for a Wine Tasting experience for four people. (Donated by Three Choirs Vineyard)
· A great three course dinner for four people plus a bottle of champagne at the Squire Steak Restaurant. (Donated by The Squire Steak House Restaurant
· Enjoy a day at the races in style with four VIP Roof Garden Tickets to Bath Racecourse - Includes a VIP trip to the parade ring. (Donated by Bath Racecourse)
· Get your party going with a Magnum of FIOL Prosecco. A stylish, high quality Prosecco from Treviso in the heart of Prosecco country. (Donated by Great Western Wine)
· A Family photographic portrait session plus one print (Donated by Rich McD Photography)
· Afternoon tea for two at Vintage Birdcage Cakery – Café in Kinsgate Park, Yate. (Donated by Vintage Birdcage Cakery
· Voucher for a month's full membership with full induction to any one of the Active Lifestyle Centres in South Gloucestershire. Perfect for those wanting to get fit and active. (Donated by the Circadian Trust)
· Bottle of Martell Cordon Bleu XO Brandy – valued at £90 an extra special Cognac for special occasions. (Donated by Bob Holt)·
· Two tickets for Bristol rugby game + autographed ball
Use of a rustic farmhouse for one week in south-west France. Three double bedrooms, large lounge, kitchen and bathroom (Donated by Bob Holt)
· 40 pint Polypin . (Donated by Uley Brewery)
· £50 Voucher for luxury transport services (Donated by Chauffeurhire)
· You can become an expert in Italian bread-making with hands-on tuition from Hobbs House Bakery. This bread making course is perfect for those looking to add to their baking repertoire and includes pizza and wine at lunch (Donated by Hobbs Cookery School)
· £25 Charity Gift Voucher towrds your next flight withfrom Bailey Balloons
· £500 of Legal Services in relation to Professional Will Writing and Powers of Attorney provided by local experts Simpson Solicitors
· Bottle of House of Commons wine signed by the Prime Minister and a copy of The Budget signed by the Chancellor. (Donated by Luke Hall MP)
· Opportunity for up to six people to have a private tour of Chavenage House, the privately owned and still very much lived-in 17th Century country manor house in Gloucestershire that has been used as the location for Trenwith in the Poldark TV Series and in many other TV shows. (Donated by Chavenage House)
· Free MOT – (Donated by Jarrett Brothers, Hatters Lane)
An opportunity for two people to relax and take afternoon tea in the inspiring surroundings at Tortworth Court, (Donated by Tortworth Court)
· Start to learn a geat skill with an hour's tuition on flower arranging by Lucy Butler Florists - including a basket flower arrangement to take away. (Donated by Lucy Butler
· Three course Sunday lunch for four people with a bottle of house wine at the popular Compass Inn, Tormarten. (Donated by the Compass Inn)
· Pamper yourself with 4 guest passes worth £25 each at the Spa at Combe Grove Hotel, Brassnocker Hill, Bath BA2 7HU. You will also receive a 15% discount on treatments.
· Who wouldn't want to own a beautiful 22 cm original vase signed by internationally renowned potter John Bourdeaux. His work is deemed extremely collectable and this piece would command up to £100 in his studio. (Donated by John Bourdeaux)
· In June you can have a place at an all-day mixed media workshop locally with the internationally-acclaimed artist, Andy Skinner. Valued at at £60 it will be a fun-filled craft day.
· Plan ahead and prepare for next winter with a plentiful supply of dry logs valued at £100. Offer includes free local delivery
· Prepare a mouth-watering Sunday lunch with this superb leg of lamb. (Donated by Sodbury's own Jon Howell Butchers)
· A family ticket to take you back to the age of steam and enjoy a nostalgic train ride at the Avon Valley Railway (Donated by the Avon Valley Railway)
· A great adventure awaits you when you take to the skies with your first trial flight lesson -donated by Bristol and Wessex Aeroplane Club
Ladies will know the brands Joma Jewellery and Katie Loxton. This special hamper could be yours and contains a super Katie Loxton Reed Diffuser and a beautiful Joma Jewellery bracelet (Donated by Swagger)
Go espresso crazy. Wake up and smell the coffee with this fabulous "Hotpoint for Illy" Espresso Machine with Capsule system (donated by Whirlpool)
Enjoy the high octane thrills of a day at the famous Castle Combe Circuit. This pass for two also includes entry to the Paddock (Donated by Castle Combe Circuit)
Learn the gentle art of Fly Fishing with either an introductory course or an Improvers course at Salford Trout Lakes, near Chipping Norton. This is for one and includes the use of all tackle and equipment, the fishing ticket all flies and the services of your coach/guide (Donated by Roger Patrick)
Test your taste buds with these 10 bottles of ales and ciders (Donated by The Horseshoe pub)
Superb coffee-table book celebrating Aviation in the West Country since 2010 (Donated by Cameron Balloons)
On the wagon? Get your fix with a handmade Gin & Tonic [scented] natural plant wax candle (Donated by Cadeaux)
Probably one for the ladies. Voucher, valid for one year, towards manicure, pedicure, facial.(Donated by Cloud Nine Beauty Salon)
Suffering in silence? Use this gift voucher for ½ hour sport / holistic massage, valid for the rest of 2018 (Donated by Toll House Clinic)
Satisfy your inner Paddington. Three jars of Award-winning homemade marmalade (Donated by Jennifer Sarafian)
Flying off somewhere? Have your own chauffeur there and back to either Bristol, Exeter, Cardiff, Birmingham, London or Gatwick airports (Donated by Mark Benstock)
Looking for a quality vintage wine? Try this Magnum of 2005 Chateau La Tour de By, one of the most famous estates of the Medoc (Donated by Richard Kingscott)
Rare opportunity for four people to visit Rolls Royce in Bristol for a VIP tour that includes lunch. This is a private, not public tour. (Donated by Rolls Royce)
Indulge yourself with a bottle of full and fruity South African Cabernet Franc Reserve, plus an award-winning rich and refreshing 2012 Sauvignon Blanc from the Loire. (Donated by Virgin Wines)
Something for the whisky connoisseurs – a bottle of 15 year old Dimple Haig deluxe whisky – (Donated by Dr.Anthony Sarafian)
Flying off somewhere? Have your own chauffeur to take you and bring you back from Bristol, Exeter, Cardiff, Birmingham, Heathrow or Gatwick airports.(Donated by Mark Benstock)
· Enjoy a round of golf for four on the Stranahan Course at The Players Golf Club. At around 5500 yards and a 67 standard scratch the Stranahan is golfer friendly, but it will still offer a challenge to the experienced player.
Take Afternoon Tea for 2 in the luxurious setting of Calcot Manor Hotel & Spa,set in over 220 acres of beautiful Cotswolds meadowland and renowned as one of the most luxurious spa hotels in the Cotswolds.
Looking for that extra special end to a meal with friends? How about six top quality Dartingto 24% lead Chrystal Winemaster Brandy Glasses, original boxed.
A complimentary round of golf for four at the famous Carlyon Bay Hotel Championship Golf Course