Charity Quiz run by Kew Gardens Rotary Club
Fri 9th March 2018 at 19.00 - 22.20
This annual quiz took place this year at St Luke's Hall in the Avenue, Kew on Friday 9th March 2018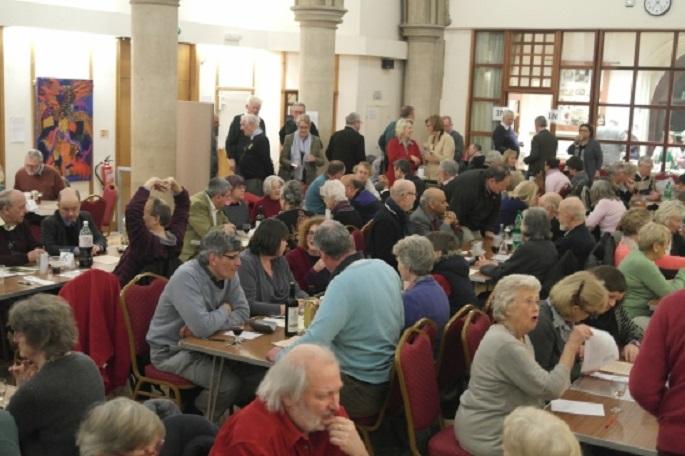 Every year, Kew Gardens Rotary Club runs this very popular quiz at the Avenue in Kew. The funds raised are not to be sniffed at - usually several thousand pounds going to several local charities. The audience is asked to participate in the selection of the charities to be supported in the particular year from a list of several. It is a very well run, established, fun event and is always sold out. You can see from the picture they really can't squeese any more tables in!
Paul Kershaw organised our attendance at this popular event again this year. He has managed to persuade 12 people to join his two teams. We only agree because of the charities and even more, because the food is so good - Sue Sheffer always provides a fabulous spread of cheese, pates and salads for each table!
Teams this year: TUT: Paul and Janice Kershaw, Ann Galgon and Mike Crawley, Jan Doskar and Susan Horner. Tut Tut: Jenny and Pete Canning, Sue and Paul Mullins, Pamela McHuchon and Margaret Gilroy-Smith .
It was a superb event this year with excellent quiz questions and a fun page of Famous People conundrums