Aug 2018 Peter Wadhams - Sailing Under the Ice Cap
Mon 20th August 2018 at 17.45 - 20.00
Speaker Host - Burman, Cashier/ General Host - Alan S.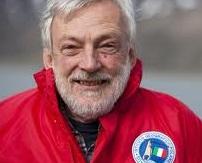 Today we are lucky to have our very own Prof Wadhams to talk to us about his experiences and adventures as a Polar Scientist gathering data first hand from below the Ice Cap.
Studying the severe effects of global warming on the massive stores of fresh water in the polar ice cap is crucial to understanding the imperative need to take action. The sea level rises that will result from the loss of the Ice Cap plus the lack of reflection of the Sun's energy will have devastating effects across the world.