Sep 2018 Sister Francis on the effects of the TV Documentary
Mon 24th September 2018 at 17.45 - 20.30
How the Convent reacted. Speaker Host Burman, General Host/Cashier Zara.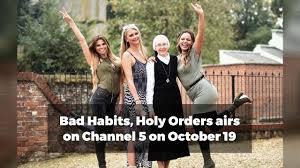 Today we have a very interesting topic and an entertaining speaker.
Sister Francis Ridler will tell us all about the challenging project that her convent was involved in which was filmed for TV last year. They gave a temporary home to 5 'party' girls. The effect on the girls and the convent were unexpected !
She comes from the Convent of the Sacred Heart in Swaffham.
Oct 2017 Channel 5.