Dec 2018 Speaker Martin Sykes - Examining the World
Mon 10th December 2018 at 17.45 - 20.00
Meal & Talk at the Arundel. Speaker Host - Alan S, Cashier & General Host - Alan E.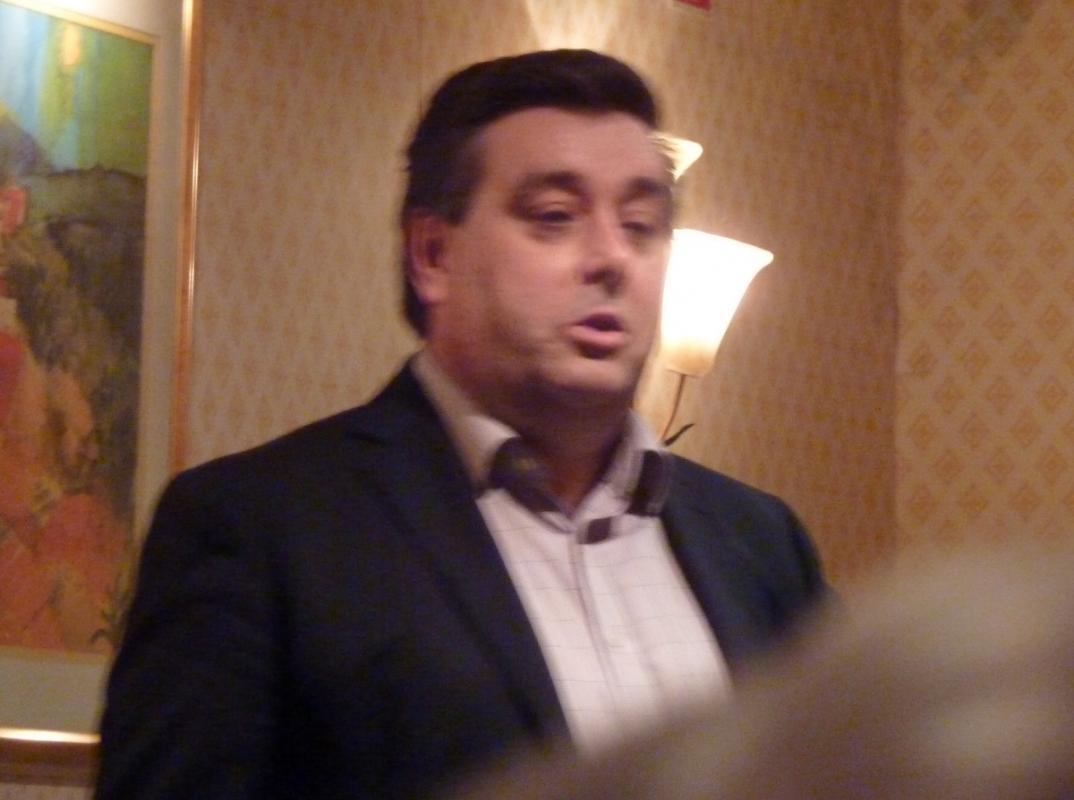 Today after a tasty meal we had a fascinating talk from Martin Sykes from the University of Cambridge Exam Syndicate with many interesting questions from the floor.
He is a specialist in strategy and change planning for (usually) large technology transformations. He described himself as having Technology written through him like a stick of rock. He recently served at Cambridge Assessment in a role responsible for planning changes to the major systems that delivered GCSE, O level and A level to millions of candidates in 170 countries every year. How hard can that be you might think?
Martin provided a whirlwind tour of the world illustrating how exams are delivered and the challenges students, educators and examiners face as it starts to go digital after 160 years of tradition and growth.
The Cambridge Examinations system is highly regarded across the world. The organisation is widely respected for its levels of security, integrity and consistency. The Team is involved in every level of examinations including :
designing new syllabuses for topics and countries across the world
choosing appropriate books to support the students learning
planning years worth of questions that do not repeat or are ambiguous
ensuring the questions are culturally appropriate
selecting end of course question sets
formatting the question papers
printing the required numbers
researching the delivery routes and systems
garanteeing the security of the papers returning.
selecting appropriate skilled markers for the topics in question
checking and double checking the fairness of each marking scheme and the consistency between markers.
recording and distributing the results.
Every level is designed with fail-safes to ensure that no students are left without an exam paper or a result within the tight timescales agreed, where ever they may be needed in the world.
English Language is a most popular subject and tests for students 6 - 108years old are produced, ranging in difficulty from basic to advanced and including spcialist language topics like engineering or medicine.
8 million papers are set and marked each year. Their special printing machines in their ultra secure warehouse can produce 1 Km of print per minute. The thousands of boxes of exam papers are weighed to check they contain the correct amounts. Profits made from this service are used by the University of Cambridge for research and academic work.
Delivery and retrieval systems were sometimes the most unpredictable part of the process - the Icelandic volcano presented serious issues for them as it grounded their planes in northern Europe so batches of papers had to be suddenly driven down to italy where luckily flights were still operating.
The most inaccessible school is on a small island that has no port for ships so a special boat drops the plastic wrapped boxes of papeprs overboard and the local teacher retrieves them with a boat hook. After the exam the reverse happens ! However last year zero papers were lost or damaged or late.
This huge data-intense process is ideal for thorough digitisation and careful planning is underway to change out the more traditional methods while carefully preserving the Royal Mint level of security !
The future may well include more on-line exam papers once students have had ample time to become thoroughly adept with all the on-line tools involved. Highly secure fire walls that only allow password protected timed access will also be vital of course.