Completed meetings and events 2021-2022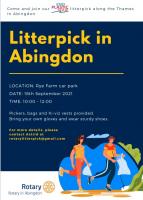 Sat 18th September 2021 Litter Picking in Abingdon
Meet at Rye Farm car park, for a couple of hours of community-spirited fun activity. Pickers, bags and hi-viz vests provided. Bring your own gloves!
Wed 8th September 2021 Wednesday Lecture (Hybrid)
Diversity in Rotary: A recorded lecture from this year's Rotary Conferece (TBC).
We shall meet in the KH&B, but you can watch on zoom from home if you wish

Wed 28th July 2021 Club Business Meeting
The first Business Meeting of the Rotary Year.
calendar
district events
local events