Mums presenting a cheque to Southmead Hospital Baby Unit, the money was raised by manning a Pop-up Shop in Yate Shopping Centre, selling toys and baby clothes. Rotary were able to provide manpower and financial assistance.
Contact Doug Lodge using the link below to discuss community projects.
/upimages/clubfiles/594/Application for Grant form (3) (4).doc
The Club has, for many years, played an active part in supporting the community in and around Chipping Sodbury. It has provided regular support to both young and old, supplying assistance through donations or asking its members to come along and help out at events.
Regular events include the provision of a week's holiday to a family who may not be able to afford a summer getaway. The family is chosen by one of our local schools and feedback is always positive.
An annual trip is organised for people from local care homes to a garden centre where they can enjoy a day out, some different company, a look around the displays and an afternoon tea. The Club also assists the local Baptist Church with a similar outing. Another event the Club organises for the elderly in the area is an annual music concert, held in the Town Hall, where Rotarians lay on an evening's musical entertainment and refreshments. See more in 'related pages' below.
Rotary are also proud to support the Dementia Support Tea Dances, held four times a year in Chipping Sodbury Town Hall. Dates for the next four dances are October 30th and November 27th 2019 and January 29th and March 25th 2020. Anyone is welcome to drop in and take part, they are always well attended and enjoyed by everyone there. More information can be obtained from the Memory Café which meets in the Baptist Hall on the High Street.
Each year the Club organises a Know Your Blood Pressure Day at the Town Hall which has proved beneficial to shoppers and passers-by who are often surprised by the results they get, however, they are appreciative of the help and advice they receive! Plans are in hand to make the event bigger and more far reaching in 2020 to incorporate all aspects of wellness and wellbeing. The date for the event will be Saturday, 6th June 2020.
At our meetings on the run up to Christmas, members bring clothes and other items which are then donated to the Caring at Christmas project along with a financial donation, as well. Caring at Christmas is run by Caring in Bristol and accommodation and food is supplied to homeless people for ten days over the Christmas period.
Financial support is given, on an ongoing basis, to both the local Food Bank and Baptist Church to assist in general and, sometimes, specific cases of need.
One off support has been given to help set up and stock a Pop-Up Shop in Yate (see picture above) where members provided transport and the Club made funds available so a group of Mums could raise funds for the Southmead Hospital Maternity Unit.
Support was given to Mark Austen, a local blind yachtsman, so he could participate in, and WIN! the 2019 Blind Fleet Racing World Championships, in Canada, with the GBR Blind Sailing Team. Mark and his team competed against teams from Canada, America, Australia, Japan and France, successfully retaining the Squadron Cup, won by GBR in 2017.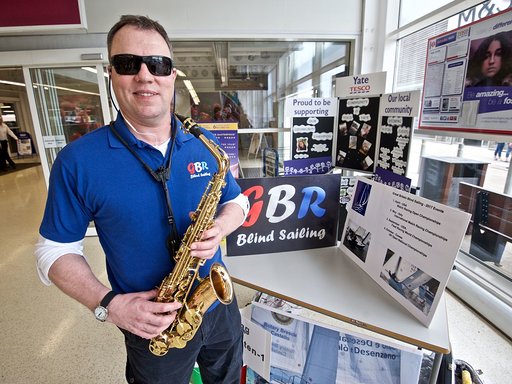 Sodbury in Bloom received a donation so they could buy a greenhouse to house and grow flowers for planting out on the High Street and St John Ambulance were able to purchase two-way radios following a donation from the club. The Club also purchased a Raizer Chair for Paul's Place, a local charity for disabled adults.
If you wish to apply for a grant for a Community Organisation, click on the link below :