Chertsey is one of the oldest towns in England. It grew around Chertsey Abbey , founded in 666 A.D by Eorcenwald, Bishop of London .
In the 9thC it was sacked by the Danes and refounded from Abingdon Abbey by King Edgar of England in 964.
Chertsey appears in Domesday Book as Certesi. It was held partly by Chertsey Abbey and partly by Richard Sturmid from the abbey. Its domesday assets were: 5 hides; 1 mill and 1 forge at the hall, 20 ploughs, 80 hectares of meadow, woodland worth 50 hogs. It rendered £22.
The Abbey grew to become one of the largest Benedictine abbeys in England, supported by large fiefs in the northwest corner of Sussex until it was dissolved by Henry VIII in 1536. The King took stone from the Abbey to construct his palace at Oatlands, and the villagers used stone for raising the streets. By the late 17thC, only some outer walls of the Abbey remained.
Today the history of the abbey is reflected in local place names and the fishponds that still fill with water after heavy rain.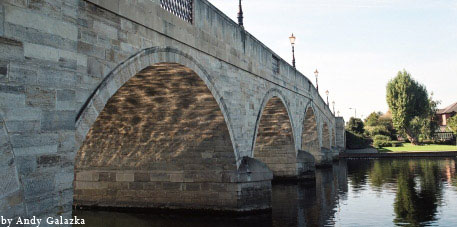 The 18thC Chertsey Bridge provides an important cross-river link, and Chertsey Lock is a short way above it on the opposite side.
In the 18thC Chertsey Cricket Club was one of the strongest in the country and beat the rest of England (excluding Hampshire) by more than an innings in 1778. The Duke of Dorset (who played cricket for Chertsey) was appointed as Ambassador to France in 1784 and arranged to have the Chertsey Cricket team travel to France in 1789 to introduce cricket to the French nobility. However, the team, on arrival at Dover, met the Ambassador returning from France at the outset of the French Revolution, and the opportunity was missed. Chertsey Regatta has been held on the river for over /150/ years.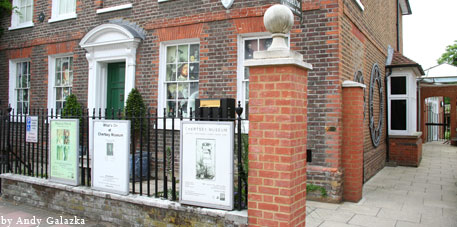 Chertsey has an admssion free Museum on Windsor Street which includes various information about the history of Chertsey. Also, on the Black Cherry Fair annual event the Museum hosts live music and refreshments in their garden for people to come along and to enjoy