Our Community Work
Keynsham Rotary works to support the local community. Such projects are recommended and decided on by members themselvesand vary as a result. Typical kinds of projects undertaken include :-
Children's Hospice South West
Established in 1991, the Children's Hospice South West caters for over 500 families across the South West, providing hospice care for children with life-limiting conditions. Care offered is wide ranging and includes the whole family, offering respite from mentally and physically demanding situations. Having visited their premises at Charlton Farm near Wraxall, we have been impressed at the valuable service they provide. We have raised funds from various activities, including our Winter Concerts and Spring Plant Fair, to help support this dedicated team of people. This is just one of several similar charities which we are supporting.
Other Projects
Environment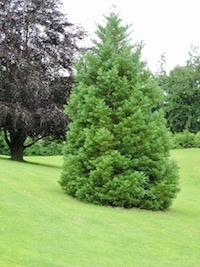 The Californian redwood, shown above, was presented to the Rotary club by a group of Rotarians from Fulsom CA, who were on a group study exchange to our District. The tree was planted in Keynsham park by Rotarian Bob Howard, a former local vet, as our Rotary contribution to the millenium celebrations. A new project area adopted by Keynsham Rotary involves the environment. Work is currently underway to prepare a proposal for tree planting in the area in support of the Woodland Trust.
New Generation

Supporting and reaching out to younger generations is an important Rotary commitment. Keynsham Rotary Club believes in building ties with youth in their communities which has a number of club benefits in addition to those generated for the community. These include the club being rejuvenated by the energy and new perspectives that young people have to offer and building to the future of our club; not least by cultivating future members. Specic activities aimed at promoting Rotary to the young include youth exchanges, programmes like "Rotaract" or competitions that promote skills such as music, cooking, or public speaking. We are running a "Young Citizen's Award" to recognise outstanding contribution to the community and are working on plans for a "Young Photographer Award".
Emergency Services
















Keynsham Rotary Club and Keynsham Chew Valley Rotary club combined to provide sufficient funds to provide two defibrillators for the local community. One is fixed to the wall at the offices of Davies and Way, Property Agents, Bath Road Saltford and the other is outside the Bath & NE Somt. Council offices in Temple Street Keynsham. They are fully operational being included in the Somerset and Avon Rapid Response Service. Our Rotary club helps in the ongoing task of checking the machine is operational. The photograph above illustrates the projects.
It is common for several Rotary clubs to support each other on projects. Keynsham Rotary clubs supports Bristol Rotary clubs who take the lead on the following two community projects.
Spring Plant Fair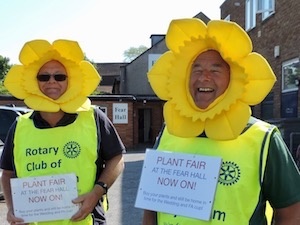 Our spring Plant Fair, held in May, has over the last few years become an established event in Keynsham. We use this event to raise funds for our current charity of choice often raising in the order of £1000.
Winter Concerts
Keynsham Rotary club in conjunction with Chelwood Bridge Rotary club organise an annual concert at St John's church, Keynsham in early December. Mendip Male Voice Choir are the main performers, usually with one or two other local choirs. Club members jointly provide their time as stewards at the event and proceeds go to local charities.
Kids Out
This activity is designed to provide to provide a fun day for handicapped children.