President 2020-2021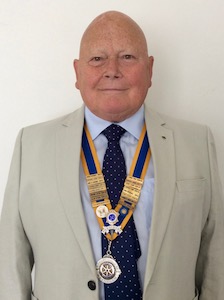 John Pike, President 2020 - 2021
Who we are
Keynsham Rotary is a small friendly club of 20-30 members including both ladies and men. We come from diverse backgrounds and occupations. We meet socially, to establish long term friendship and to serve the community in a number of ways
We meet weekly Wednesday evenings from 19:00 - 21:00hrs at Saltford Golf Club, Golf Club Lane, Saltford, Bristol, BS31 3AA.
Our meetings
Venue - Saltford Golf Club
General meetings have a format including a two course meal (optional), informal conversation and business of the day with input from president, secretary and various officers. Many meetings include a speaker with subject matter being predominantly local such as local government, education, business and charitable issues.
Business (Council meetings) meetings are held every four weeks. This is when members with responsibilities within the club (President, Secretary, Treasurer etc.) report back to the membership alongside discussion and agreement of club policy.
The club also runs "Guest nights" when it welcomes members, their friends and family plus "Friends of Rotary" and guests. A meal precedes a guest speaker for an enjoyable evening. These events take place approximately three times in the year and are announced in advance on the club programme (see home page for details).
New Members are welcome
Both men & women play an important part within Rotary. Keynsham Rotary warmly welcomes women both in full membership and as speakers at our meetings. If you are interested in joining please contact the club on thr e- mail address below.
Why not come along to a meeting and meet us? There is no obligation to join; we hope you will have fun.
For new membership enquiries please e mail Adrian at;
rotarykeynsham@gmail.com
PLEASE NOTE NEW E-MAIL ADDRESS
Club Responsibilities 2020/21
Club responsibilities are allocated across the membership on an annual basis (from 1st July each year). The current responsibilities are as follows:
President John Pike Sen. Vice Pres. Nigel Hutchings
I.P.Pres. Lynne Pike Secretary Geraldine Kirk
Treasurer Roger Spooner Club Service Nigel Hutchings
Com. & Voc Adrian Dodd International Norman James
Foundation Nigel Hutchings Health & Safety John Angus
Membership Nigel Hutchings Youth Lynne Pike/Roger Spooner
Sports Barrie Davis Environmental Richard Eaton
Speaker Sec. Graham Lenton Meetings Geraldine Kirk
Web site / PR Adrian Dodd Attendance Ken Cookes
Archivist TBA
Our Committees
Rotary club business is driven by a committee structure. The Keynsham Rotary Club committees are as follows:
Committee Chair
Club Service Nigel Hutchings
Community Service / Vocational Adrian Dodd
International Service Norman James
Foundation (under International) Nigel Hutchings
Youth Service Lynne Pike / Roger Spooner
Visiting Speakers
A regular feature of Rotary Club meetings is a guest speaker. Some of the speakers at previous meetings have been:-
David Boag Wildlife photographer
Dr Cliff Hancock Physics for the Layman
Lindsay Wright Toilet Twinning in Africa
Sue Mountstevens Avon & Somt Police & Crime Commissioner
Ray Long Citadel Environmental Solutions
Alan Hale Keynsham Dementia Action Alliance
Naomi Wiggins Home education
Helen Mackie Jesse May charity
Kevin Slater Freewheelers or "Blood Bikes"
Clive Brain The Pyronaut at Bristol Docks
Penny Wear Great Western Ambulance Service
Frack Free Somerset Fracking and implications
Sandy Hollinghurst Bujagali Trust Uganda
Don Cameron Childrens' Hospice SW
Michael Eavis Glastonbury - supporting CHSW
John Callum Duties of a High Sherrif
Our Donations

Keynsham Rotary Club supports the local community and good causes both directly and via Rotary Foundation (Rotary Club's own charity). In recent months we have supported the Bristol Heart Institute, Jesse May Charity, Keynsham Dementia Action Alliance, Prostate Cancer UK, The Hive,Bristol, St Peter's Hospice, Children's Hospice South West, Jinja Educational Trust (Uganda), Water Aid, Shelter Box and the RUH Forever Friends Cancer Care Appeal.
Our Twinning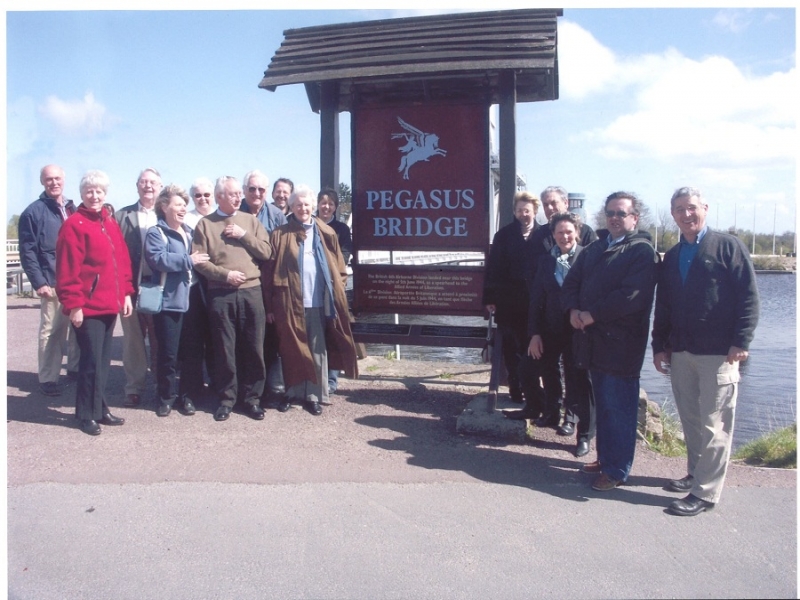 Keynsham Rotary club is proud to be twinned with Argentan Rotary club in Normandy France. This relationship has prospered over recent years with both club's Rotarians and their spouses enjoying social visits to each other's towns. Such a twinning extends friendship and understanding across national boundaries in the true spirit of Rotary International...the photograph below illustrates our visit, together with our friends and hosts to the Pegasus Bridge war memorial at Ranville Benouville, Normandy.
Social Activities
The social and fun aspects of the club are important to its success.
We hold social meetings when there is a 5th meeting in the month. Spouses, partners and friends are very welcome and we enjoy a meal plus a speaker. Other activities include pub skittles, quiz nights, bowls and boules against other Rotary clubs in our District, plus social meals and attendance at concerts/music events. From time to time we arrange trips and guided tours around interesting locations and very occasionally club trips abroad. Members are free to be as involved as much or as little as they wish.

Pencils poised..its Quiz night!