Playground for St Mary's School

04 October 2018
Witney Rotary assists towards new playground, see details


Redundant Phone Box Houses Life Saving Defibrillator
17 April 2018: Witney Rotary helps in refurbishment of phone box. Please read full press release here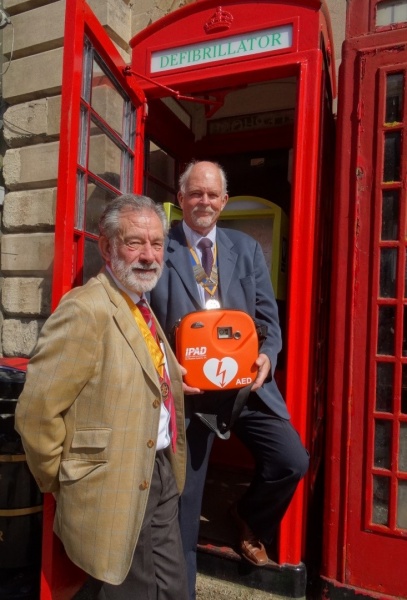 Witney Christmas Lights Celebration
Friday 24th November 2017; Crowds flocked to Witney Market Square to celebrate the official launch of the Christmas Lights organised by Wtney Rotary Club. Read More...

West Oxfordshire Youth Speaks Heat 2017-18

Thursday 16th November 2017: Local Youngsters fight it out in words, Youth Speaks - Read More..

Witney Carnival 2017
8th July 2017: A warm sunny day was ideal for Witney Carnival 2017, the largest free annual event in the town. Read More...

Witney Technology Tournament 2017

June 2017: Described as 'A brain-testing challenge for all participants' Witney Technology Tournament was organised by Witney Rotary Club Read More...
Oxfordshire Prostate Cancer Support Group Appeal Presentation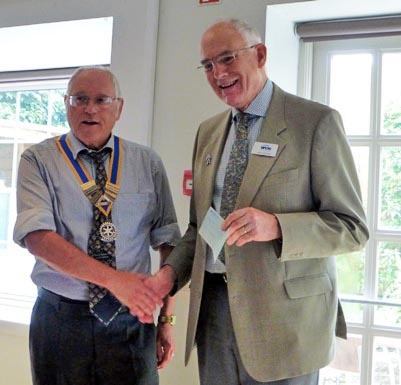 June 26th 2017: With the Rotary year drawing to a close, outgoing President Steve Holborough presented a cheque for just over £3,600 to the Oxfordshire Prostate Cancer Support Group, his chosen charity during his year of office. "The Support Group's work will benefit from the money raised" said Steve "But the Charity will also benefit from the raised profile resulting from the appeal". Speaking at the presentation to the Charity's representative John Grundy who thanked everyone who'd supported the fund raising efforts over the past 12 months.

Rotary Foundation Scholar Ginger Kline Bids Farewell to Witney Club

June 26th 2017: Witney Rotarians said farewell to Rotary Foundation Scholar Ginger Kline who was mentored by Keith Crawford while studying at Oxford University through the recent Acedemic year.
.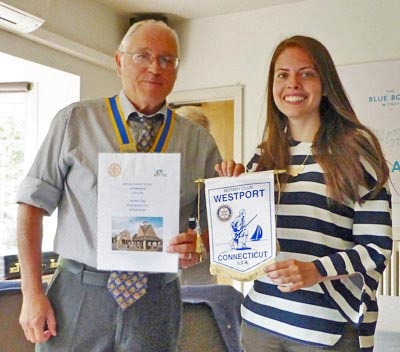 President Steve exchanging Club Banners with Ginger Kline

World Pooh Sticks Championships in Witney

4th June 2017: The River Windrush at Cogges was the centre of attention for the 2017 World Pooh Sticks Championship.Read More...

Witney Turns Blue for Dementia Awareness Week
15th to 21st May 2017Te aim is to raise the profile and understanding of this condition, caused when the brain is damaged by diseases, the most common is when a person suffers from Alzheimer's or has a series of strokes.. Read more here...

Interact Plant Sale for Charities.

13th May 2017: Plant Sale: Wood Green School Interact Club held a Town Centre Plant Sale in the Woolgate, raising £341 to be divided between the Interact Club's two chosen Charities.Thank you to the many keen gardners for your continuing support.

Support for Witney Students African Adventure

April 2017: Six students from the Witney Campus of Abingdon & Witney College will undertake the trip of a lifetime to Nakuru in Kenya in July, to support the work being done by The Walk Centre who provide a free education and two meals a day to around 500 children that live on the town's rubbish dump. Witney Rotary International Committee are providing a measure of financial support for the visit. Read More...

Street Collection for Polio Eradication
April 2017: Witney Rotary Club continues to support the International efforts to eradicate the world of Polio. The generosity of passers-by meant our street collection raised £500 for the cause. A further £440 has been raised by other means
Poiio was once prevalent in this country before the UK Eradication Campaign succeeded. That was brought home when two different local people approached Rotary Collectors to tell their story. One had suffered from the disease which left him with a shortened leg, the seond person told how her sister was confined to a wheel-chair by the paralysis caused by the disease. A stark reminder that the threat still remains in other areas of the world. The Polio Eradication fight goes on!

Race Night - A Winner!

April 2017: A sell-out Race Night held in the Corn Exchange and organised by Witney Rotary Club raised a grand total of £2540. As a result 50% will be donated to the Oxfordshire Prostate Cancer Support Group, the Charity supported by this year's President steve Holborough. The remainder to be used to help fund many of the Charitable causes supported by Witney Rotary Club and outlined elsewhere on this website. Thank you to everyone who made the eveningsuch a success.

South Sudan Famine Relief Appeal Street Collection
March 2017: Thanks to the generosity of Witney visiors on Saturday 26th the grand sum of £553.70p was collected in aid of the Sudan Famine Relief Appeal by Witney Rotarians We are grateful to everyone who made a contribution and helped us to reach this total.
At their meeting Club Members agreed to add further funds from the Club Charity Account brining the total up to £1000!
The funds will be used to provide help to those enduring harsh cndiitions in South Sudan where crops have failed, cattle have died and starvation and deprivaton.are wide spread..