Community Service
The Community Services Committee
Community Services
The Community Services Committee is set up under its Chairman Rtn Hari Hughes to promote and organise service to the community of Rhyl.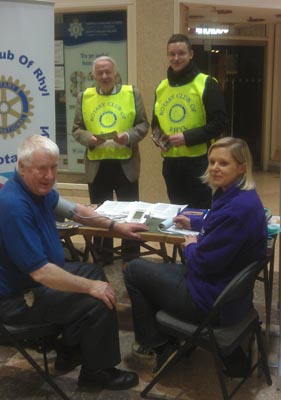 STROKE AWARENESS DAY AT WHITE ROSE CENTRE
Blood Pressure awareness & testing with support from the Stroke Association, Glan Clwyd Stroke Unit and Ambulance paramedics has been an annual event and was last held in the White Rose Centre on Friday 4th April.
Pensioners' Outing
The Committee organises annually in June a Pensioners' Outing primarily for Rhyl pensioners who have limited independent mobility. A fleet of Rotarians transport pensioners from their homes to a coach for a trip through the countryside. The coach returns to St Anne's Hall for a tea provided by the Club and the ladies of the Inner Wheel Club of Rhyl. Entertainment is provided before being driven home. If you wish to join a future outing, please contact us via one of the links on this website
Our Annual Outing for Rhyl Pensioners was held on Sunday 1st June and omprised a Coach Trip taking in our beautiful North Wales scenery with a stop for refreshments at the Ponderosa before returning forTea at St Annes Church Hall.
To apply to join the 2015 outing call Rtn Hari Hughes on 01745 331525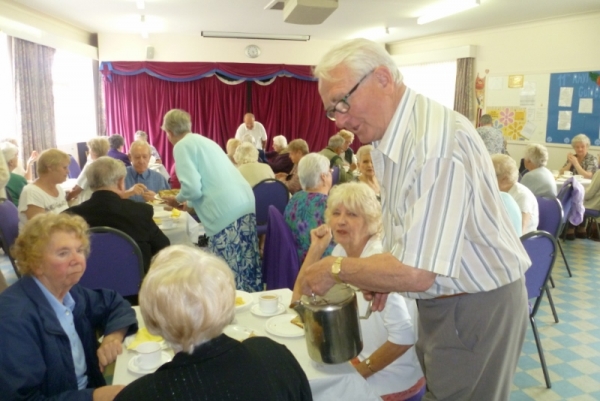 Rtn Glyn Griffith PHF pouring tea at the Pensioners Outing 2014
Members of the Rotary Club of Rhyl act as trustees for a fund which provides holidays for Rhyl Gentlemen who are in need of convalescence or respite from their duties of care. This September, four gentlemen joined a coach holiday to the Isle of Wight and a further four went to Eastbourne. Again, if you are not of independent means, you are welcome to contact us as above.
The Community Services Committee also proposes deserving citizens, who have provided outstanding service to local charities, to receive our annual Community Service award. The committee is empowered by the Club to award grants of up to £100 to deserving local groups.
WWeWWehttp://www.rotary-ribi.org/clubs/homepage.php?ClubID=1122 DM