THE ROTARY CLUB OF KING'S LYNN TRINITY
This page provides an overview of our Club see the other pages for more detail
The Club was founded in 1989.It currently has 20 members and we meet most Thursdays at The Stuart House Hotel, Goodwins Road, King's Lynn but click programme on our home page for further details.
We are entering a new phase in our Club's history as we venture into our 31st year as a Club and we welcome our current Joint Presidents Peter Harris and Ernie Foreman
We have a full programme of Local and International projects for this year but subject to the restrictions of Coronavirus
Youth - our Future
We are the Lead Club for Schools Make Music providing youngsters with the opportunity to perform to a live audience
We also are the lead Club for Kids Out and Crucial Crew and participate in the Rotary Youth Leadership Awards.
The Club holds a Rotary Young Chef Competition at College of West Anglia,the winner going forward to the District and hopefully the National Competition as our candidate did in 2010/11.
The Club also organises the Rotary Young Server RegionalCompetition
The Club also sponsors and supports the Interact Clubs at King Edward VII School and Springwood High School Academy
We participate in Dictionaries for Life providing children with the tools to progress in their education
All are projects that help young people to progress, develop and build their future.
Community and Vocational Committee:
We are always pleased to support local charities during the Rotary Year and are always alive to opportunities to serve the local community dependent upon identified needs
The Club have been involved in Community Projects such as Tree Planting and Garden construction in Kings Lynn
Look out around King's Lynn next February and you will see swathes of Purple Crocuses planted to commemorte the Cenrenry of the Rotary Foundation - Rotary's own Charity - demonstrating Rotary's commitment to ending the scourge of Polio with our Purple4Polio Campaign- we are this close!
International
The Club is active in buying and filling Aquaboxes, Shelter Boxes and Emergency boxes for use in Disaster Areas of the world.We have also supported Sight-savers
We have also supported Aid to Hospitals Worldwide in providing surplus hospital and medical equipment to areas of the world that can use it to benefit those in need and have provided much needed water supplies in Zambia.
We are involved with Lend with Care which provides loans to enterprising people in Thirld World countries giving them the opportunity to strt their own business and contribute to their countrie's economic well being
Membership:
We welcome prospective new members to attend our meetings where you can be sure of a welcome and a lively and entertaining evening of Fellowship
For more information please use " contact " at the bottom of our home page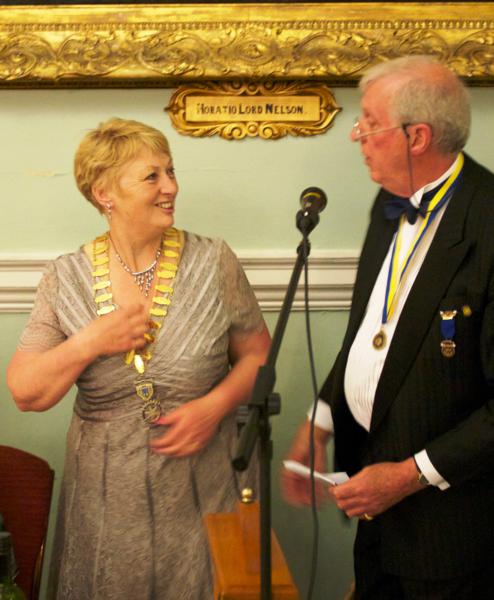 Founder President Roger Allflatt inducting new President Lesley Bambridge at our Charter Evening on Thursday July 4th 2013