Chartered in 1955 and currently has 41members led by Club President Keith Crawford.
A bustling Market Town, Witney has a population of 29,000 and is still growing. At it's centre stands the mediaeval Buttercross, where local farmers came to sell their diary products and other perishable goods.
Just across the road is the 18th century Town hall, which some claim was designed by Sir Christopher Wren, although no written records exist to prove this fact.
The town, the largest in West Oxfordshire, was originally founded at the main crossing point of the River Windrush.
In 1044 Queen Emma granted the Bishop of Winchester an estate in Witney, a fact that was recorded a couple of decades later in the Domesday Book. The excavated foundations of the Bishop's Palace are still to be seen adjacent to St Mary's Church in the grounds of The Mount.
In the 12th Century it was recorded for the first time that people in Witney were making use of the wool from sheep on the nearby Cotswolds to make woollen material. Over the centuries this industry grew in size and from the middle ages onwards Witney became famous for manufacturing what were known world-wide as 'Witney Blankets' .
In 1939 just prior to the outbreak of World War Two it was claimed that of the 10,000 inhabitants in Witney everyone was either employed in the Blanket Mills or had a close association with the industry.
In more recent times as the demand for blankets declined, the Blanket Mills closed one by one until only Early's Mill was still in operation. When it finally closed it's doors in 2002 with it went part of Witney's heritage stretching back to the 12th century.
Despite this setback Witney has since grown rapidly, yet still managing to retain its charm as an attractive Cotswold Market Town. With the world famous Cotswolds on it's doorstep it's an attractive place to live and work.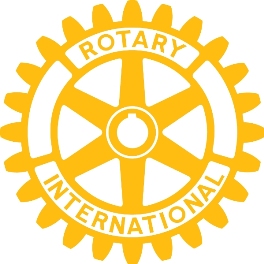 Rotary International is a worldwide network of men and women involved in relevant social causes, to change and improve quality of life.
If you would like to learn more about Witney Rotary Club and it's activities, or the wider Rotary Community please contact Club Secretary.