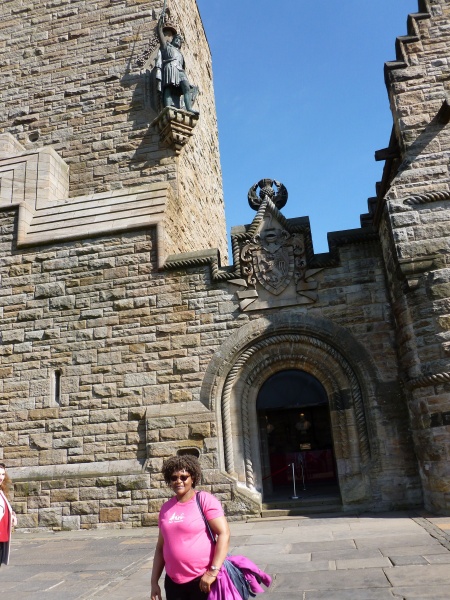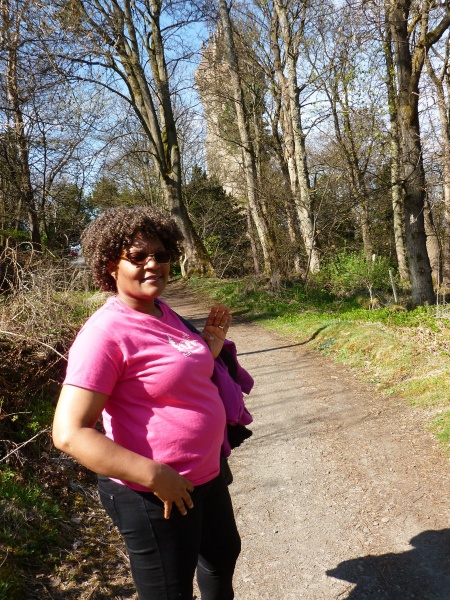 Christina visiting the Wallace Monument in Stirling

Christina was guest speaker at club meeting on 9 April

Picture shows (l-r) President elect Mary Fraser, Khlayre Cairney Head of Fundraising at University of Stirling, Christina, Jean Kelly and Jenifer Macrae from Stirling Soroptimists and President Peter Farr.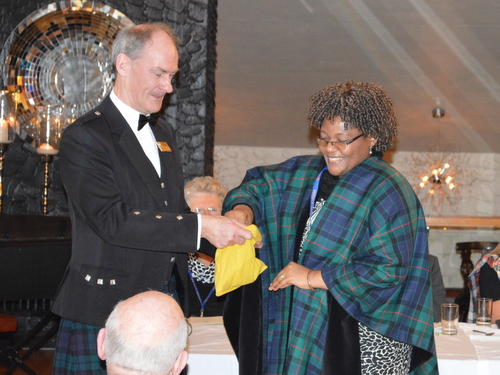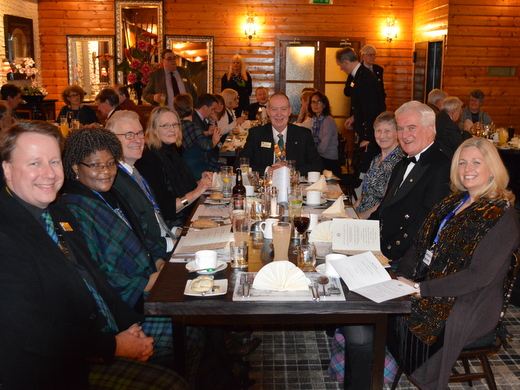 Christina at Burns Supper on 29 January 2015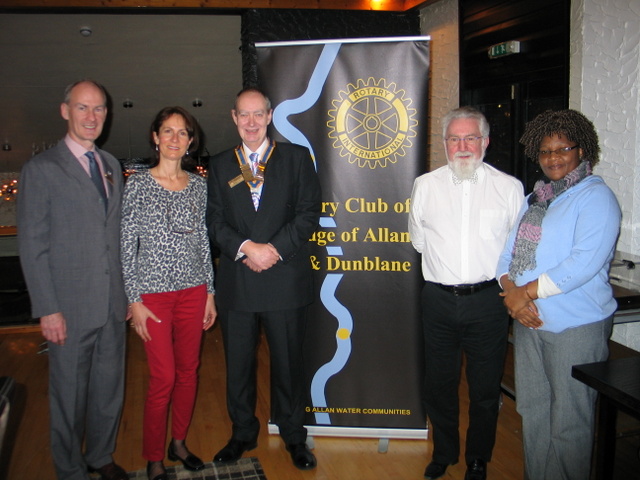 January 2015 Club meeting
October 2014 Visiting the Kelpies at Falkirk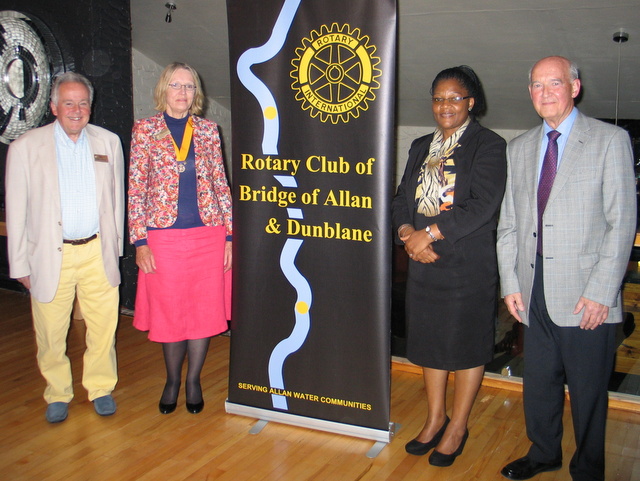 September 2014 Club meeting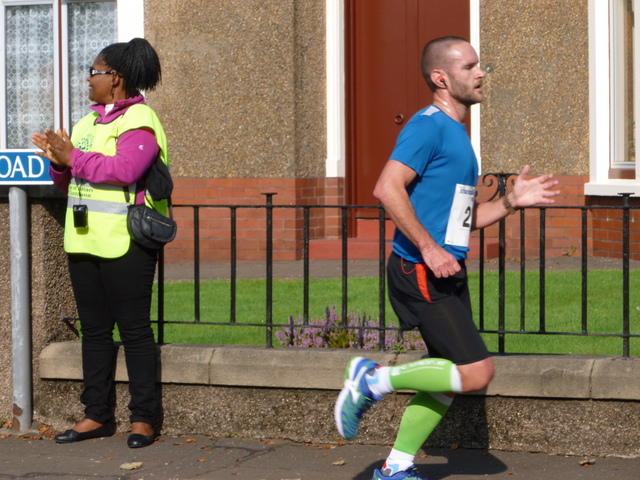 September 2014 Marshalling at Strathcarron Hospice10k Run.
Christina arrived in Edinburgh Airport on on Tuesday 9 September 2014 after travelling from Malawi since Monday lunchtime.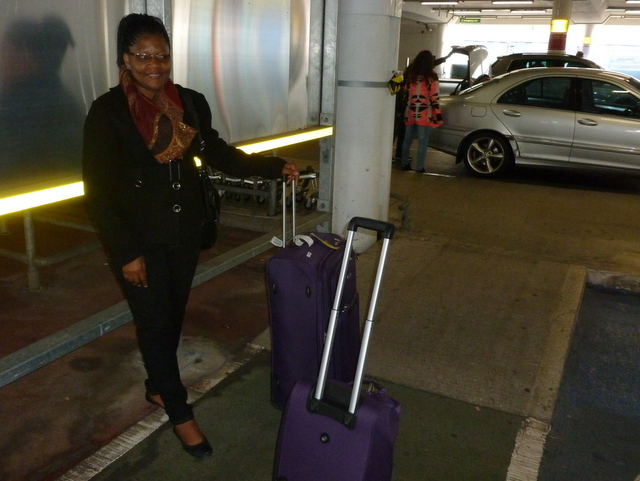 She was met by Mary Fraser, Gordon Robb and Jim Gardner who took her to Stirling. She spent three days staying with Mary until her accommodation at the University was ready for her.
February 2014
At the Business Meeting on 20th February 2014, the team developing the global grant application for a scholarship from Malawi gave a presentation of the latest stage in the process: interviewing the applicants. Three of the original 22 applicants were short-listed and interviewed in Malawi using Skype. The interview panel included Rotarians from our partner club in Blantyre, Malawi, the Limbe Club. They had worked with us to develop the grant application from the outset and are now firm friends and colleagues, who wish to pursue our on-going relationship beyond this one grant.
The picture below shows the team who conducted the interview - in Stirling, Dr. Nicola Ring from Stirling University on the left and Rotarian Mary Fraser on right with the Malawi interview panel on the screen - from left to right: Rotarians Abdul Duhda; Mike Steytler (bottom); Mohamed Tayub (top); and Dr Frank Taulo, Director of the Centre for Reproductive Health.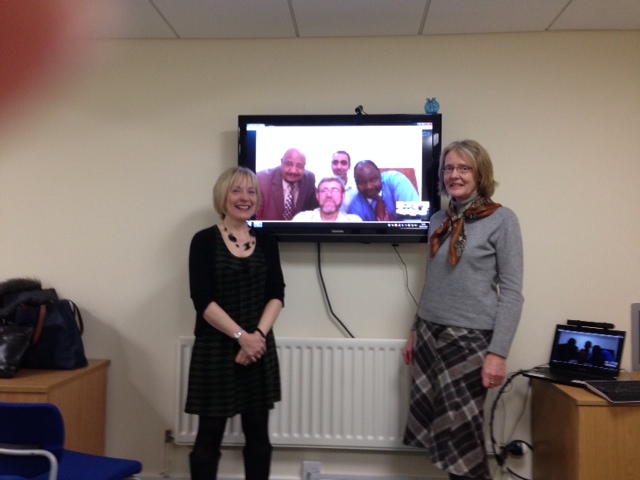 The candidate chosen was Christina Mbiza, a Nursing/Midwifery Officer working in the Department of Obstetrics and Gynaecology, Queen Elizabeth Hospital, Blantyre, Malawi.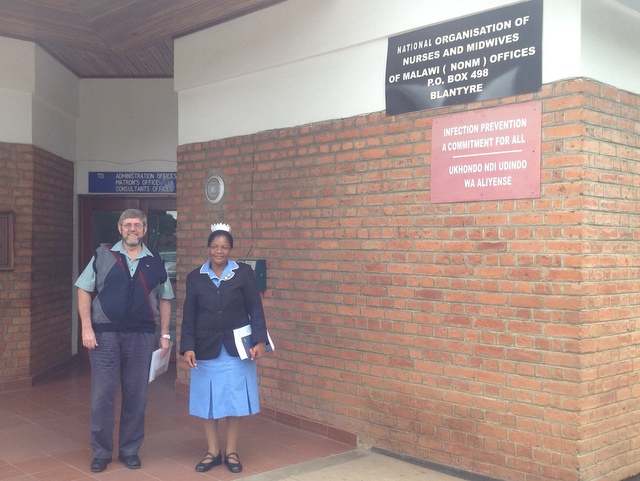 Christina with Mike Steylter.
Christina is a professional midwife, and manages a Maternity Unit in the Department of Obstetrics and Gynaecology in Queen Elizabeth Central Hospital, Blantyre, Malawi. The Department has around 10,000 deliveries, including Caesarian Sections, per year. It also has around 50,000 outpatient attendances, and 28,000 admissions annually.
Following completion of the course at Stirling, Christina plans to return to Malawi to implement policies and procedures to provide comprehensive maternal, neonatal and child care in order to reduce the morbidity and mortality rate.
A team of 2 Rotarians and 1 researcher from the University of Stirling are now planning a trip to Malawi in early April to learn more about the country and to meet Christina and the Limbe Rotarians.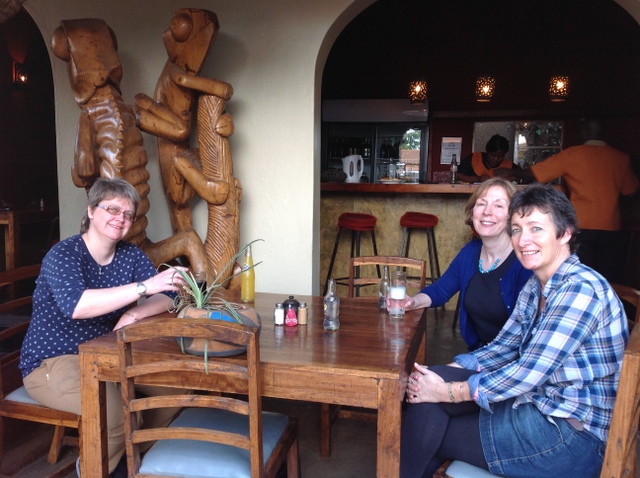 Rotarian Audrey Cooper with Professor Helen Cheyne from Stirling University and Jude Holden who is the Clinical Director (Africa) for Ann Gloag's Freedom From Fistula Foundation.
Details of the advert for the post are shown below.



Rotary Club of Bridge of Allan and Dunblane in partnership with Rotary Club of Limbe, Malawi
Scholarship Opportunity - One year full time based at the University of Stirling, Scotland.
Improving Maternal and Child Health in Malawi
September 2014 August 2015
MASTERS (MRes) IN HEALTH RESEARCH
University of Stirling, Scotland
The Rotary Club of Bridge of Allan and Dunblane, Scotland in Partnership with the Rotary Club of Limbe, Malawi is delighted to offer a fully funded scholarship opportunity for a health care professional from Malawi to undertake the Masters Degree in Health Research (MRes Health Research) at the University of Stirling, Scotland.
Through providing this scholarship our aim is to support and enable lasting improvement to maternal and child health in Malawi.
The successful applicant will undertake the MRes Health Research. This is a one year, full time course, based at Stirling University, which will enable the scholar to develop practical skills in health research that will equip them to make a sustained and significant contribution to the improvement of maternal and child health in Malawi. The scholarship will include: university fees, travel to Scotland and back to Malawi on completion of the course, accommodation and living costs.
Our ideal candidate will have a clear understanding of the key issues relating to maternal and child health in Malawi and a vision for how they will contribute to the Rotary Club aim to improve maternal health and reduce child mortality for children under five in Malawi through improving the organisation and delivery of care, quality of care, or public health.
Candidates will have at least five years experience working in healthcare delivery in Malawi and must hold a degree or degree equivalent from a university or college recognised by the University of Stirling. For those with a Malawi based degree this will be a Masters degree from either the University of Malawi or Mzuzu University (equivalent to a UK Bachelor (honours) degree).
Background
In July 2013, a small committee, made up of Mary Fraser (lead); Audrey Cooper; Jim Gardner and Gordon Robb with Helen Cheyne representing the University of Stirling, was set up to explore the possibility of a Global Grant scholarship. They chose the area of Maternal and Child Health in Malawi.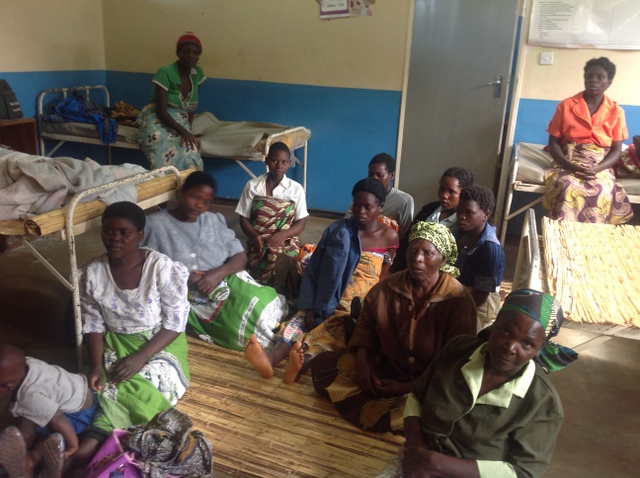 A Community Hospital near Lilongwe, Malawi which is full to overflowing.
The club needed an international partner in the country where the project was planned and received a positive response from the Limbe Club in Malawi.
The University of Stirling agreed to work with us to develop the package of information for potential candidates who would undertake the Masters in Health Research at Stirling, starting in September 2014
The Limbe Club
The Rotary Club of Limbe is situated in the southern region of Malawi, near the commercial hub of Blantyre. The club is part of District 9210 which covers Malawi, Zambia, Zimbabwe and Mozambique. The club was chartered almost 30 years ago and currently has 38 members, 3 of whom are women. We have strong links with local charities, and historically have always had five Matching Grants on the go at any one time. Recent projects include providing solar power to some schools, constructing a bridge over a river to join two communities, sinking water wells to provide water, the provision of medicines to hospitals and the provision of micro financing to local entrepreneurs and communities.

The University of Stirling
Helen Cheyne is personal chair of the Nursing, Midwifery and Allied Health Professions Research Unit (NMAHP RU) at the University of Stirling and was recently appointed by the Royal College of Midwives (RCM) to chair their second RCM chair of midwifery in the UK.
Dr. Nicola Ring is Course Director of the MRes in Health Research at the University of Stirling