Front row l to r: - Malcolm Lord, MC: Ray French MBE, Guest Speaker:, Bob Guard, Rotary President: Ian Brooke, Trinity(Capt) & GB: John Masters, Wakefield RUFC (Capt) & Yorkshire RU : Joe Bonnar, Trinity:
Back Row l to r: Neil Fox, MBE, Trinity (Capt) & GB : Nick Fozzard, Castleford, St Helens and Warrington: Bob Haigh, Wakefield, Leeds & GB: John Kaye, Wakefield RUFC & Yorkshire RU: David Jeans, Wakefield RUFC, Leeds & GB : Geoff Oakes, Trinity & Warrington: Harold Poynton, Trinity (Capt) and GB: Ray Spencer, Trinity and Wakefield RUFC.
Legends Night 2015
Rotarian Ray Spencer, himself a player of some standing who played for both Wakefield Trinity and Wakefield RUFC, is the primary organiser of the event which took place this year at the St Pierre Hotel in Newmillerdam.
Almost 100 people turned out to enjoy the night with Malcolm Lord, well known raconteur as Master of Ceremonies and Ray French MBE, as the guest speaker. Ray played both codes of Rugby at international level, was a 5 Nations Championship player in 1961 and was perhaps just as well known as the voice of the Challenge Cup on the BBC. Although having retired from full time commentating now, he is still active working at Radio Merseyside .
Bob Guard, President of the Rotary Club said "It was superb to see such an illustrious group of well-known sporting personalities coming together again in support of our Charities. We were honoured to have them as guests on such an entertaining night. This year those Charities are CAP in Wakefield, who provide a food kitchen in the centre of town and also help for needy families. KIDS in Wakefield, who support families with severely disabled children. One other Cause being supported on this night was the expansion project at Kingsland School which specialises in helping and supporting children with severe mental and physical handicaps.
During the evening, we also presented a cheque for £500 to Richard Larder, the musical director of the Wakefield Metropolitan Band. Richard told us that the funds will be an invaluable help with the running of the band and particularly the travelling expenses of the younger members who may otherwise find it difficult to attend practice sessions"
The night itself raised over £2500 in aid of the main Charities. Ray Spencer has calculated that over the 14 years that the event has been running, more than £40,000 has been raised for Charities and deserving causes, all in the Wakefield area.
The Club and its members are looking forward to the 15th running of the event in 2016.
Legends Night 2014
Once again some of the best known and well-loved Rugby Legends from the Wakefield area came back together again to celebrate the 14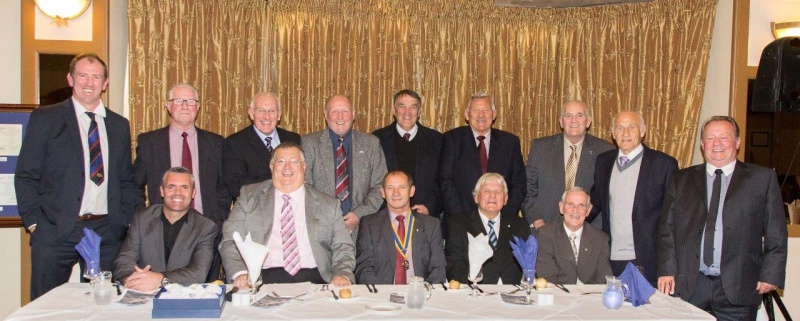 The heroes in the photo are:-
Legends Night Guests. Standing Nick Fozzard, Ian Brooke, Terry Crook, Brian Lockwood, Bill Kirkbride, Neil Fox, Geoff Oakes, Harold Poynton, Joe Bonnar
Seated:- Tommy Martyn, Malcolm Lord, Rotary President Ian Howarth, Peter Fox, Ken Rollin
In addition to helping raise money for the Rotary Charities, the evening also included the auction of a framed montage of Wakefield Trinity old programmes from the 1945 Yorkshire Cup Final with Hull, through to the 3 appearances in the 1960's at the Challenge Cup Finals at Wembley (which they won 2 of!) and a drawing of the 1909 Northern Union final between Wakefield Trinity and Hull. The montage was donated by Duncan Beech and raised £250.
The Rotary Club also presented cheques to a number of charities during the evening – Ken Rollin accepting for Speakability, John Whitely accepting for Breakthrough Breast Cancer, Andy Bevan for the Wakefield Sports Academy who support disadvantaged local children to get involved in sports and Fred Burrows, who climbed Kilimanjaro in support of the Wakefield Hospice."