Speaker Evening
Thu 4th May 2017 at 18.45 - 20.45
Mike McDowall will give us a talk on Queensferry Harbour. Raffle - Stewart Hutchison . Reception - Robert Farrelly / Enrico Prentice .
The Harbour - Queensferry's Maritime History was the theme of Mike McDowall's talk at the Rotary Club of South Queensferry on Thursday 4th May. Using illustrations from his recently-published book of the same name, Mike traced the history of shipping in Queensferry from the earliest days when boats simply landed on the beach or at natural rocky inlets like the Binks through the construction of the earliest harbour around 1694 to the design and construction of the harbour in its current form in 1817. The project was controlled by Hugh Baird with recommendations from John Rennie, Thomas Telford and Robert Stevenson. From the sixteen hundreds, trading with the Netherlands, the Baltic and even Tangiers, to the herring boom of the mid-to-late nineteenth century when sixteen boats were based in Queensferry, Mike's talk followed the fluctuating financial fortunes of the harbour and the local trading community. He examined the considerable influence of the Royal Navy: for example the town raised a considerable revenue selling water from a pipe on the pier to the various guardships stationed in the bay and visiting warships. The late nineteenth century saw tourism arrive with the construction of a timber extension to the west pier by the Galloway company to enable its paddle excursion steamers to berth at any state of the tide. Tourism dwindled because of the First World War and the Galloway pier was scrapped in 1925. The harbour is now principally used by pleasure craft. It is the home port of the Queensferry Boat Club founded in 1957 and is used by boats of the Scottish Coastal Rowing Project. It was fitting that Mike's talk took place on the 200th anniversary of the present harbour. It sparked many memories among club members.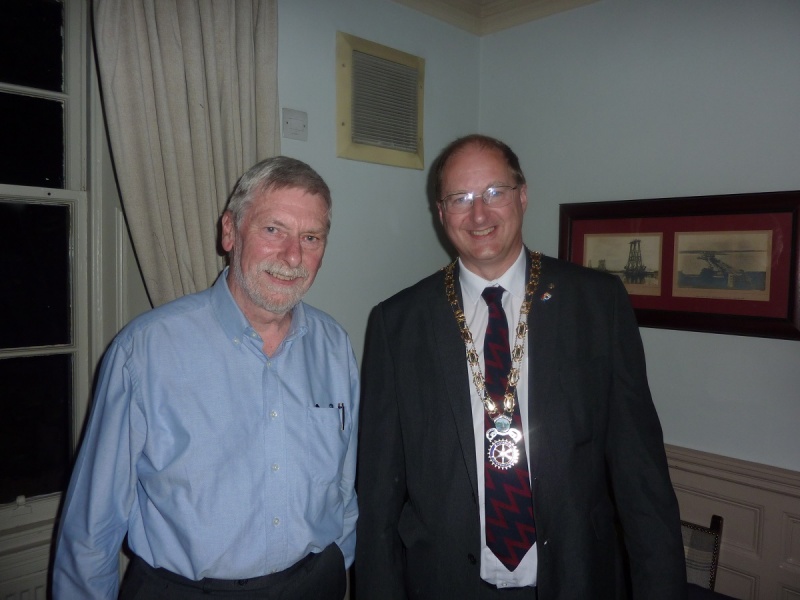 Our photo shows Mike with President Graham
Photo courtesy of Gerald Smith
Mike McDowall was introduced by Robert Farrelly. The vote of thanks was proposed by Enrico Prentice.