Speaker Evening
Thu 22nd June 2017 at 18.45 - 20.45
Our very own charismatic Gordon McInally will give us a talk on Kenya. In addition, we will be joined by representatives of our 2017 Abseil Charities. Raffle - Alan McCloskey. Reception - Kinley Macdonald / Alan Armes.
On Thursday 22nd June, Graham Leith chaired the last full meeting of his presidential year before the handover. In a packed programme he welcomed representatives of the many charities which had benefited from this year's Rotary Forth Bridge Abseil. Graham Clarkson, abseil organiser, confirmed that the event had already raised over £160,000.
The meal enjoyed by members and guests in the Hawes Inn had an extra dessert course, courtesy of veteran Rotarian Charlie Wright, who celebrated his eightieth birthday that evening. Charlie was warmly congratulated by all present.
Rotarian Grainger Falconer then received a well-deserved Paul Harris Fellowship, one of the highest honours in Rotary. In his citation commending Grainger for the award, Richard Brown mentioned Grainger's career as a senior police officer, later teaching police both here and overseas. Grainger also did much valuable work with victim support.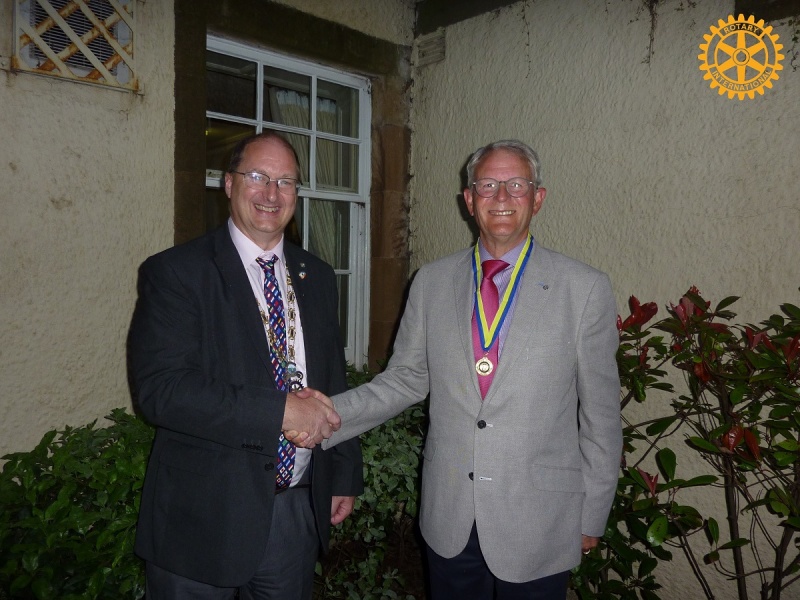 In Rotary he has chaired several committees and was club secretary for three years. His work on the club review and risk assessment policy were significant contributions. In presenting the fellowship, President Graham said Grainger Falconer exemplified what is best in Rotary.
Gordon McInally a long-standing member of the club, then gave a fascinating presentation of his recent working visit to Nyumbani - an orphanage and bush village in Kenya for children and families with HIV /Aids. As a recently retired dentist, Gordon assisted in the medical centre by performing mouth examinations and making dental records which barely existed for these people.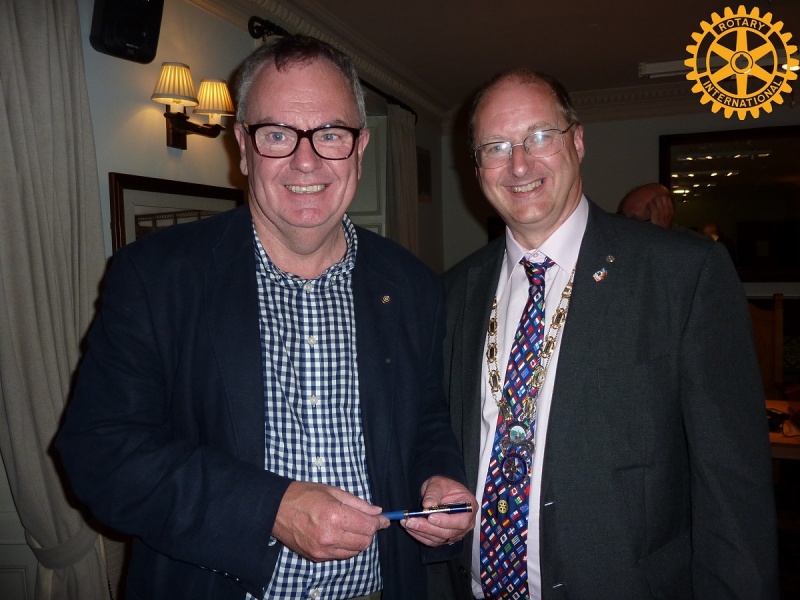 The Nyumbani Project has for many years been supported by Arbroath Rotary Club. The lead is now passing to the Rotary Club of St Andrews. Although health infrastructure in Kenya is slowly improving, there is great need for dental services in rural areas. Preliminary work has already started to provide a mobile dental surgery funded by Rotary in Scotland and supported by very active local clubs in Kenya. Gordon's great and enduring love for Africa was evident in this example of how Rotary can make a difference to the lives of the most disadvantaged people.