Club Assembly and Handover
Thu 29th June 2017 at 18.45 - 19.45
Club Assembly and Handover. Raffle - Irene Brownless. Reception - Norman Watson / David Batty.
Thursday 29th June saw the end of the Rotary Year at the Rotary Club of South Queensferry. President Graham Leith welcomed Ken Robertson, Assistant Governor of the City Area, and other guests to his final meeting as president. He thanked members for supporting him in an exciting year in which the club had gained two new members and had yet another astronomical fundraising effort not only with the Abseil but also Santa's Sleigh. The club was in good spirits, with a vibrant social life while the conference at Harrogate was well-attended. Graham particularly thanked his council and said the major reward of his year had been working with the support of the membership. He reserved his biggest thanks for Linda, his wife, for letting him be president of the best club in Europe. Graham then made two awards for exemplary service to the club. The Jim Boyd Paperweight, presented in person by Honorary Member Jim Boyd, went to Derek Clark. The John Rennie Trophy was awarded to Graham Clarkson, chief organiser of the Abseil, which again raised record sums.
President Graham then handed the chain of office to incoming president Neil McKinlay.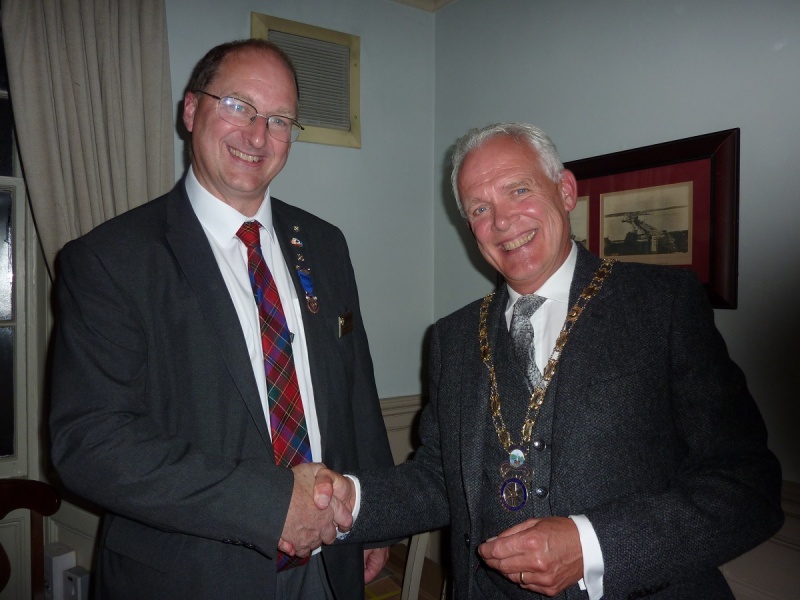 In his opening remarks, President Neil congratulated Past President Graham and reflected on the differing styles of the four presidents who had served since he joined the club. He hoped that his presidency would make a difference. President Neil then gave a brief presentation of his committee and a proposed programme of activities for the next Rotary Year which was well received by the membership. He then presented the official medal to Incoming Vice President Sandy Mackenzie. President Neil said that doing the right thing is the true mark of a president and pledged to be bold and challenging while in office. He wanted the club to remain vibrant and fit for purpose for the next forty years.
Assistant Governor Ken congratulated Graham on a successful year and wished Neil an enjoyable presidency. He observed that Rotary is not just about raising money, though the contribution of South Queensferry is immense. Not only is the Abseil renowned in Rotary, this year the club raised the biggest sum per member for the Rotary Foundation. He touched on the challenges faced by clubs across the country faced with an ageing membership profile and the task of recruiting new members from the ranks of young professionals whose lifestyles left little time for voluntary activities. Ken concluded by saying that a Rotary Club President needs to lead but also needs the power and support of the club.