Photo above: the winning Swiss Laundry team of our 25th Charity Golf Day with trophy presented by (in centre) Past President Colin Chrebelski
Our 25th Charity Golf Day was held in May 2022 and the most successful fundraising allowed the Club to again support local causes with sizeable donations. This year we are supporting The Arthur Rank Hospice and MIND. Representatives of both charities will be attending a lunch in December to receive cheques. The Club is very grateful to sponsors Adcock Refrigeration Ltd and to Club member Trevor Chapman whose firm AngliEar provided refreshments at the half-way house; and to all those participants who contributed to the fundraising on the day. The auction of items donated proved especially successsful and our thanks to all those who donated, and to those who bid for them.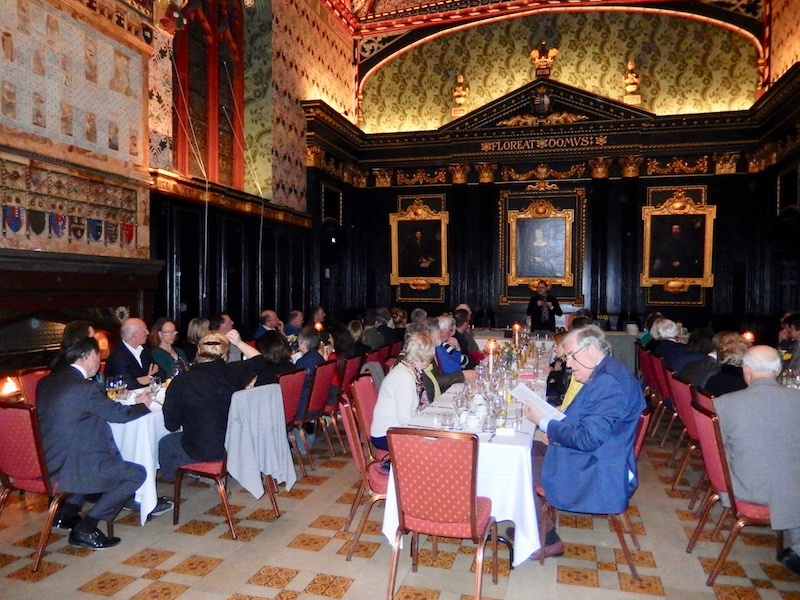 Rutherford has helped many good causes over the years and done so through different types of enjoyable fundraising events including a Charity Gin Tasting (pictured above) held in the Old Hall at Queens' College, Cambridge.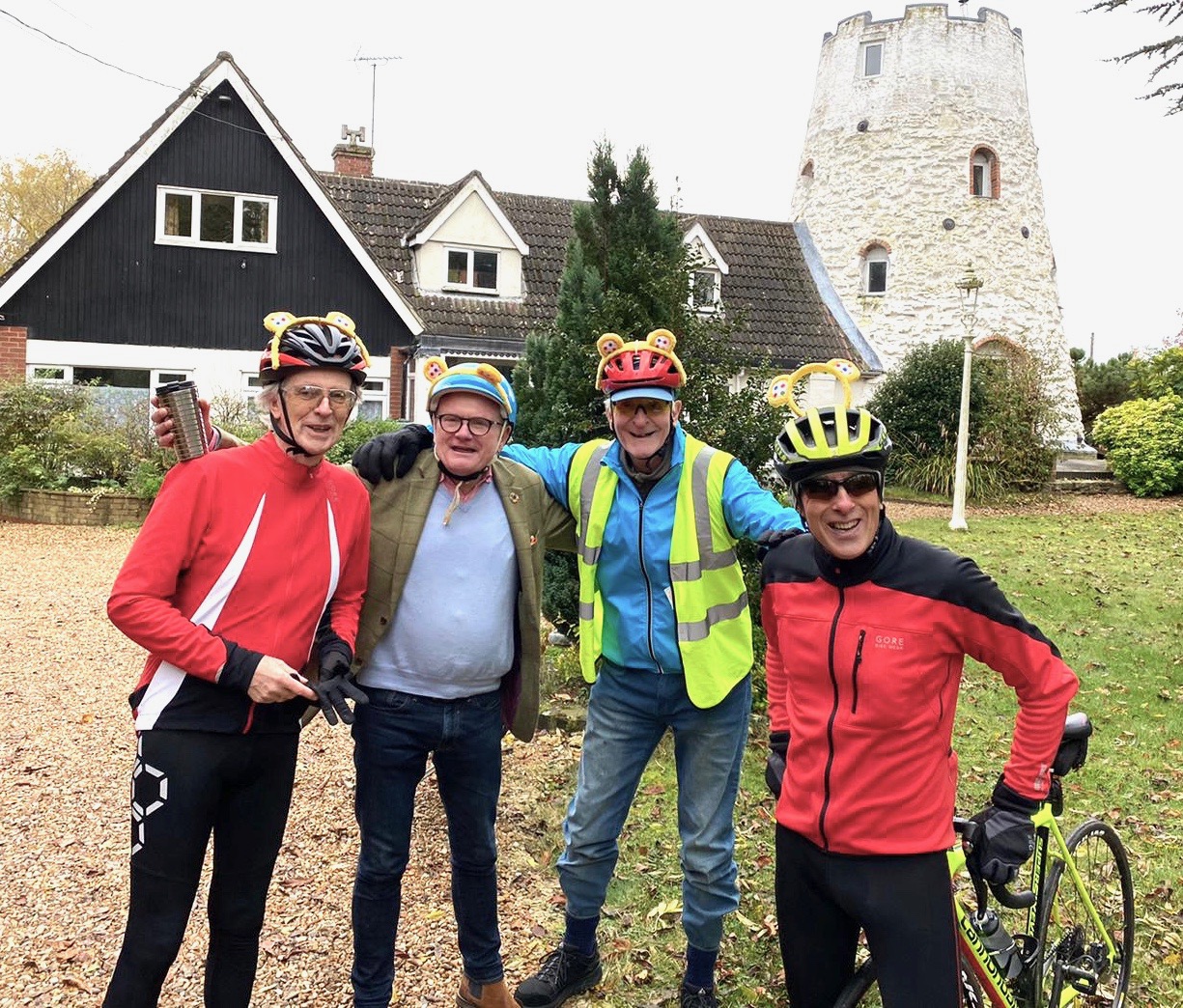 We support the annual Children in Need appeal and have done so for many, many years. Covid prevented our traditional bucket shake collection but, undeterred, the Rutherford cycling group came together for sponsored riding events which in 2020 raised £3,062 and in 2021 raised over £3,700 (photo above: a bike team about to set out). They plan to repeat this again in November 2022.
Rutherford has held fundraising sporting dinners and lunches, and an annual Christmas Wine Tasting which raises funds to send disadvantaged youngsters on Calvert Trust adventure weeks in the Lake District. We continue to send funds to ShelterBox, the charity which sends support to countries suffering from weather extremes and other emergency situations.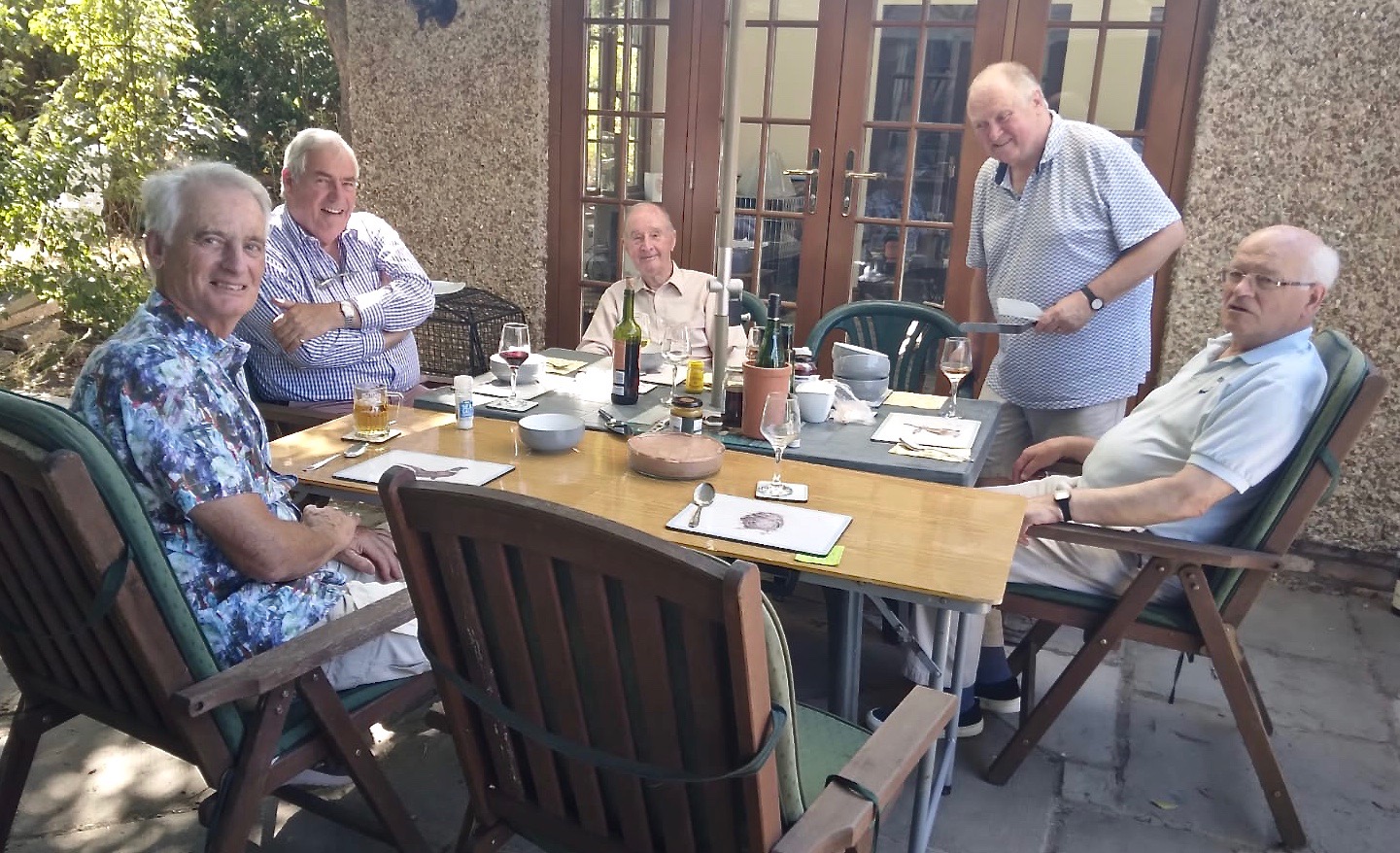 During Covid we kept our fellowship going through holding lunches for small groups in our gardens (photo above). As the situation eased we have occasionally continued these in our homes too. This enabled us to find a way to continue fundraisng with members contributing their normal lunch fee, much of which went to our charity account.