Accepting the cheque on behalf of the Recovery Tree Charity, Richard Millard said that the Trust now has 3 projects working together to make a difference to mental health and wellbeing in the Swindon community.
1. Twigs: the beautiful gardens at TWIGS have been established for over 20 years. They are a botanical delight as well as a space for people to recover and grow strong again. A woodwork shop and a cut flower co-operative also thrive at the site.
2. The Olive Tree café: a busy café in a garden centre offering good food made with care and love. Very good coffee and lovely people some of whom can be seen growing in confidence and experience. Many groups and people use the space to meet and reconnect.
3. Pinecones Partnership: developing creative workshops, a bakery and a lunch club, with the Pinehurst community.
THE GAME SHOW EXPERIENCE ON 13th NOVEMBER 2021 - RAISING FUNDS FOR THE OLIVE TREE CAFE
APRIL 2018 - Charity quiz organised by our Rotary Club and the Inner Wheel Club of North Wiltshire brought forth £2,000 for TWIGS Community Gardens in Cheney Manor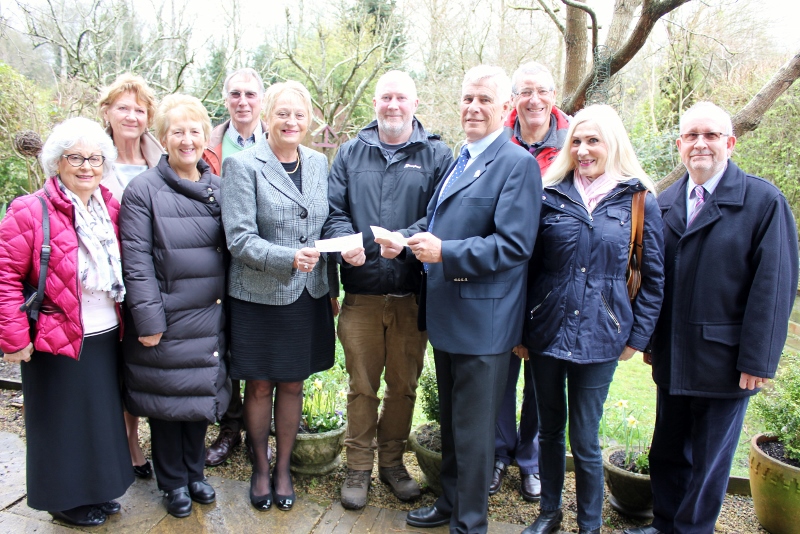 TWIGS Community Gardens has been presented with two cheques for £1,000 each. Alan Holland, TWIGS Service Manager (in the centre of the picture), received the donations from Rotary Club President Mike Helyer and Inner Wheel President Margaret Bracher at the TWIGS Garden Centre in Cheney Manor. Alan expressed his grateful thanks and said that the money will go towards the setting up of a new Dementia Gardening Group.

A few members from the two clubs came along as well to take the opportunity to look around the Community Gardens and to learn more about the wonderful work that TWIGS does in giving people with mental health problems a chance to regain confidence and self-esteem and to learn new skills.

SWINDON ADVERTISER - Quiz night boost community garden charity

Click here to find out more about TWIGS

Click here to read about the charity quiz which was held on 24th November 2017.