At this meeting two teams of three pupils from St Joseph's Catholic College who are taking part in the Rotary District 1100 Youth Speaks final on 9th February came along to practise their "performances" in front of the Club members. They were accompanied by their teacher, James Marshall.
The Rotary Youth Speaks Competition is organised and promoted by Rotary International in Great Britain and Ireland for students between the ages of 11 and 17. It's designed to support and encourage the development of effective communication skills.
Briefly the procedure is as follows. Each team member takes on one of three roles - chairperson, speaker and vote of thanks.
The chairperson has two minutes to welcome the audience and to introduce the speaker. The introduction should include the relevance or expertise of the speaker to the subject of their speech. The speaker then has six minutes to speak on their chosen subject, any topic, subject to the approval of the organisers. When the speaker has finished the chairperson invites the questioner to ask a question. The speaker may not consult about the question with other team members and has about two minutes to answer it. When the speaker has finished answering the question, the chairperson introduces the vote of thanks proposer who is given two minutes to propose it by remarking on both the content of the speech and the response to the question. After the vote of thanks and applause the chairperson closes the proceedings.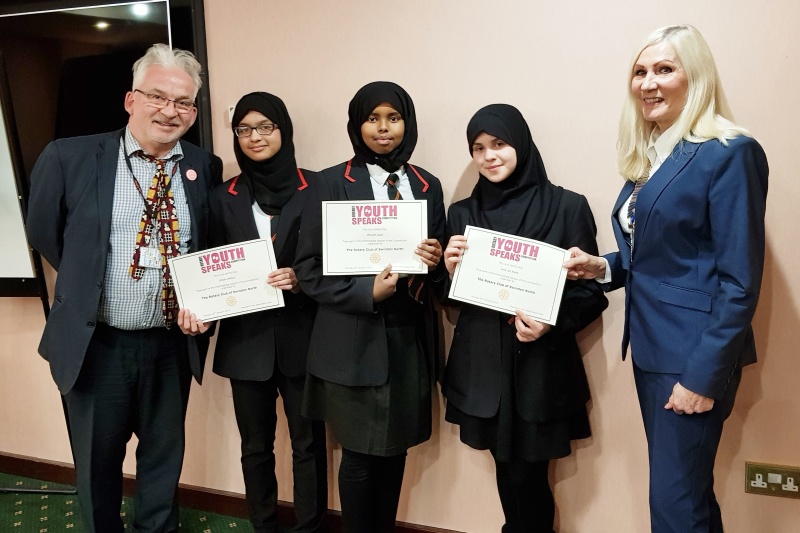 The intermediate group (age 11 and 13) with their teacher and Rotary Club President Ann.
"Why we need to learn from our mistakes" was their chosen subject. Ibtisam Salch chaired the meeting and introduced the speaker Abidah Ahmed. The talk was very confident and thought provoking and used the Roman Empire as one example. The vote of thanks was given by Sara Ali Kahn.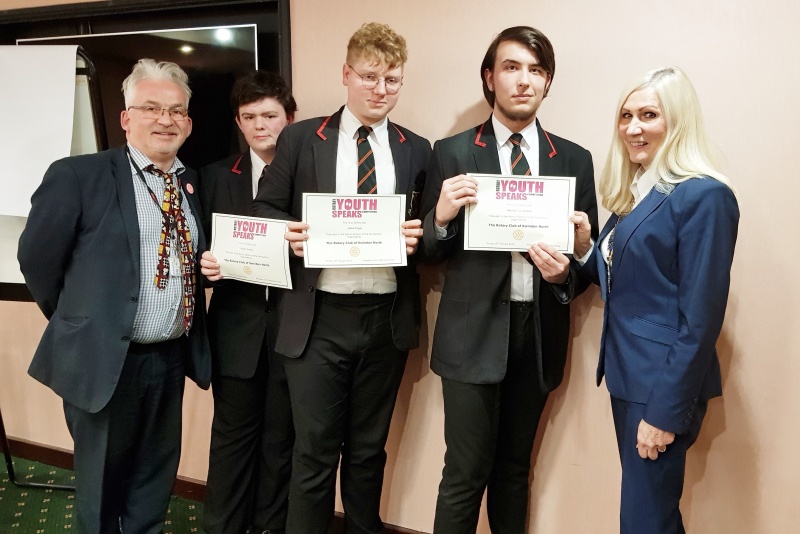 The senior group (age 14 to 17). Their topic was "This country needs an education system which puts the child at the centre of things".
The group was chaired by Shaun Hooper with Mikolaj Czwodsinski being the speaker. This was also very confident speech, including a suggestion that perhaps as pupils learn in different ways the school day could be split into two with "early birds" attending in the morning and those who prefer to work later attending in the afternoon. The vote of thanks was given by Jakub Dryja.
Rotarian Mike Helyer asked each group an unrehearsed question – both of which were answered well and without hesitation.
The groups were judged on delivery, control, subject, and process by Rotarians Ann Dias, Paul Sandford-Thicke and Kathy Hobson.
We wish both groups good luck in the final.