South African project
In 2015/16/17 We helped initiate and organise a $98,000 ROTARY INTERNATIONAL GLOBAL GRANT PROJECT to develop an outreach Palliative Care Programme at the Baragwanath Hospital, Soweto, Johannesburg, South Africa.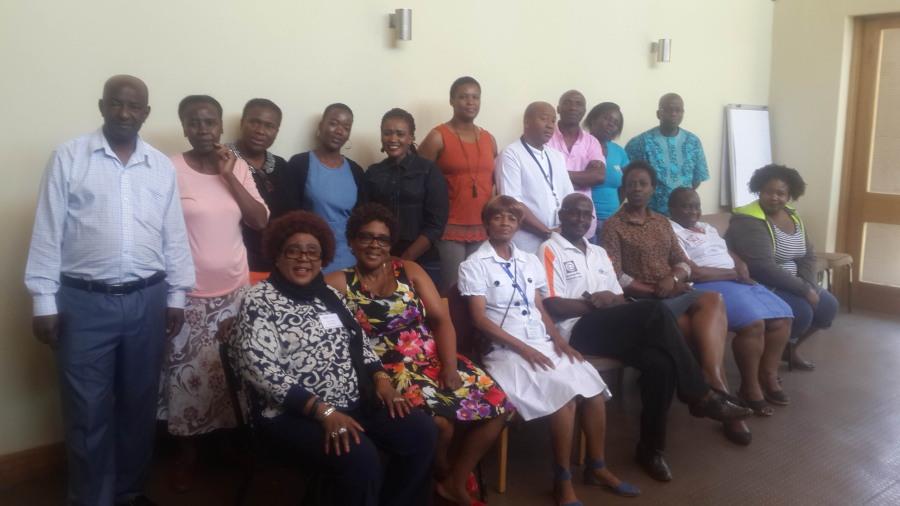 Our Baragwanath Palliative Care Project team
In 2015/16/17 We helped initiate and organise a $98,000
ROTARY INTERNATIONAL GLOBAL GRANT PROJECT
to develop an outreach Palliative Care Programme at the Baragwanath Hospital, Soweto, Johannesburg, South Africa. The Project has now been completed and the Programme has been adopted as the model for national schemes across South Africa.
You can download the final report here
Final_report_Baragwanath_Syringe_driver_project.pdf
Our Club's International Convener, Frank Taylor, spent months putting together a proposal in conjunction with Our District (other Herts, Beds and Bucks Clubs) and South African Clubs and their District, for financing and operating a major Global Grant Project.
details
The Project, worth almost $100,000, was to care for and support terminally-ill patients with kidney disease, and their families, in their own homes. The Project was supported by Rotary Foundation, the International Charity financial arm of Rotary International, in 2016.
The Chris Hani Baragwanath Academic Hospital (CHBAH) in the Soweto district of Johannesburg, in the Gauteng Province of South Africa. CHBAH is the third largest hospital in the world with about 3000 beds. Soweto has about 1.3 million residents; unemployment is high, and many families live in poverty and poor accommodation. The Project goal was to set up a Palliative Care Programme, supporting local patients with chronic end-stage renal failure and facing only a few months more life. It had also to support their families, in their own homes, to ensure quality of their remaining life and to ensure dignity in death.
The Project was planned and implemented by Clubs in District 1260 in UK, led by the RC of Hatfield in the UK, and by Rosebank RC Club in District 9400 in SA. The leading figures were Rotarian Frank Taylor of the RC of Hatfield UK, Past District 1260 Governor Debbie Hodge and Rotarians James Creswell and Dr Neville Howes of the Rosebank Club in Johannesburg, District 9400. The Clubs acted in conjunction with appropriate and expert Clinical and Administrative Staff from CHBAH. Initially Dr Charmaine Blanchard, then Director of the Gauteng Centre of Excellence for Palliative Care at CHBAH designed and helped to plan and introduce the Programme, which latterly has been led by Dr Mpho Ratshikana-Moloko. The Project was supported by a $98,000 Rotary Global Grant awarded at the end of 2015 by Rotary Foundation, matching funds raised by Rotary Districts, which in turn matched funds raised by Rotary Clubs in the UK and SA.
This Project had a unique and holistic thrust – the provision of spiritual but non-religion specific support for patients and their families — pastoral care from local spiritual workers volunteering to help patients and families face an uncertain future. Their training was planned by PDG Debbie Hodge and Dr Charmaine Blanchard, and was delivered by Debbie and Amanda Ferris, a Hospice Chaplain from Hertfordshire, UK.
The Programme proper was initiated in March 2016 and enrolled about 140 patients over the year to April 2017. The one-year Project is now at an end and about 100 of the patients still survive. The Palliative Care Programme was successfully set-up, and operated effectively, and the Programme staff and equipment are now being absorbed into the local Health Authority system.
The Project budget provided for a Team of nurses, social care workers, and a team driver, their salaries, training and support resources such as phones and a laptop, and a car for Team transport.
The Team were also able to help some patients with supplemental food provided through donations from District 1260 Clubs. Some families wanted to give their loved one a breath of fresh air, only possible with a wheelchair, and the Northcliff Rotary Club of SA were able to help with their stock of reconditioned wheelchairs and funded by a £250 donation from St Albans Priory Rotary Club in UK.
Outcomes These were:
·

A reduction in costs to the Health Services: a stay in Hospital is currently about $500 per night, the Project revealed that a preventive Palliative Care visit cost only $170;

·

The average remaining life for patients was increased;

·

The 'revolving door' sequence of repeated admission to and discharge from hospital for this group of patients was heavily reduced, few returned to hospital to die;

·

Patient lives were improved, in their family surroundings and their eventual death both peaceful and dignified; family responses to the Programme were very positive and encouraging.

·

Finally, South Africa's recent signature to the World Health Organisation's agreement to provide universal Palliative Care has resulted in an important outcome: Dr Blanchard was asked by the SA National Health Authority to write the Policy Framework and Strategy for Palliative Care, and now the Baragwanath Palliative Care Programme has been adopted as the model for future outreach programmes in all 9 of the South African Provinces. FT/RW 31 May 2017