Two teams from St Joseph's Catholic College Swindon took part in the Rotary District 1100 Youth Speaks final on 9th February at Maismore School in Gloucester.
The younger age group team was commended and placed joint second by the judges.
The senior team did well but were up against some very strong opposition.
Their English teacher James Marshall says: "Both teams really enjoyed the day and did very well. The girls in the intermediate section got commended by the judges with excellent feedback and came joint second. The boys in senior did well, but the sixth form team that won were truly outstanding (head and shoulders above everyone else). Our two teams were the only ones where all bar one of the team members spoke English as an additional language. So all in all, I think they did really well. The girls were certainly enthusiastic about entering next year."
"Why we need to learn from our mistakes" was the subject chosen by the intermediate group (age 11 to 13). Ibtisam Salch chaired the meeting and introduced the speaker Abidah Ahmed.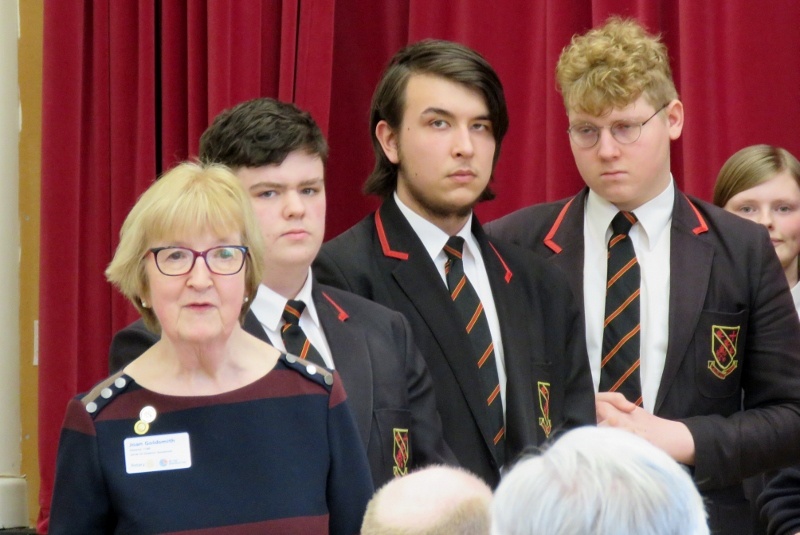 The senior group's (age 14 to 17) topic was "This country needs an education system which puts the child at the centre of things". The group was chaired by Shaun Hooper with Mikolaj Czwodsinski being the speaker. The vote of thanks was given by Jakub Dryja. In the picture - the senior group with Rotary District 1100 Governor Joan Goldsmith.
The Rotary Youth Speaks Competition is organised and promoted by Rotary International in Great Britain and Ireland for students between the ages of 11 and 17. It's designed to support and encourage the development of effective communication skills. Teams consist of three persons, one acts as chairperson, another is the speaker and the third gives a vote of thanks to the speaker.
Read more: Two teams from St Joseph's Catholic College Swindon are taking part in the Rotary District 1100 Youth Speaks final on 9th February