Donald Shaw Queen Victoria School Thursday 2 May @ 18.30 Favoured Mountain Adventures
Thu 2nd May 2019 at 18.00 - 20.30
Donald Shaw Headmaster - Queen Victoria School Thursday 2 May @ 18.30 Favoured Mountain Adventures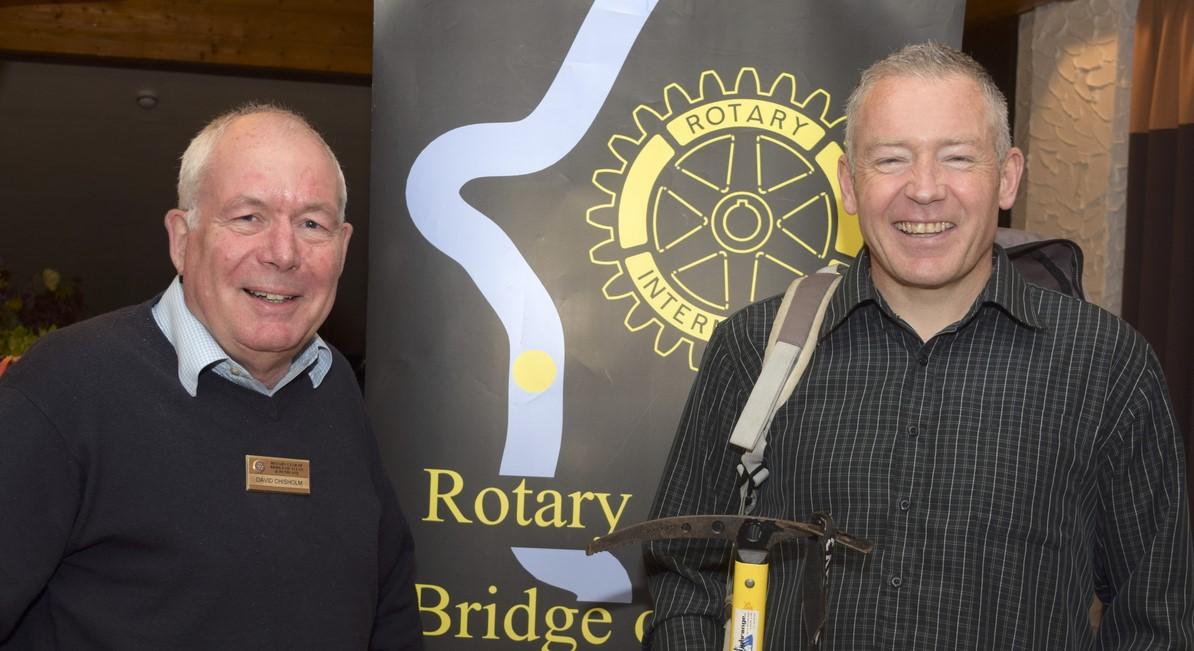 Donald Shaw - Queen Victoria School Thursday 2 May @ 18.30 Favoured Mountain Adventures
Donald Shaw, Head Teacher of Queen Victoria School, Dunblane, set aside his educational responsibilities on Thursday evening to give the Club an entertaining, illustrated account of his deep love of what he modestly described as 'hill walking'. Having now completed 213 Munros, with just 69 left to complete, his modesty was becoming!
Donald revealed that his first love was running, but a health problem led to doctor's advice to give this up and to stick to walking. Nothing daunted, Donald took the advice somewhat literally: he left the surgery, drove to Pitlochry and proceeded to climb Ben Vrackie. With the words of the Fleetwood Mac song "You can go your own way" ringing in his head, he realised there could be no looking back: the beauty of the mountains had captured him. For Donald, now, the mountains have an irresistible magnetism, offering stunning landscapes and the experience of pitting oneself against significant physical challenges.
From his five favourite climbs, Donald selected as particularly memorable the time he climbed ten Munros in one day in the area between Fort William and Kinlochleven. But the greatest challenge he has faced was in Skye where, with the support of a guide, in one day he tackled six Munros along the Cuillin ridge, including the Inaccessible Pinnacle. Those climbs challenged him to the limit as he battled with both the physical and mental demands. 'Yes', he said, ' the entire day took me out of my comfort zone, but it was so worth it. I would have hated to have given up.'
Speaker's Host, David Chisholm, thanked Donald for his most interesting talk and the accompanying superb photographs. Both had reminded members of Scotland's fabulous countryside and the pleasures of hill-walking.