Speaker Meeting, 6.15 for 6.30pm
Mon 5th August 2019 at 6.30 pm - 8.00 pm
Speaker: Carl Jones, Swindon Speakers Club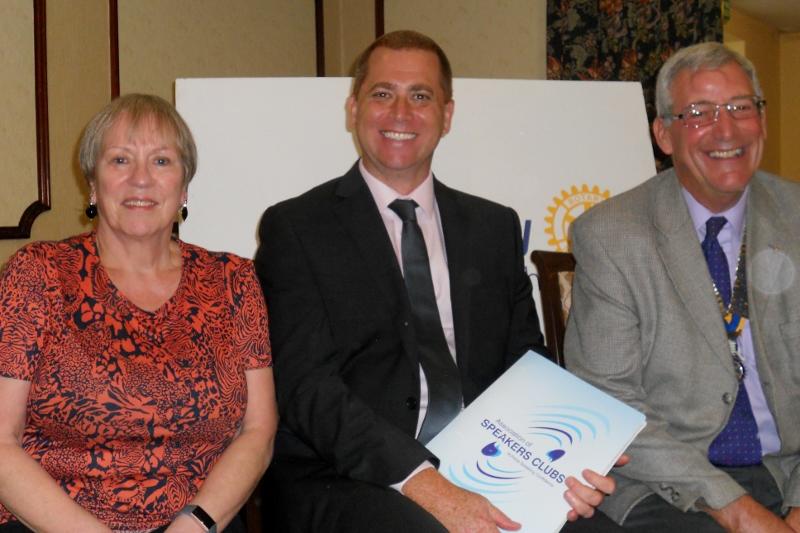 Club members please log in for more information.
The Swindon Speakers' Club was founded in 1982 and is one of 100 such clubs running under an umbrella organisation called the Association of Speakers' Clubs (ASC) located from Cornwall up to Scotland.
Our speaker was Carl Jones (pictured above with our President Robin and our Vice-President Kathy), who is the Swindon Club's Vice President . By his own admission he joined the Speakers' Club after having given a presentation at the Institute of Directors which was a total flop. Because of that he sought out and subsequently joined the Swindon Speaker's Club with the aim of becoming a better speaker.
The Swindon Club meets on the first and third Tuesday of the 10 months from September and June in the Blunsdon House Hotel. It has about 20 members, some of which have been there for 25 years or more and others who join just for a year's training to do a particular speech they've been asked to make; a wedding speech for example.
What sort of people are the Club's typical members? Small business proprietors; also men and women who want to become a good speaker to help their chances of promotion, and others like Carl who simply want to be a better public speaker.
All the Speakers' Club follow the ASC education programme: "How to be a better speaker". Through feedback from fellow members people learn how to hold an audience's attention by delivering a speech with timing, punch and humour. They will be trained and tested through 10 stages, grades A1 to A10. Another aspect of the training involves speaking for 3 minutes on a given topic sprung on them with no prior notice.
The Club runs 4 speaking competitions a year, also social events such as quizzes and skittles matches. Carl was pleased to hear that at least one of our members intends to go along to the his Club's next meeting which is on 5th September at 7.30pm at the Blunsdon House Hotel.