Speaker Meeting, 6.15 for 6.30pm
Mon 16th September 2019 at 6.30 pm - 8.00 pm
Chris Lambert, our guest speaker, with Rotary Club President, Robin Elliott.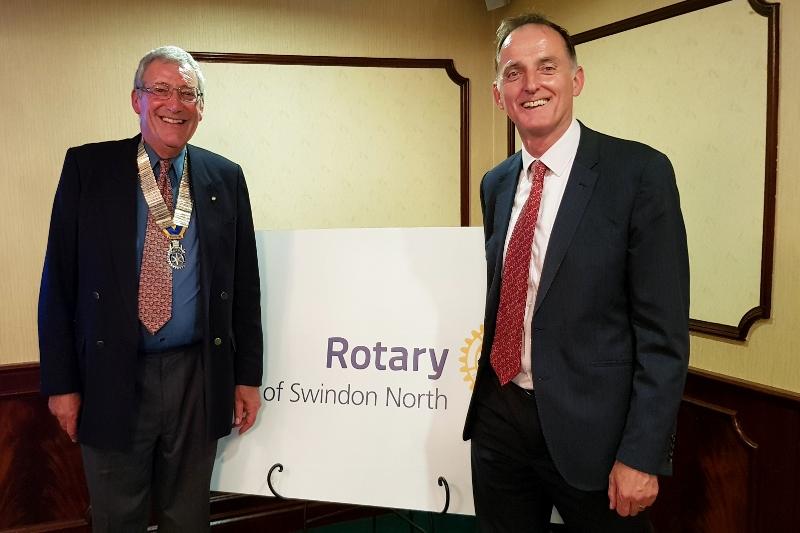 Club members please log in for more information.
Chris Lambert joined Thames Water in 1988 since when he has carried out various roles within the Asset Management Scheme.
Thames Water is the biggest supplier of water and sewage treatment in the UK. There are currently 10 million customers – 8 million of these being in London and 2 million in Thames Valley. The water is mainly obtained from the River Thames and the River Lea. The supply in one day is 2700 megalitres (1 megalitre = 30 Olympic swimming pools) 2100 megalitres for London and 600 megalitres for the Thames Valley. Thames Water also supplies water to neighbouring water companies (around 120 megalitres per day).
The Government sets the framework and the Environmental Agency is the regulator. Thames Water is licensed as to how much water they can take and is fined if they exceed their quota. There has to be a price review every 5 years (overseen by Ofwat) and drinking water and waste water has to be to a high standard.
There is planning for drought and every 10 years there is a hose pipe ban and every 20 years a non-essential water ban. The last severe drought was 1976 which was a 2 year drought. The more recent droughts have been 1 year.
The Water Supply and Sewage plan is reviewed every 5 years. Items considered include current supply, population and climate change. Thames Water collaborate with other water suppliers.
Chris shared some "facts" with us:-
25% of water (mainly in London) is lost due to old water mains. They are working towards solving this problem.
Smart Water metres will be installed in every house – this will help to see where there is leakage and for customers to be able to monitor usage.
Surplus water is purchased from other water Companies
New reservoirs are needed
The process of how the connection of water to a house works
The development of Greenfield Sites.