Speaker Meeting, 6.15 for 6.30pm
Mon 21st October 2019 at 6.30 pm - 8.00 pm
Speaker: Club member Rtn Ken Winslow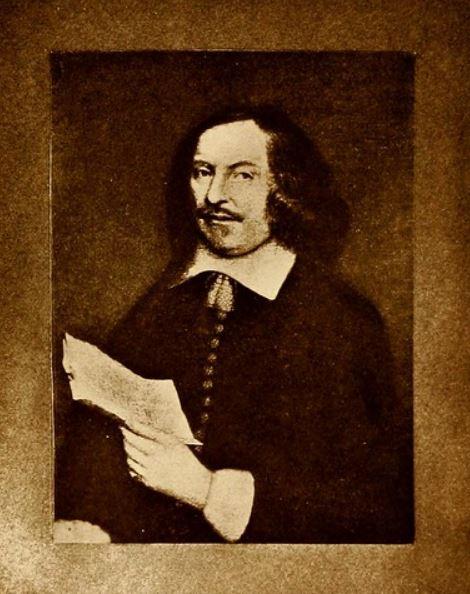 Club members please log in for more information.
Ken's subject was Edward Winslow born on 18th October 1595 (pictured). Ken said he doesn't know if he is directly descended from Edward, but he likes to think that perhaps he was.
What was Edward Winslow's claim to fame? Edward was born in Kempsey, Worcestershire, where his father had a sheep farm and a salt works. In 1613 he was apprenticed to a printer in London and there he became involved with Separatists. Separatists thought that the C of E was still too similar to the Roman church and believed a complete break was necessary. But they risked prosecution so many fled to Holland and settled in Leyden.
In 1617 Edward joined them there as a printer and writer but when their printing press was seized by English authorities they decided to go to America where they could live and worship freely. They bought a ship called The Speedwell and sailed to Southampton.
Meanwhile Separatists in England had chartered the Mayflower. On 15th August 1620 Speedwell and Mayflower left Southampton for America, but Speedwell began to leak so both ships went back to Plymouth for repairs. Speedwell was declared unfit and some of its passengers dropped out. The rest boarded Mayflower.
On 16th September 1620 she left Plymouth for America with about 30 crew and 102 passengers. Edward, his wife Elizabeth and his brother Gilbert, were amongst them. The ship was crowded, and the living conditions were dreadful. Winter storms blew Mayflower off course so instead of landing in New Virginia as planned she arrived at Cape Harbour (modern-day Provincetown). That was on 21st November 1620 after 66 perilous days at sea.
The "Pilgrims" named their colony Plimouth (modern-day Plymouth, Mass). The Mayflower Compact was drawn up and Edward was the third to sign it. (This Compact was the forerunner of the USA Constitution). That first winter was terrible and by the end of it more than half had died.
A peace treaty was agreed between the Colonists and the local Indians. The Indians taught them how to hunt and grow crops and the following Autumn they enjoyed a bountiful harvest. They celebrated it with a 3-day festival which has become known as the first Thanksgiving.
Edward played an important role in the Colony. From 1625 to 1650 he was either Governor or Assistant Governor. His wife had died during that first winter but on 12th May 1621 he married again. He wed Susanna White, a widow with two children, and it was the first marriage to take place in the Colony. Susanna bore him 2 children, Josiah and Elizabeth.
From 1630 farmland was granted to the settlers to increase the Colony's productivity and eventually Edward owned some 1,000 acres. In 1636 the Winslow family moved to a large house on the estate (present-day Marshfield, Mass) and Edward established the town and its church and school.
But in 1646 Edward left his wife and family in America and returned to England for good. Oliver Cromwell thought so highly of his diplomatic abilities that he appointed him to several commissions. In 1655 he was asked to lead an expedition against the Spanish in the West Indies but on his way there he caught a fever and on 8th May he died. His body was committed to the deep with the honours of war.