Speaker Meeting, 6.15 for 6.30pm
Mon 6th January 2020 at 6.30 pm - 8.00 pm
Speaker: Reverend David Day of Gloucester House Rehabilitation Centre (in the picture with Club President Robin)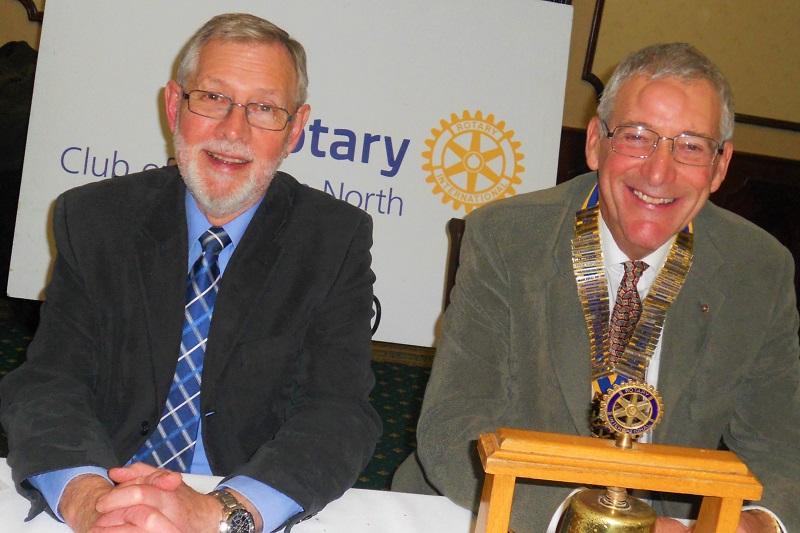 Club members please log in for more information.
Gloucester House has been in existence in Highworth since 1961. Its one time manager, the Rev David Day, is now one of its Trustees and one of its trained counsellors. In his illustrated talk he took us on a picture tour of the House, room by room. Significantly, over the entrance to the House is the word "hope". Above all, giving hope to men addicted to alcohol and drugs is Gloucester House's mission.
Addicts come from all walks of life irrespective of wealth or background. In recent times Gloucester House has seen a consultant surgeon and a chief operating officer of a well-known bank.
There is always something for the resident clients to do in a packed daily 12-week rehabilitation programme. Not just the counselling by trained counsellors but also workshops and recreational activities. Importantly there is random breath and urine testing.
Gloucester House can accommodate 17 men. There are 9 single bedrooms in the House and 4 in a bungalow in the garden. In addition, 4 men who are in their transition period of rehabilitation during which they are considered able to do outside voluntary work, live in a house in Windrush, Highworth. In 2019 Gloucester House treated 50 men.
Friends of Gloucester House was set up 4 years ago to supplement the funding received from Social Services and Mental Health budgets. The Dinner Dance and Cabaret evening promoted jointly by the Friends and our Rotary Club last October raised more than £4,300. Our President presented a cheque for £1,350 to Rev David at the conclusion of his talk before one of 12 food hampers donated to the Friends by Honda raised a further £25 when it was auctioned during our meeting.