Joint Concert by Maidenhead Thames Rotary Club and Reading Male Voice Choir
Fri 7th June 2019 at 19.30 - 22.00
Charity Concert at Taplow Court to raise funds for the Alexander Devine Hospice, Thames Hospice, and the Thames Valley Adventure Playground (From 7:30PM to 10:00PM, Doors Open at 5:30PM)
We invite you to come to an evening of wonderful music being given by the renowned Reading Male Voice Choir, the Thames Hospice Choir and two extremely talented musicians, Sophie Baylis, Flutist and Thomas Harvey, Piano.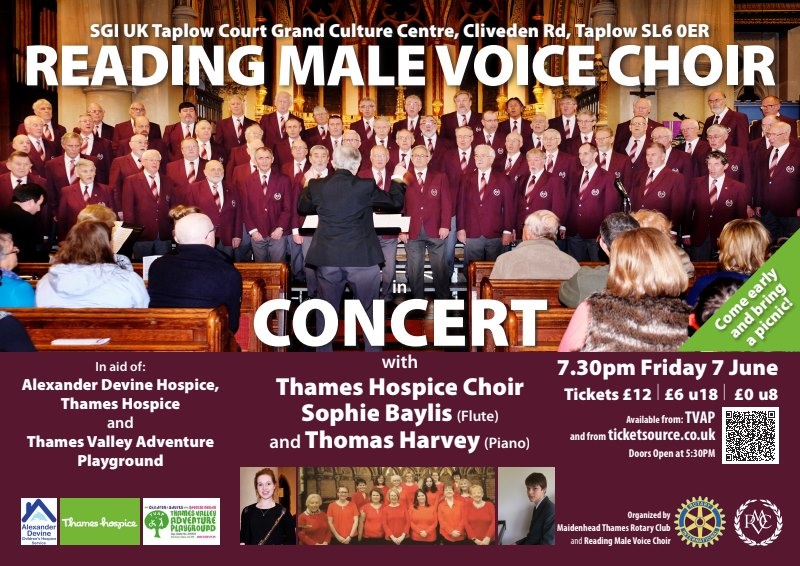 The concert will raise money for three local charities, all of which are held in high esteem by the local community. Many families have had first-hand experience of the wonderful work they do.
Thames Valley Adventure Playground
The Thames Hospice
The Alexander Devine Hospice
The eighty strong Reading Male Voice Choir loves to entertain and delights in expressing itself through a wide-ranging repertoire of memorable and moving songs. It has done international concert tours in Düsseldorf, Innsbruck, Ireland, Lake Como and this year it will in Warsaw. Among its many achievements are: winning the BBC's national contest 'Let the Peoples Sing'; joining the chorus of Die Fledermaus at Sadler's Wells and performing with the bands of the Parachute Regiment and Life Guards before audiences of 3,000 at Cliveden. Every year it raises thousands of pounds for local charities over a wide area with a concert every month.
The 'Thames Hospice Choir', is a superb local choir made up of staff and volunteers who recently performed at Wellington College.
Joining the two choirs are two amazing musicians; Sophie Baylis and Thomas Harvey.
Prior to the concert the audience is invited to picnic in the beautiful grounds of Taplow Court. Please bring your own drinks or alternately, drinks can be obtained from the bar provided.
Times
The concert starts at 7:30pm with access to the concert hall from 7:00pm. You can picnic from 5:30 pm onwards.
Tickets
Tickets can be bought via TicketSource.
Adults £12.
Children under the age of 8 are free.
Children between 8 and under 18 are £6 per ticket.