CLUB MEETING - SPECIAL GENERAL MEETING FOR ELECTION OF CLUB OFFICERS.
Mon 2nd December 2019 at 7.00 pm - 9.00 pm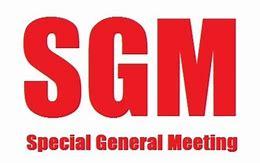 Subject:.
Special general Meteing for the election of Club Officers.
Prior to 1st January for the purposes of:
(i) receiving and approving the examined annual accounts for the year ended 30th June.
(ii) electing by ballot of the members the president for the next year but one.
(iii) electing the secretary and treasurer for the next Rotary year.
(iv) electing one voting delegate (and substitute) to vote at the ensuing Annual Business Meeting of the Association, and one additional delegate (and substitute) for every 25 or major fraction thereof of its active members.

Speaker

All Club Members.
Club Officers of the Day:
Registration Officers: Ken Johnson & Gwyn Jones.

Speaker Host/Vote of Thanks: Not applicable.

Thought for the Day: Elaine Kerr.