Stephen Kerr - "Workings of the House of Commons" - Thurs 10 October Westlands Hotel @ 18.30
Thu 10th October 2019 at 18.30 - 20.30
Stephen Kerr - "Workings of the House of Commons" - Thurs 10 October Westlands Hotel @ 18.30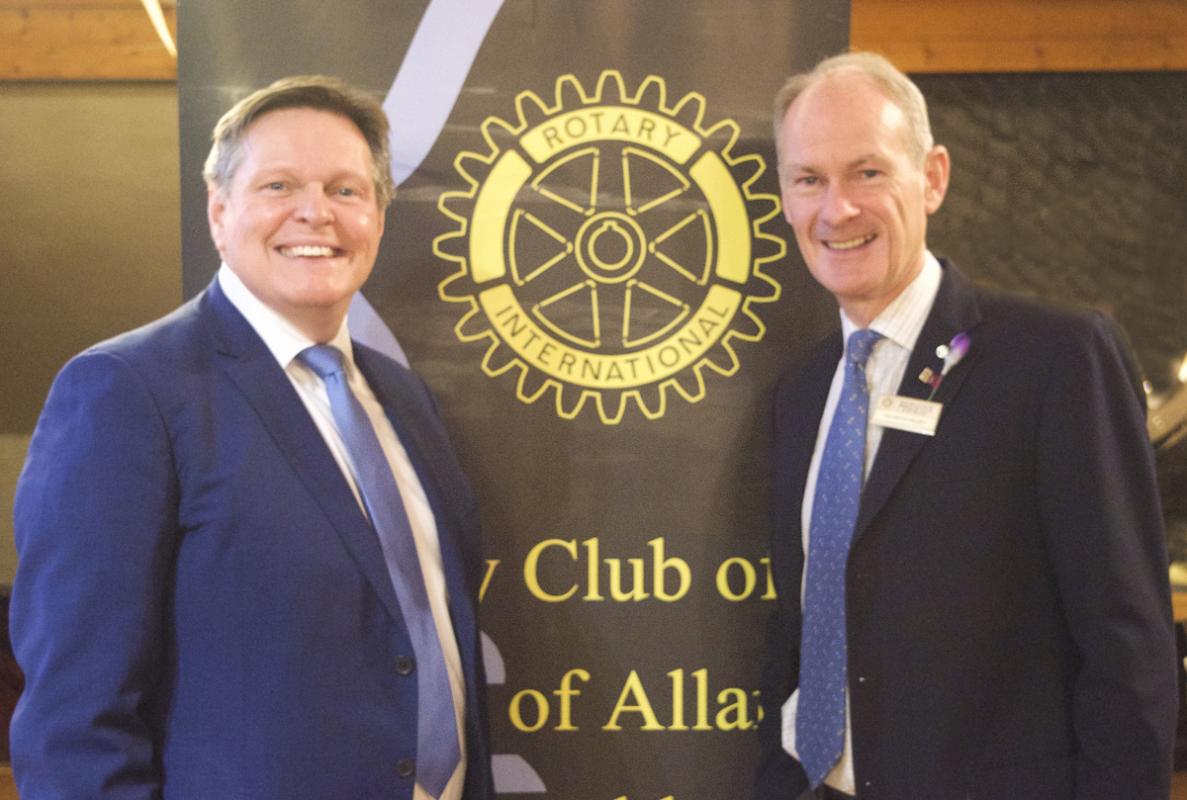 Stephen Kerr MP- "Workings of the House of Commons" - Thurs 10 October Westlands Hotel @ 18.30
In the current turmoil surrounding Brexit, it was refreshing to hear interesting insights into the workings of the House of Commons, from Stephen Kerr MP, who was elected as the Member of Parliament for Stirling in 2017. As a teenager, Stephen had been greatly influenced by the political debates between his father and grandfather. These started what he described his 'contagion for politics'.
Stephen said that he was particularly proud and privileged to be MP for Stirling, a centre of history and culture, set in an area of outstanding natural beauty. It was also, he noted, a special place when it came to volunteering, being second in a competition for the volunteering capital of Europe.
Arguably, he said, his most embarrassing experience as a new MP was losing his voice on the day that he was to be sworn in. He had to swear allegiance and give the information required by the Clerks, all in a very hoarse voice.
Inevitably, Stephen commented, one is overwhelmed by the sense of history that permeates all areas of the Palace of Westminster. A fire in 1834 destroyed both Houses of Parliament; the rebuilding of these had then been overseen by Prince Albert. Only Westminster Hall and St Stephen's Hall had survived the fire. Both are of great historical interest. In Westminster Hall, for example, there is a brass plate to mark the spot where William Wallace was sentenced, and where Charles I was similarly condemned. St Stephen's Hall, originally a chapel, was then subsequently used as the House of Commons until a new chamber was available. One significant challenge for new MPs is navigating though the myriad of interlocking corridors.
Referring to his maiden speech, Stephen said that he had emphasised the need to restore respect in political discourse, and had reminded Members of the words of the late Jo Cox MP who had insisted that MPs had more in common than divided them.
Following a number of questions from members, Hugh McRae thanked Stephen for a particularly interesting talk that had clearly engaged the attention of all members.