Visit to Bridgend Samaritans
Sat 3rd August 2019 at 12.00 pm - 1.00 pm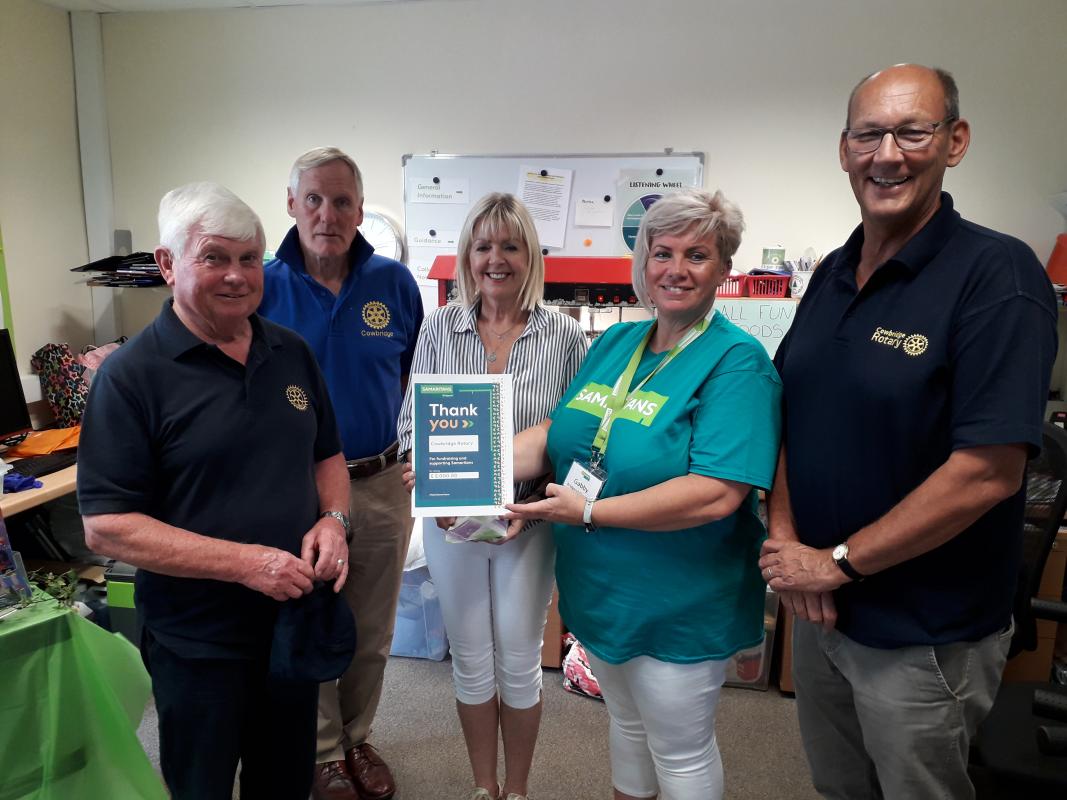 Rotarians Present Cheque to Bridgend Samaritans
A delegation from Cowbridge Rotary Club attended the Bridgend Samaritans Open Day on Saturday 3rd August to present a cheque to Branch Director Cheryl Pearcey.
Immediate Past President Michael Long chose the Bridgend branch as one of the charities he could personally choose to support during his time as President. £2,000 was raised for the charity, which has been supporting those in need across Bridgend and the Vale for 47 years. The money was raised through various activities including car boot sales, the Cowbridge Rotary Spring Gardens Open Day and collections at Cowbridge Food Festival.
Prior to presenting the cheque, members Don Bell, Sian Whitefield, President Peter Davies, and Immediate Past President Michael Long were given a tour of the facilities at the Green Street Branch.
Michael Long said "It has been very valuable to see behind the scenes today which has given us all an insight into the crucial work that takes place here and exactly how our donation will be used to further the work of the Samaritans across South Wales."
Cheryl Pearcey, who welcomed the Rotarians to the branch, said "I am delighted that the party from Cowbridge Rotary Club were able to visit today on our Open Day, to see the work that goes on here and to meet some of our volunteers. Their donation will go a very long way, enabling us to continue our work and it is deeply appreciated."
Bridgend Samaritans were set up in 1972, have been supporting the local community for over 47 years. They currently have 88 volunteers who provide a telephone, email, SMS and face to face listening service every day of the week, including weekends and overnight. In 2018 they spent over 4,500 hours on the phone answering over 24,000 calls, they also replied to 1,000 email messages and 3,000 texts.
If you would like more information about the work of Bridgend Samaritans please take a look at our website https://www.samaritans.org/wales/branches/bridgend/