Debate with Stirling University Thursday 12 March 2020 6.30 Meeting @ Westlands
Thu 12th March 2020 at 18.00 - 20.00
Debate with Stirling University Thursday 12 March 2020 6.30 Meeting @ Westlands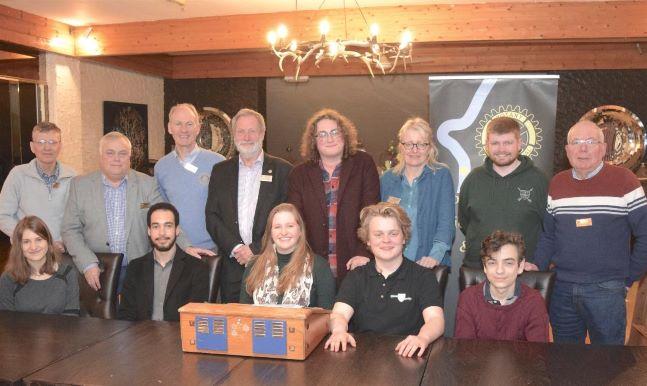 Debate with Stirling University Thursday 12 March 2020 6.30 Meeting @ Westlands
For the seventh year, the Club welcomed members from the University of Stirling Debating Society. It was an evening that demonstrated how the power of rhetoric can significantly change the views of the audience. Each debating team comprised a mix of Club and Debating Society members to ensure a balance of youth and maturity.
The proposition for the first debate, chaired by Rotarian Peter Holmes, was "This House believes technology is essential to modern primary and secondary education". In a preliminary vote of the audience 22 were in favour of the proposition, with only two against, and one undecided. Leading for the motion, Cameron Hendrie argued that technology in the classroom is vital to support effective learning. Further, in a world dominated by technology it is essential that schools establish at least a basic understanding of, and competence in, the technology required for employment. Opposing, Euan Stainbank argued that the role of education is to develop core skills and promote social development. Technology can supplement these processes, but is not essential; indeed, over-used it can be a hindrance. Following a lively intervention by the audience, there was a massive shift in the voting, with 12 for and nine against.
After a break for refreshments, the second debate, chaired by Jess Reid, was "This house supports pyjamas being worn outdoors as a symbol of freedom". A humourous debate ensued led by Rotarian Rod Jones, who argued that a causualisation of dress code gives scope for, and demonstrates, individual freedom. Pyjamas, like kimonos, he suggested, are liberating. Benjamin Sterratt, opposing, argued that pyjamas are not a practical alternative: worn in public, they show a cultural insensitivity. More formal dress shows respect for others. Opened to the audience, the suitability of Wee Willie Winkie's dress code became a matter of discussion. In the end, the vote, initially in favour of the motion, was overturned by a significant margin.