The Westhill Welcome Stone
History of the Westhill Stone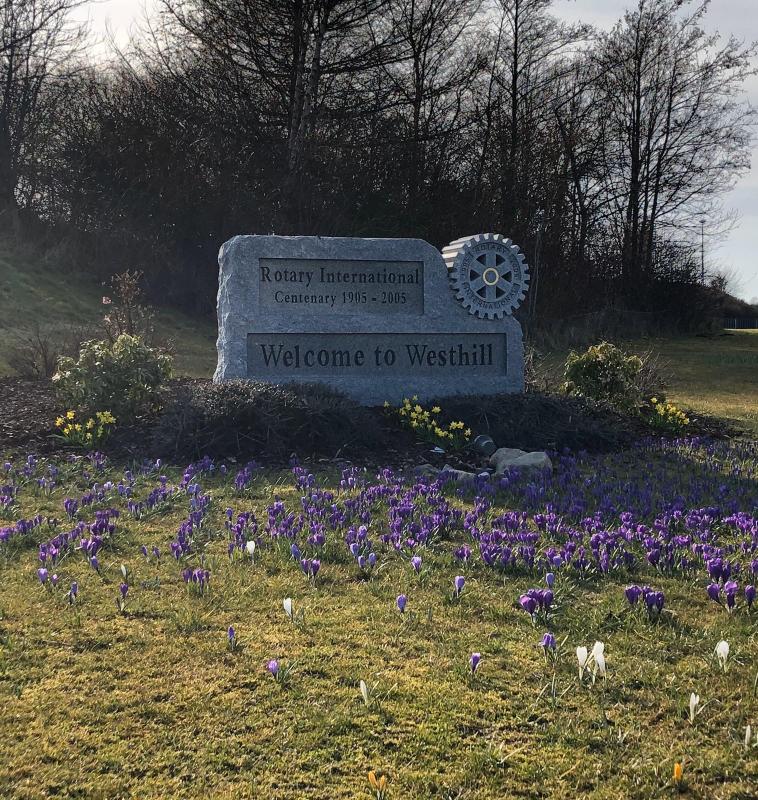 THE WESTHILL WELCOME STONE:
During 2005, to mark the centenary of Rotary International, Westhill and District Rotary Club was proud to unveil a granite 'Welcome Stone' at the entrance to the town close to the Tesco roundabout.
The Stone and its immediate vicinity have recently had their annual tidy. The Stone has been cleaned, a new LED uplighter installed, the surrounding shrubs pruned and a ton of new ground covering bark laid.
During bright Spring days, the Stone looks at its best, surrounded by miniature daffodils and purple crocuses in full bloom.
The purple crocuses are significant as they recognise Rotary International's efforts to eradicate polio. In conjunction with partners, this work has been ongoing for more than 30 years. Since the first project to vaccinate children in the Philippines during 1979, polio cases around the world have been reduced by 99.9%. Throughout the project 2.5 billion children in 122 countries have been immunised.
During day and night, the Rotary 'Welcome Stone' forms a most impressive entrance to the vibrant community of Westhill.