Speaker Meeting on Zoom, 6pm
Mon 13th July 2020 at 6.30 pm - 8.00 pm
Speaker: Rotarian Ron Duxbury: "Is this live Ron?"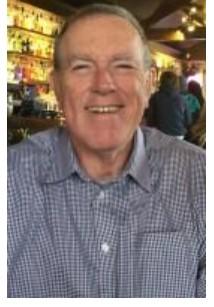 A Speaker Meeting on Zoom with President Kathy presiding and 9 members attending.
The marvel of Zoom enables us to have speakers and visiting Rotarians from faraway places such as Cumbria and Yorkshire without anyone having to travel no farther than from their living room to their study. Ron Duxbury, a Past District Governor ( D1190 Cumbria and Lancashire) and member of the Rotary Club of Furness, was the guest speaker and the visiting Rotarian was Maurice Fuller, a member of Rotary Club of Doncaster St Leger
Ron brought greetings from the Rotary Club of Furness and said his talk was called "Is this live Ron?"
Although having spent his working life in financial services Ron also did freelance work for the BBC, mainly Radio Cumbria. He regaled us with some tales from behind the microphone. It was whilst presenting a regular Saturday morning programme called "Saturday South" that he first heard about Rotary from a guest on his radio show. On asking how he might join Rotary Ron was told that HE wouldn't get in. Nothing sinister, it was because one member per classification was all important in those days.
He spoke of another situation whilst standing on the touchline at Wembley Stadium commenting on a football match for Radio Cumbria. The match was the 1990 FA Trophy final and Barrow AFC were one of the finalists. Remarkably, they overcame Leek Town by three goals to nil to win the trophy and so reach the highest point in the little Club's history. At the conclusion of the match Ron was joined by Colin Cowperthwaite who had scored one of the Barrow goals. Colin was talking about his fellow player Ken Gordon, who had scored the other 2 goals, and said he was the best mate he'd ever f*****g had. Only after saying that did Cowperthwaite ask: "is this live Ron?"
Hence the title of Ron's talk.
Ron concluded by saying he had enjoyed his time behind the microphone and also noting with great delight that after absence of more than 40 years Barrow will be back in the Football League for the 2020/21 season.
Editor: No funny story from President Kathy at this meeting, so instead here's something from me:-