STOP PRESS

In early December we heard that we have been awarded a District 1040 Matching Grant by Rotary International to support this work. They have matched the £1,000 we orginally collected from Club Members and others. Our fundraising continues..... {Many of our members have donated the cost of the meal we usually enjoy when we meet, since this has not happened since early March 2020 - along with other generous gestures of support.}
Latest update: 17th December 2020
We received this message when our Treasurer told the Food Bank Manager of our Good News about the District Grant, and our plans to help them into 2021, including regular trips to the local cash and carry to top up supplies:

"That's really great news, Neale. So appreciate it. We fed just under 200 people on Tuesday. We are open throughout Xmas and New year too. Yes, please contact me in the New year and we will have a chat about future plans etc.

Hope you all have a lovely Christmas.

Best Wishes from Lis and all the team at St Richard's crypt. "

Update: 11th November 2020.
Here is a copy of an email received from our Treasurer earlier today (Well done Neale and Brendan - Lis is from the Food Bank).
Good afternoon Fellow Rotarians,
You can all be proud that your generosity will enable Seacroft Food Bank and the Children of those who come for support to have a Christmas time which will be better than what they could hope for.
Today Lis, Brendan & myself on your behalf bought the following:-
12 x 360g Family Circle Biscuits
48 x small tins of Mandarin Oranges
12 x Tins of Fruit Cocktail
12 x Tins Carnation Evap. Milk
36 x 50g Big Hoops Bags
32 x 20g. Quavers
12 x 1 Ltr. Whole UHT
12 x 1 Ltr. Semi UHT
4Kg Tub Party Treats
20 x 80g Mini rainbow twists
180 x Traffic Light Lollies
32 x Santa Selection Boxes
12 x 392g tin of Chicken in White Sauce
4 lots of various sizes of Foil Trays & Lids (Saturday Take-Away Service)
Picture Attached
Neale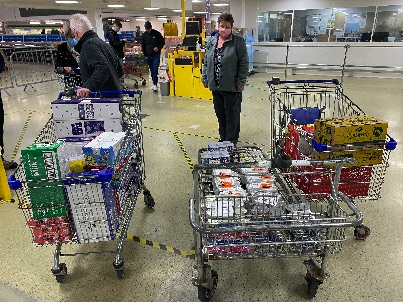 Update: 27th October 2020.
President Tony and 3 other members delivered more supplies to the food bank today, Not food, but items that the foodbank clients would find useful:
30 Family Essentials Packs comprising: 4 Toilet Rolls, 350ml Shampoo, 840ml Washing Liquid & Fabric Conditioner, 500ml Shower Gel.
1 Box - 14 Size 5 Nappies
1 Box - 12 Size 6 Nappies
1 Box - 20 x 25g Dove Soap. 5x100ml Hand Balm
1 Box - 10 x 0.5L Liquid Soap
1 Box - 20 x 400ml Hairspray
4 Boxes – 50 Soap Bars, per box
These items were supplied free of charge (we paid transport costs only!) by a marvellous organisation called "Giving World" whose motto is 'Nothing to waste - No one in need'.
The picture shows our members delivering to the Food Bank staff, the second picture shows the boxes: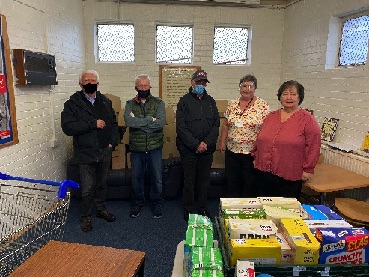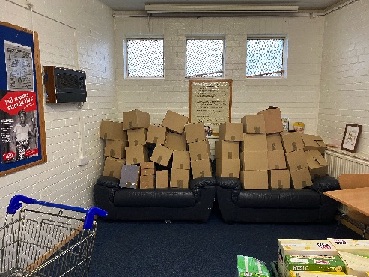 UPDATE 17th September 2020
Treasurer Neale and Secretary Brendan purchased two car boot-loads of food from the local Cash-and-Carry and delivered same to the Food Bank on 14th September. The donation was very gratefully (and emotionally) received.The picture shows one load of the food which was delivered.
The Club has agreed to repeat this exercise monthly now, at least until Christmas.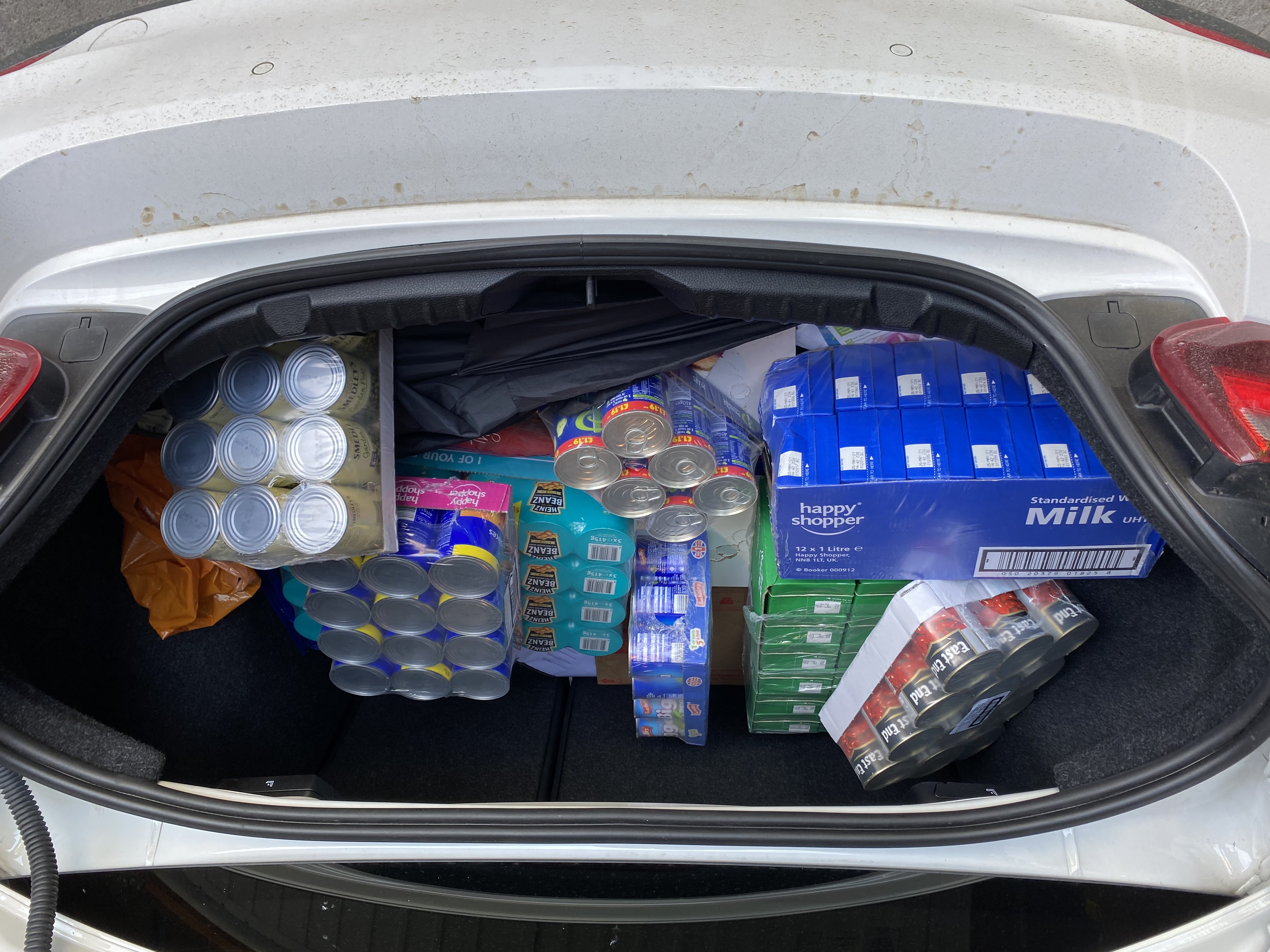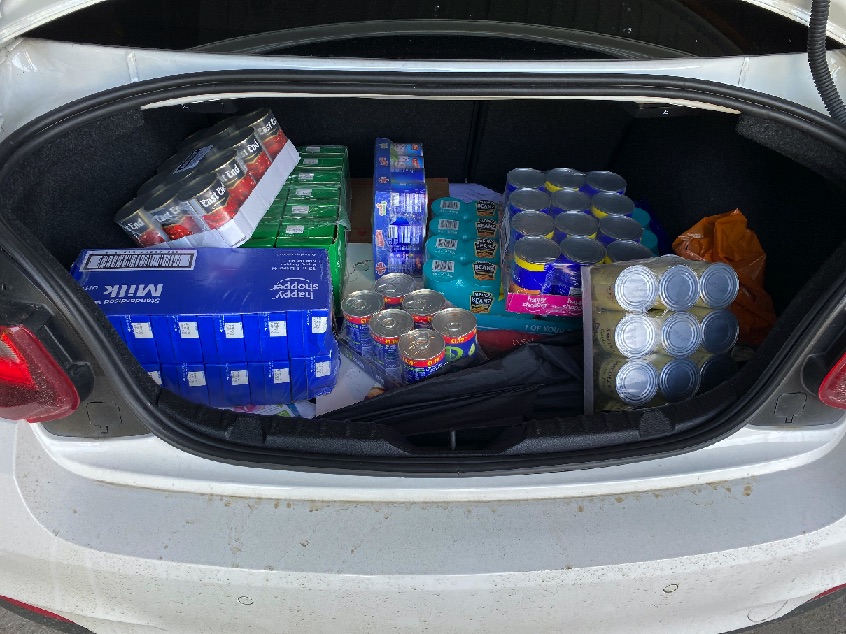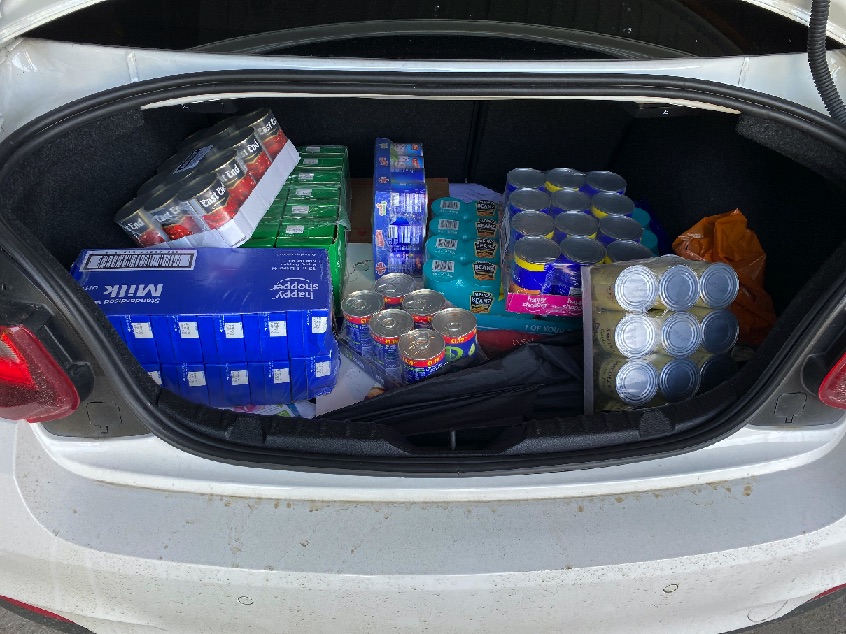 UPDATE: Treasurer Neale Lucas writes on 25th August 2020
On Monday morning (24th) President Tony and myself visited the Food Bank. Tony presented the PPE Face Masks bought by the Club and also the Masks he donated himself.
Lis Bows thanked us on behalf of the Food Bank and explained how our previous gift had been more than welcome. She tearfully talked about how hard it had become to operate. All referral agencies are shut and certainly many of the needy have neither a computer or IT skills to operate one. The Community Cafe attached to St. Richard's had been a shelter where people could come for a chat or to discuss issues. Most Food was given by local churches but as they are all shut that supply line is much reduced. They now issue warm food on Saturdays in take away boxes, but the boxes are now an additional expense.
Previously, they collected and gave away Toys in December last year and the Chef came in on Christmas Day and cooked a Dinner. Currently, they support about 50 people each Tuesday and a further 50 on a Saturday. As well as food they give cleaning products, toiletries and other ladies requirements.
Attached are photos of our visit, Neale.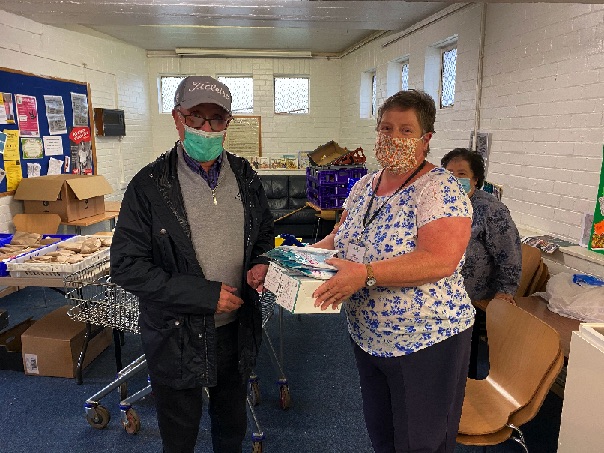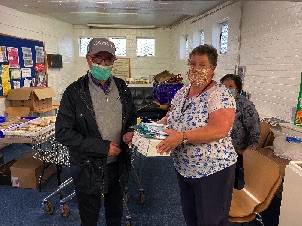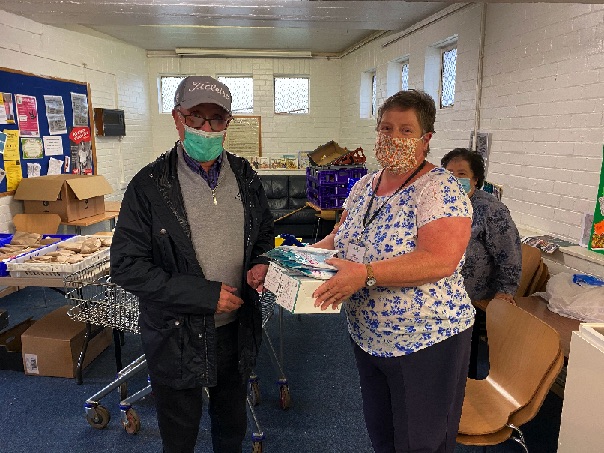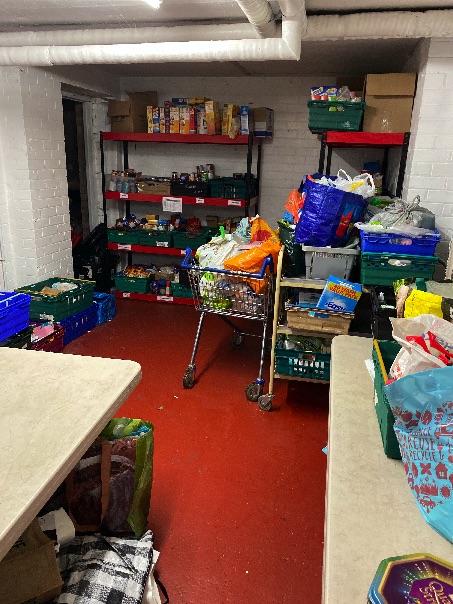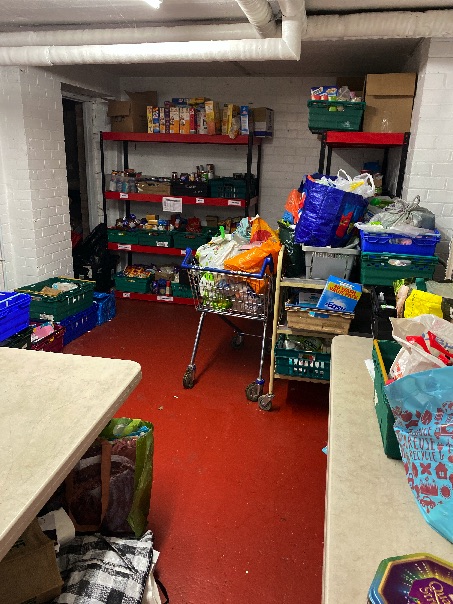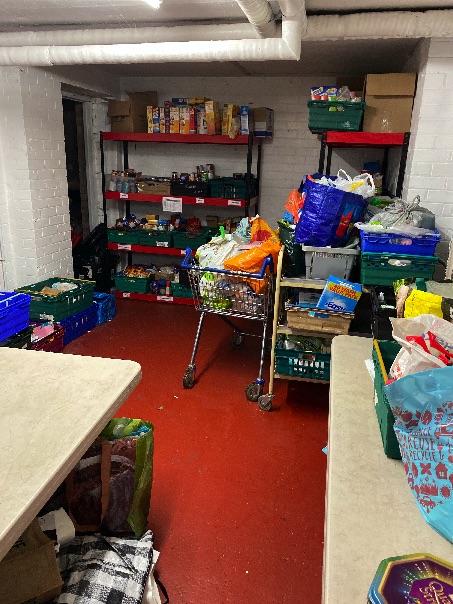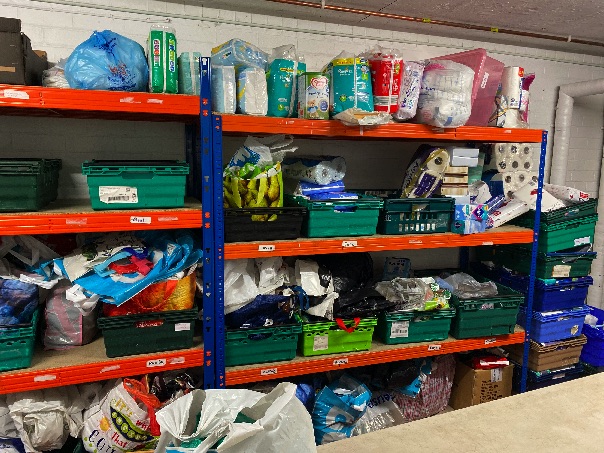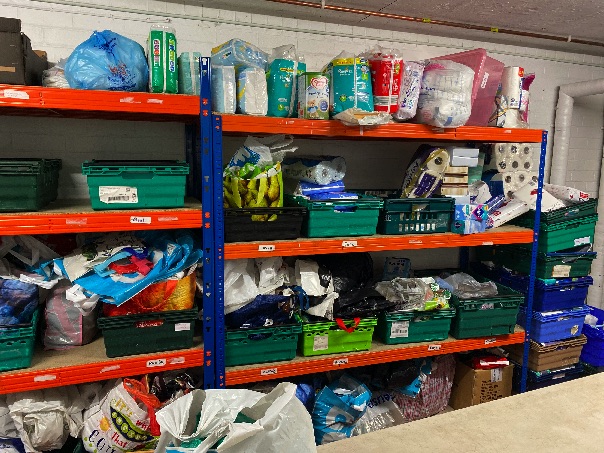 Original Article - 30th June 2020.
We, sadly, live in an era in which Food Banks are needed, despite ostentatious frivolity by many. There are geograhical areas where poverty and need are only too real. The situation is likly to worsen when the economic effects of the Covid-19 Virus outbreak start, regarding job security, the end of the furlough scheme etc. Many more people may find themselves in real difficulty.
With this in mind, we agreed on 18th June, at our weekly virtual meeting on Zoom, to donate £500 immediately to one of the local food banks where we have recognised real need. So on 29th June 2020, President Ken and Treasurer Neale went to St Richard's Church (see picture) in the Parish of Seacroft in Leeds.



The following picture shows President Ken in the crypt, handing over the cheque for the £500 to the staff of the food bank. (Obligatory face mask and social distancing!)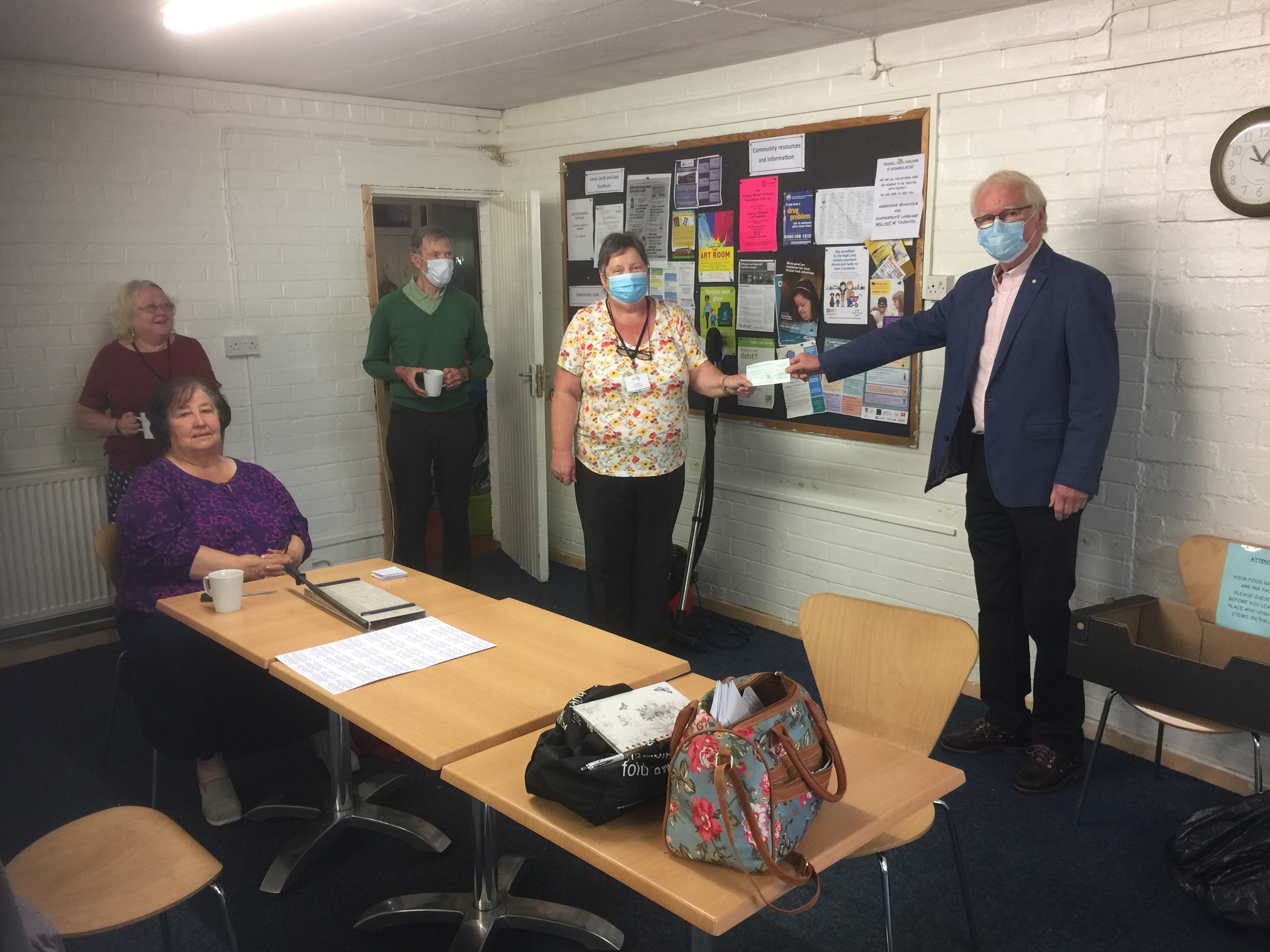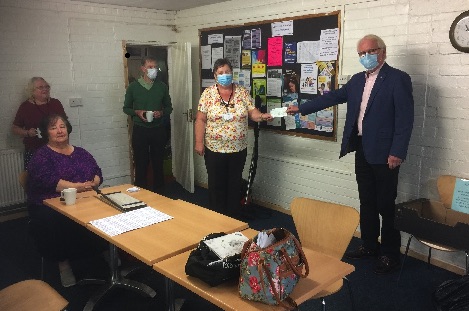 AREK & JEAN HERSH AWARDED PAUL HARRIS FELLOWSHIPS



Rotarian Arek Hersh, MBE, (pictured above in the sunshine at his home in Harewood, Leeds on Thursday 28th May 2020) and his wife Jean have been awarded Rotary's highest honour - a Paul Harris Fellowship - by our Club.




This picture shows Arek and Jean in the grounds of their home proudly displaying their Award Cetificates, clearly very pleased. They were both delightfully surprised and shocked when their daughter Michelle presented the Awards on our behalf on 28th May. We had managed to get the PHF lapel badges and certificates to her during the Covid-19 'lockdown', and Jean is quoted as saying "I think it is very kind of them, and both my husband and I are highly honoured. We have been at home for the last 3 months, like people of our age, and the presentation has made our morning a joyful occasion".

Arek joined the Club 20 years ago and is a very active member. Arek (91), a Holocaust survivor, has given tremendous service to the education of people about the Holocaust not only in the the UK but further afield, thus making a significant contribution to building a "better understanding and friendly relations among peoples of the world". Jean has been given the award for the support, prompting and care she affords Arek. President Ken says 'Jean is Arek's right arm and contributes a huge amount to his work as a constant companion and prompter'.

Arek was born in Poland but came to England in 1945 as a child Holocaust survivor rescued by the Central British Fund for German Jewry. His wartime experience is recorded in his book: "A Detail of History": The harrowing experience of a boy who survived the Nazi Holocaust. (ISBN-13:978-1910167779). The story of his first few months in England was told in the BBC drama 'The Windermere Children' earlier this year. He has a significant entry in Wikipedia.

Both Arek and Jean personify the Motto of Rotary: "Service above Self". President Ken's final words in a letter to Arek and Jean were: 'On behalf of all your Fellow Rotarians, thank you for the work you both do'.

(We are grateful to Arek's daughter, Michelle Tamam, for making this surprise presentation on our behalf and for providing the photographs).

To read the entry in Yorkshire Post newspapers of 29th May, Click this link: https://www.yorkshirepost.co.uk/news/people/leeds-couple-arek-and-jean-hersh-handed-highest-rotary-honour-surprise-visit-2867880