Visit DG Frank Quinn
Wed 21st August 2019 at 07.30 - 08.30
Visit DG1090 Mr Frank Quinn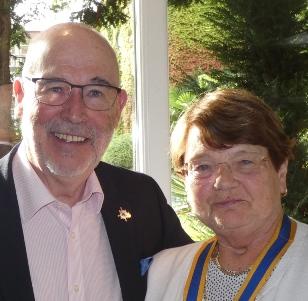 DG Frank Quinn visited our club on Wednesday 21st August and the following is a summary of his presentation.
Frank started by showing Mark Daniel Maloney, RI President's vision for the coming year under the title "ROTARY CONNECTS THE WORLD". The RI President went on to challenge all Rotarians to "GROW ROTARY" by encouraging young people to form new clubs and Rotaract Clubs not only in areas where no club exists but also where there are existing Clubs so we can grow "STRONGER TOGETHER". Mark finished his presentation by asking us all to ensure Rotary increases its membership across the world.
DG Frank's vision was under the headline 1090 IN ACTION - MAKING A BETTER WORLD. After introducing himself to the club he gave a brief history of his life in Rotary.
Frank presented his three goals for the coming year:-
INCREASE MEMBERSHIP: One net new member per club and one new ROTARACT CLUB per area over the next three years. He then went on to explain a three year succession plan where we have his successor Marius Hopley followed by Karen Eveleigh in place to provide continuity rather than "Flip Flop Rotary" where we lurch from one year to the next without a planned approach to the same issues.
IMPROVE PUBLIC IMAGE: He urged the club to use the talents of our District Public Image Team to give local projects the oxygen of a structured Public image campaign using social media etc etc. There is talent and expertise waiting to be utilised.
The ROTARY BRAND CENTRE is a valuable resource; it's free, provides attractive templates and is copyright free.
END POLIO NOW: The original five year campaign is now over thirty years old and we are still fighting this dreadful disease. Frank explained the impact of Polio on the Chinnery Family in America the1940's. He felt it was such a powerful story that it provides an excellent argument for continuing the fight against Polio.
His two Charities for the year are: - HOPE & HOMES FOR CHILDREN and END POLIO NOW.
Frank asked the club to support the Christmas Celebration Planned for December 14th at Douai Abbey in Upper Woolhampton and the District Conference March 13/14 &15 2020 at Newbury Racecourse. The Conference website is now open.