Shiver me timbers - 30 Casks of Real Ale found at Discovery Point!
Plans for Dundee's newest festival were formally launched on Thursday with the unveiling of a20 foot long banner at Discovery Point.
The 3-day, open-air"Oktoberfest" will be held in marquees on Discovery Quay, from Friday 30th September to Sunday 2nd October from 6pm to 11pm each evening, with the Discovery itself being used for special guests of the principal sponsors, who will have an elevated platform for the best views of the live bands who are generously donating their time to provide the entertainment.
However, the real stars of the show will be the 30 different Real Ales and 10 different Continental Biers, which have all been sponsored by local companies or individuals, with the additional support of Belhaven Brewery.
The festival is the brainchild of Jonathan Stewart, who is organising the event along with fellow members of the Rotary Club of Dundee, with all the proceeds going to support local charitable causes.
Jonathan previously organised a similar event at the Fisherman's Tavern in aid of the RNLI, and with the continued support of the current owners, over 115,000 has been raised for the vital work of the Broughty Ferry RNLI lifeboat volunteers since the Festival was first held in 2000.
It is hoped that this new Festival will complement the well-established event in Broughty Ferry, and support a wider range of causes. Each year the Rotary Club of Dundee raises and disburses 30 - 40,000 for local, national and international charities.
Tickets are on sale at PDQ Print Services, 93 Commercial Street, Dundee; from The Royal Arch, 285 Brook Street, Broughty Ferry; from The Speedwell Bar, Perth Rd , or can be ordered online at www.dundeerotaryoktoberfest.co.uk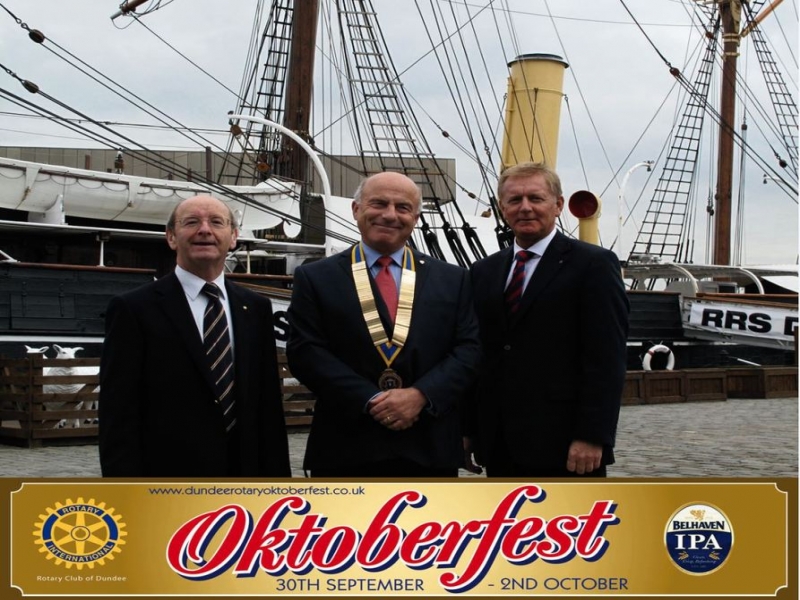 Jonathan Stewart : President Iain Mathers : Robert Dunn (Chair Ways & Means)