Our Fund Raising Programme for the new Rotary Year is in place and will be every bit as busy as in previous years. As always, we need your help, not only to deliver these events, but also for all club members to encourage family, friends and colleagues to attend.
Our next event is the 35th Annual Charity Dinner in the Invercarse Hotel on Friday 17th February. This will repeat our successful format but we have moved the event to February which we expect will be a better time for our guests. Speakers include former BBC Scotland Political Editor Brian Taylor and sportsman Willie Allan who describes his after-dinner speaker style as "disruption of expectation"! This is a wonderful evening of good food, excellent hospitality and great entertainment for everyone. As normal we will look for support from Rotarians and the wider business community to raise funds for charities through our prize draw, silent auction and main auction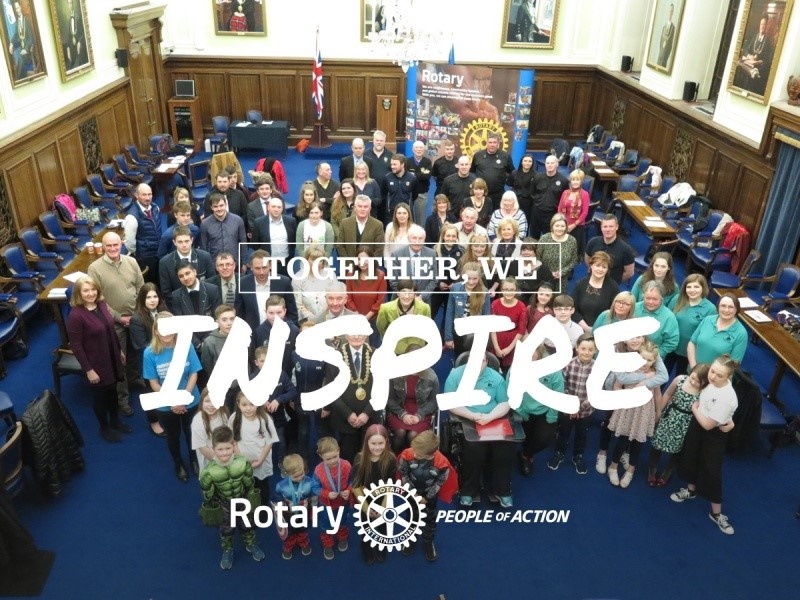 Swimarathon took place in February 2019 and our picture shows the Civic Reception hosted by Lord Provost . This event is one of the biggest participation events we run with almost 240 swimmers raising money that they can donate to charities that are of special interest to them. Our Rotary Club uses the organisational skills of our members and puts them at the disposal of the local community. Groups of friends, 6 is the number, are encouraged to enter a team and seek sponsorship for the charity of their choice. As a guide charities have benefitted by over £20000 being raised at this event which takes place in the Olympia Swimming Pool. Our next Swimarathon will again be held at Olympia on Sunday 23rd February 2020
This year we hope to continue to help the local community to raise somewhere in the order of £50,000 for charity.
Sarah Craig
Chair, Fundraising Committee
Photograph: Presentation to Broughty Ferry Lifeboat station