Members of the International and Club Services Committee:-
Chairman : Jim Speirs
Members
Willie Macsween | Alex Brown | Jack Watson | Stephen Bell
Tony Hey | John Perryman | B.D Sharma | Jim Reid

About The Rotary foundation
The Rotary Foundation is a not-for-profit corporation that supports the efforts of Rotary International to achieve world understanding and peace through international humanitarian, educational, and cultural exchange programs. It is supported solely by voluntary contributions from Rotarians and friends of the Foundation who share its vision of a better world.

The Foundation was created in 1917 by Rotary International's sixth president, Arch C. Klumph, as an endowment fund for Rotary "to do good in the world." It has grown from an initial contribution of US$26.50 to more than US$117.9 million contributed in 2004-05. Its event-filled history is a story of Rotarians learning the value of service to humanity.

The Foundation's Humanitarian Programs fund international Rotary club and district projects to improve the quality of life, providing health care, clean water, food, education, and other essential needs primarily in the developing world. One of the major Humanitarian Programs is PolioPlus, which seeks to eradicate the poliovirus worldwide. Through its Educational Programs, the Foundation provides funding for some 1,200 students to study abroad each year. Grants are also awarded to university teachers to teach in developing countries and for exchanges of business and professional people. Former participants in the Foundation's programs have the opportunity to continue their affiliation with Rotary as Foundation Alumni.
Our International Projects for this year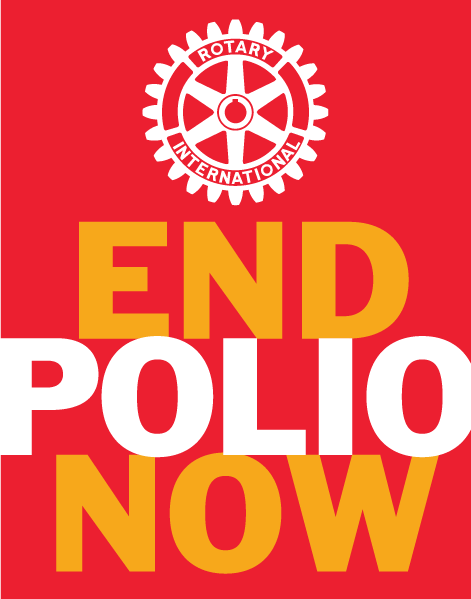 Since 1979, Rotary and its members have been committed to fighting to eradicate polio across the world.
Purple4Polio initiative is one launched by Rotary in Great Britain and Ireland to raise funds and awareness for our efforts to eradicate polio across the world and promote the work of our global campaign, End Polio Now.
When a child receives their life saving polio drops on mass polio immunisation days in many countries their little finger is painted with a purple dye so it is clear they have received their life saving vaccine.
Rotary's pledge for a polio free world was made in 1985 when there were 125 polio endemic countries and hundreds of new cases every single day. In 2017 there were only 22 cases in the entire world but as long as there is one single case anywhere children everywhere are at risk.
Thanks to Rotary, and the support of our partners WHO, Unicef, CDC and the Bill and Melinda Gates Foundation, there are now just three countries still classed as endemic: Pakistan, Nigeria and Afghanistan.
To finish the job over 2 billion doses of oral polio vaccine have to be administered each and every year in over 60 countries until the world is finally certified polio free.
OTHER PROJECTS

MARY's MEALS "Back Pack" project (
An Rotary GB&I approved charity ~ click here
)
At Mary's Meals, we are focused on one goal – that every child receives a nutritious daily meal in a place of education.

These life-changing meals attract hungry children into the classroom. The food fills their empty bellies so they have the energy and opportunity to learn, giving them the chance of a brighter future. The meals also support families struggling to feed their children while boosting the country's wider economy.
Our school feeding programmes are owned and run by community volunteers in the countries where we provide food. For example, there are over 80,000 volunteers in Malawi who take turns to prepare, cook and serve the daily meal in each school.
School feeding committees – made up of parents, teachers and volunteers – are crucial to our work and one of the first things to be established in any new area receiving Mary's Meals.
Our monitors work closely with these committees. They regularly visit schools to ensure the precious ingredients we provide are cooked and served correctly and to offer training and encouragement to the community volunteers.
Wherever possible, we serve locally produced food. This supports the local community and its farmers as well as the wider economy.
Research has proven that school feeding has a range of positive impacts, since children who are not suffering from hunger are able to make the most of their education.
Around 64,000,000 of the world's hungriest children do not attend school.
In order to survive, they have to work or beg.
Even if they do make it into the classroom, hunger affects their ability to learn.
Carluke Rotary are proud supporters of The Rotary Foundation