Presidential Changeover 2016
Thurso Rotary Club handover took place at the Club's Assembly Meeting where plans for the coming Rotary year were presented by the various committee chairs. Outgoing President Heather McLean passed on the chain of office to new Rotary President Charles Findlay with new Senior Vice-President Sandy Sutherland looking on, on the left, after receiving his chain of office. Also in the picture on the right is Past President and new ADG, Bill Ross.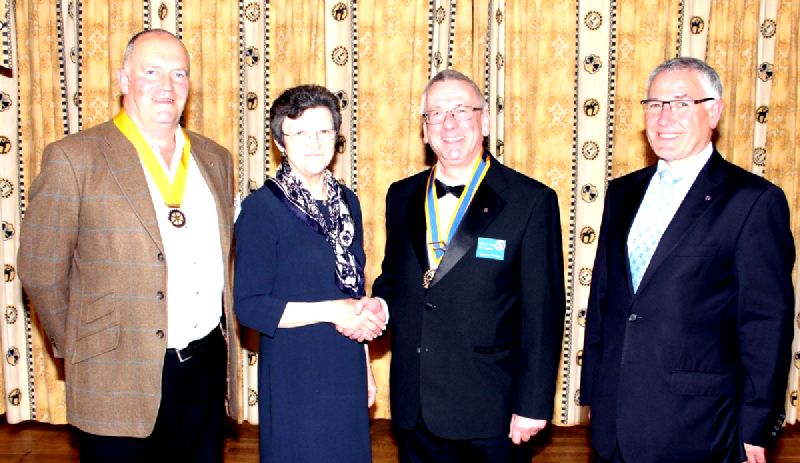 Mey 10k 2016
Rotarians Richie Shearer and Senior Vice-President Charles Findlay raised funds for Rotary charities at the Mey 10k. Ritchie, who took part in the event for the first time completed the course in an incredible 53 minutes. Other Rotarians participated including helping with stewarding at the race.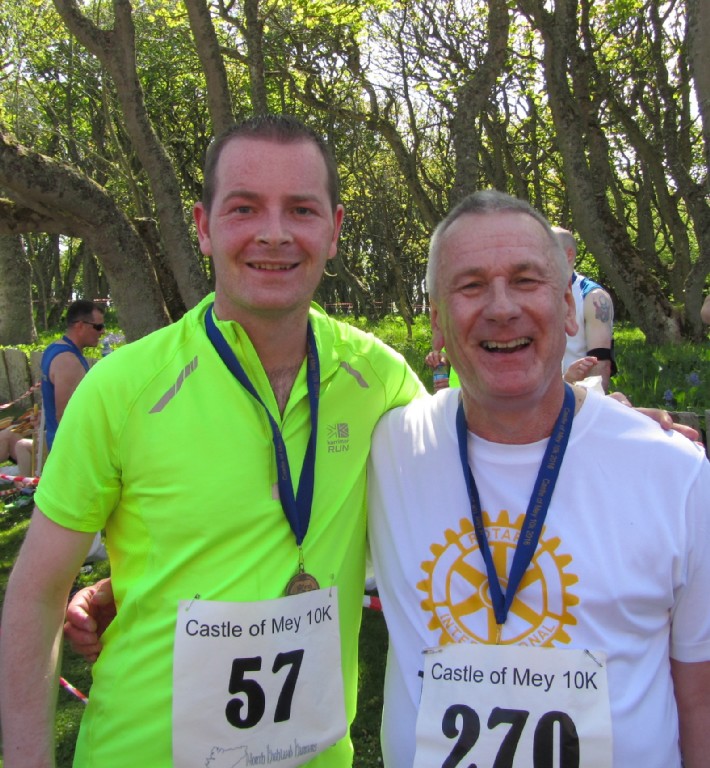 Guest Night 2016
The club had a 'Guest Evening ' on Saturday 21st May in the Pentland Hotel. Members and friends enjoyed a social evening with dinner. Lord Thurso, who has recently been appointed chair of Visit Scotland, was the evening's speaker and his interesting talk was well received by all of the Rotarians and Guests.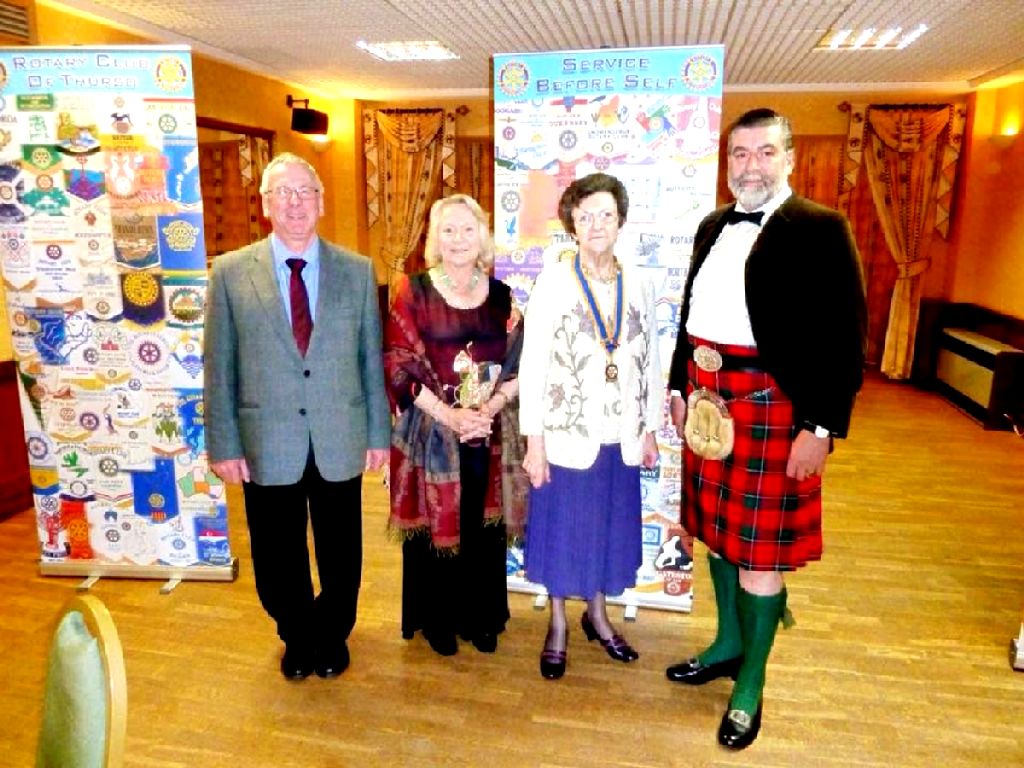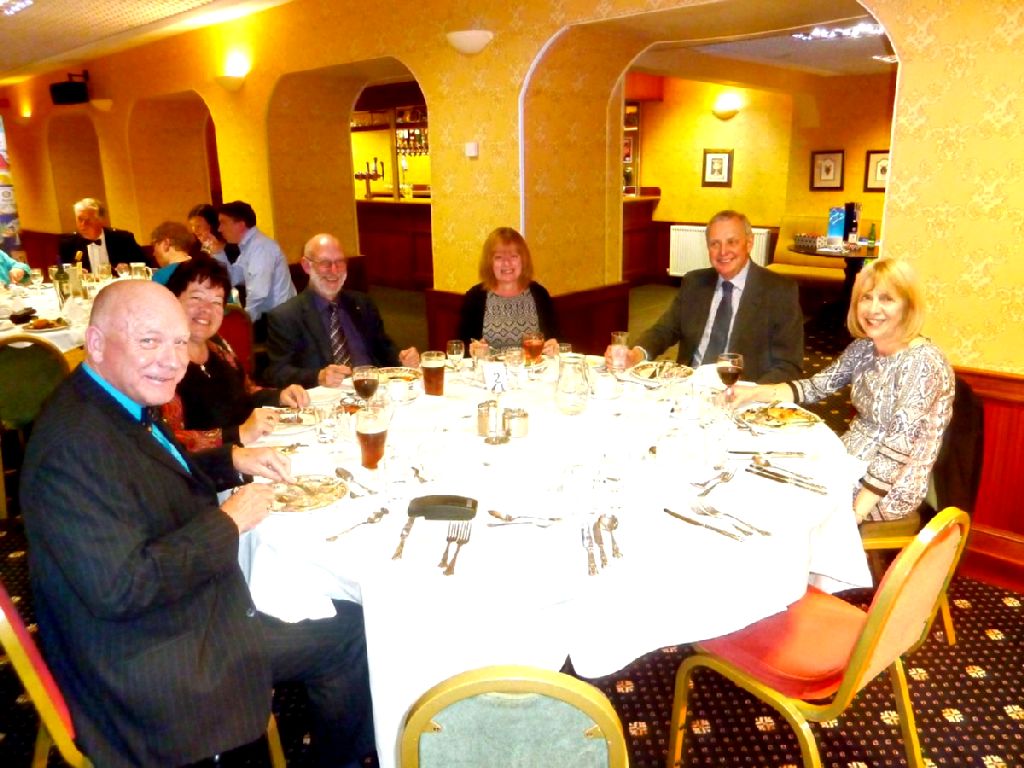 Vintage Rally
Thurso Rotary members John Hook and Sandy Cumming and Graeme Dunnett and Sandy Sutherland too part in the East Sutherland Rotary Club Classic Car Rally in Dornoch on Saturday 21st May. The photos show the team members and President Heather McLean before the start in Dornoch.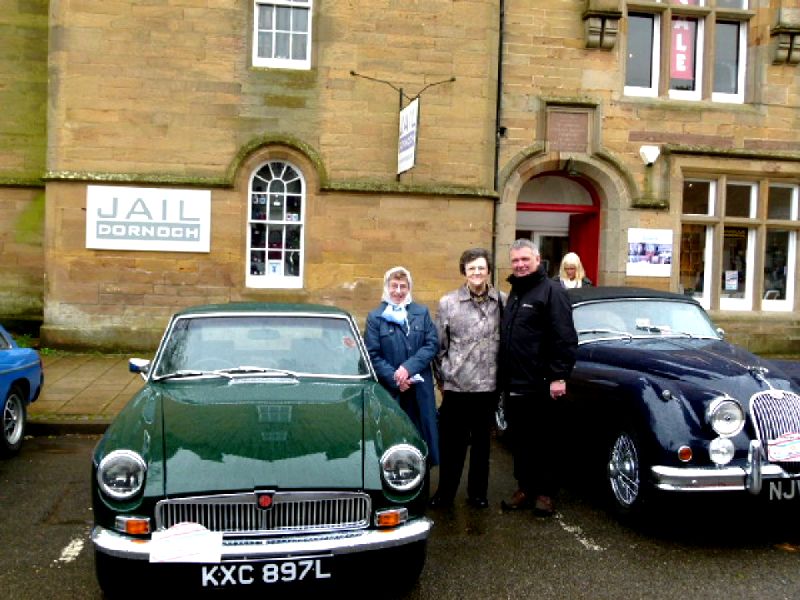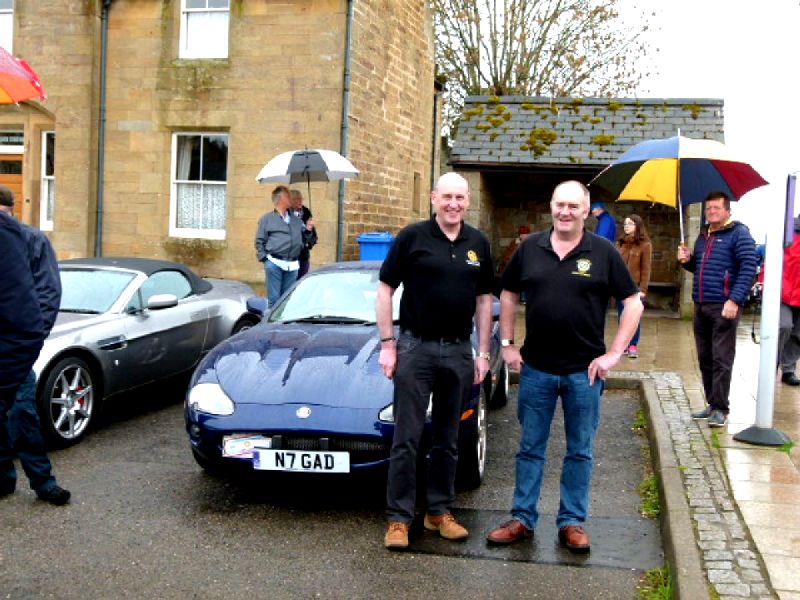 Rotary Bowling
Senior Vice-President Charles Findlay lead members in a Bowling afternoon at Thurso Bowling Club. The day was enjoyed by all with some initial coaching given by Bowling Club members and then some relaxed competition. Rotarians present were grateful for the welcome received, the use of Bowling Club equipment and the end of afternoon hospitality in their clubrooms.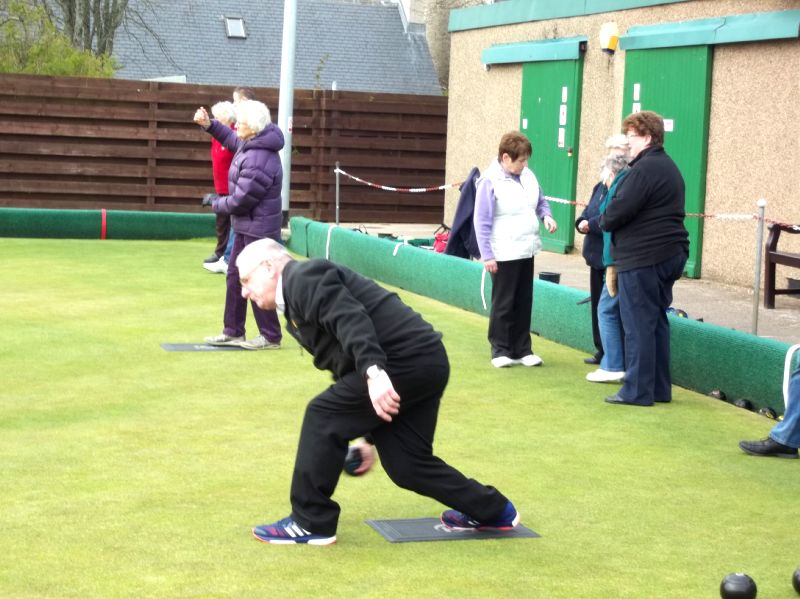 Interact End of Year Lunch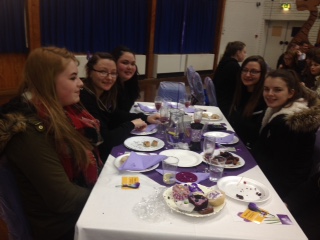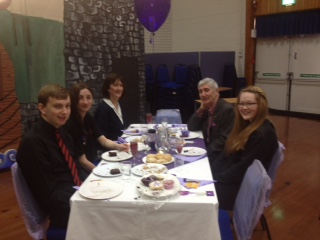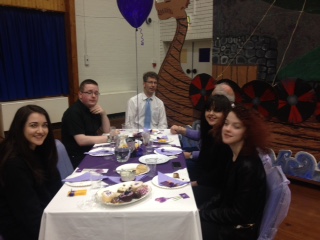 After another very successful year Thurso High School Interact members held their end of session lunch along with a group of invited Rotarians.
Rotary Donation to Thurso high School Learning Support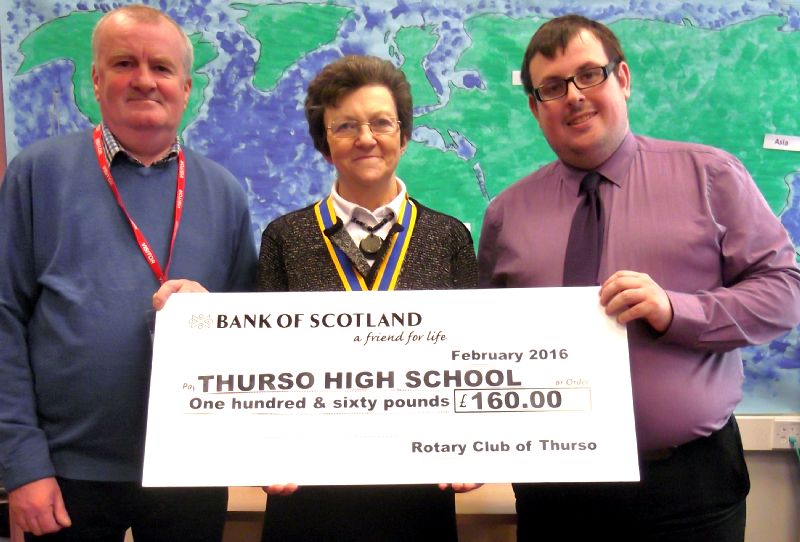 The above photo shows Rotary President Heather McLean and Past President Kevin Sutherland, on the left, presenting a cheque for £160 to Stuart Disbury on behalf of the Thurso High School Learning Support Department.
Captain's Galley Fundraiser
Good food and beer can always be easily swallowed and Thurso Rotary Club used both to help generate money for two worthy causes. Over £600 was raised at a cookery and tasting session which was held at The Captain's Galley in Scrabster where chef Jim Cowie led a masterclass in seafood. John O'Groats Brewery director Simon Cottam co-hosted the fundraiser and gave Rotary members the chance to taste some of the brewery's beer. The brewery which was established last year, filled Rotary members' pint glasses with its latest creation launched at the Seaview Hotel in John O'Groats in January. The money will be divided between two charities - The Starfish Foundation and The Rotary Foundation. The former is a charity in which Mr Cowie is involved. He is helping to promote a restaurant owner in Greece who is assisting refugees in Lesbos. Australian chef Melinda McRostie, who owns The Captain's Table on the island, has set up a refugee camp at her restaurant and provides food, blankets and other essentials to those in need. In an attempt to help her continue her work, Mr Cowie has written to over 70 restaurants across the world that are named The Captain's Galley or The Captain's Table asking them to hold fundraising events for The Starfish Foundation. The Rotary Foundation helps good causes across the world in an attempt to aid causes such as polio eradication, education and humanitarian programmes.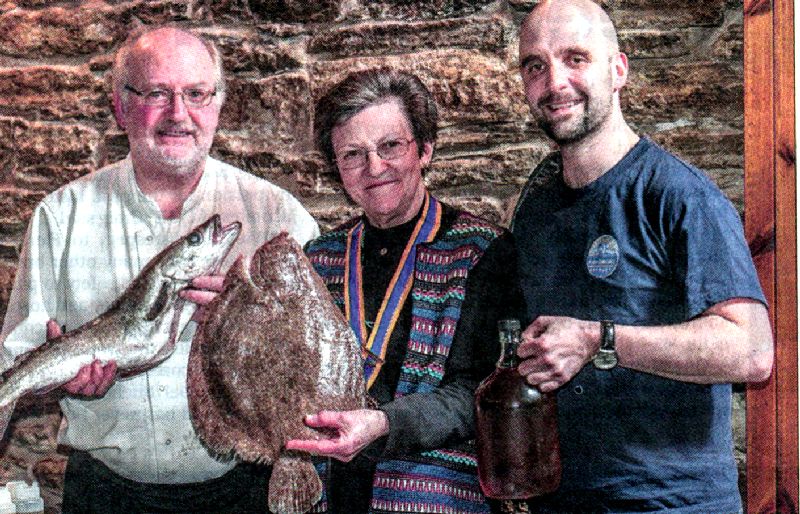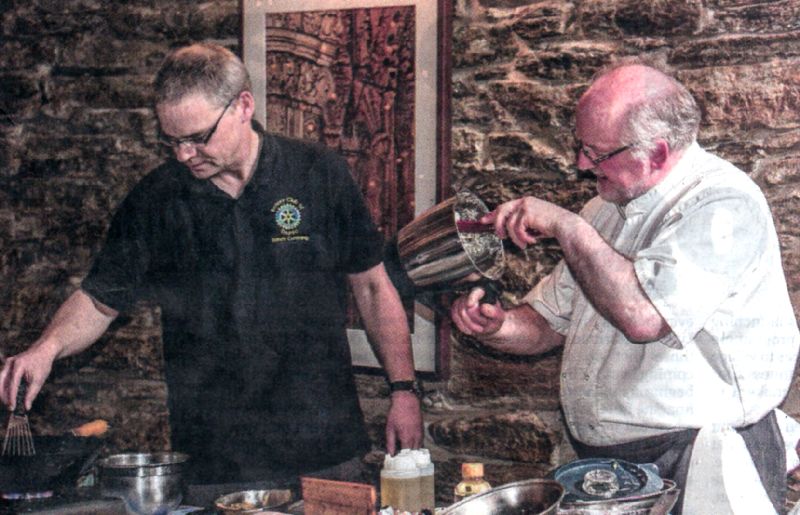 Primary School Quiz 2016
Thurso Rotary Club held their Annual Primary Schools' Quiz Competition in Mount Pleasant Primary School on Tuesday 23 February. Teams from Miller Academy, Reay, Mount Pleasant, Halkirk, Pennyland and Castletown took part. After an exciting and closely fought competition, which was not decided until the final round, Castletown came out on top. All the schools performed well and all should be congratulated on their ability and the spirit in which the competition was held.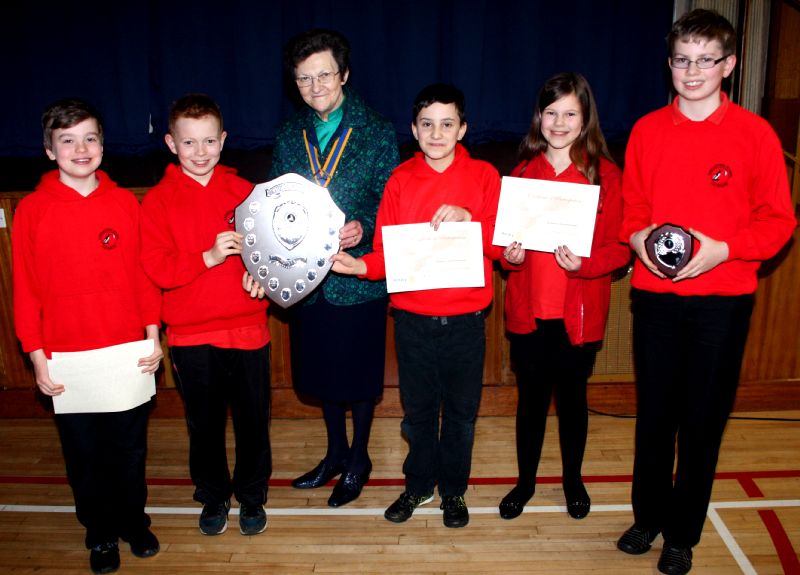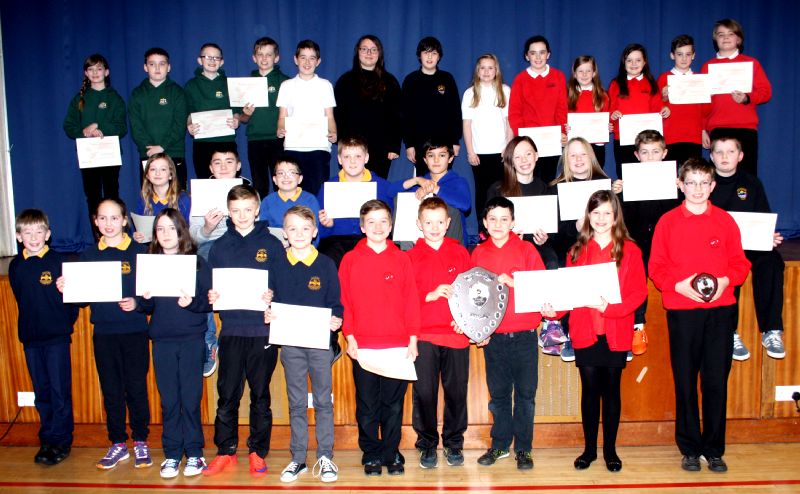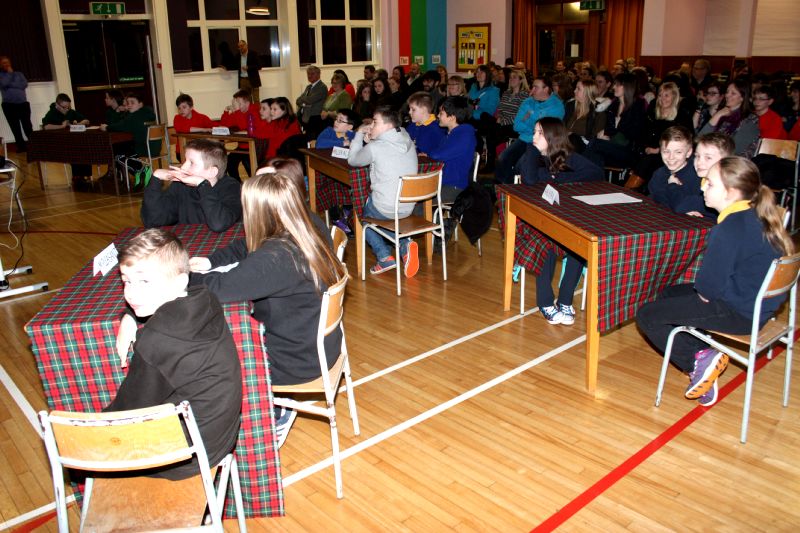 Gavel Competition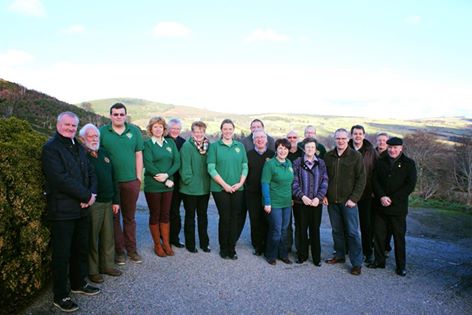 The club played Huntly Rotary Club in the Rotary Gavel Challenge Competition round three which was hosted very ably hosted by Dingwall Rotary in Strathpeffer Golf Club. The team travelled by train from Thurso and at the following Club meeting spoke highly of the day out and the hospitality they received in Strathpeffer. Thurso won 27-25 and now go through to the next round where they will meet Stonehaven at a mutually agreed venue which is yet to be decided.
Rotary Burns Supper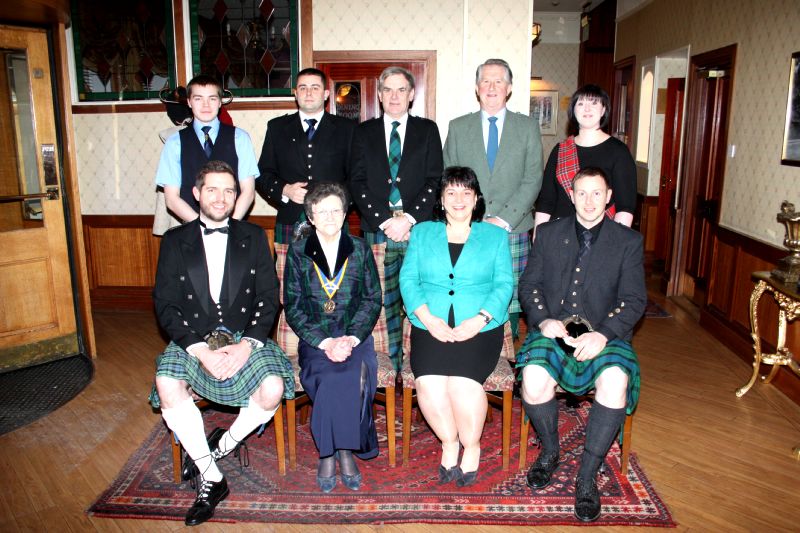 The Rotary Club of Thurso 2016 Burns Supper once again turned out to be a very special occasion. A large group of Rotarians and Guests were welcomed by President Heather McLean and then all were ably entertained by excellent speakers. Brian Leonard delivered an Immortal Memory based on his own memories and experiences of Burns' works through his own upbringing on an Orkney farm. The toast to the Lassies by Alan Mackay was a humorous speech concentrating on how times have change for the Lassies though at the expense of the Lads. Alan did not have it all his own way as Carol Gunn's reply poked fun at some of those present and made all understand times had truly changed forever. The Address to the Haggis was performed with great gusto and wonderful expression by Rotarian Kenneth Wilson and the Selkirk Grace was, as is traditional on this occasion, presented with confidence, as one would expect, by experienced Round Tabler David Kelly. No Burns Supper is complete without a good vocalist and an accomplished presentation of a Burns poem. Kelly Davidson is a regular performer at the Rotary Burns and her wonder voice was once again appreciated by all. There can be none better at reciting Tam O' Shanter than Gus Mackay. He brings the story to life with his exquisite acting ability and holds the attention of the audience throughout this long poem. Where would a Supper by without a good piper? Young piper Robbie Campbell filled the bill perfectly with is excellent piping in of the haggis and his performance later in the evening. The evening concluded with The Star of Robbie Burns and Auld Land Syne sang by the company lead by Kelly Davidson and the ever present Peter Murchison and a generous vote of thanks by Charles Findlay.
Thurso Rotary Christmas Dinner 2015
A large group of Rotarians, Interact Members and Friends enjoyed a night of good food, good fellowship and excellent entertainment at the 2015 Christmas Dinner in the Pentland Hotel. Speaker David Rosie entertained the company with an interesting and humorous talk on the topic of rhyming verse and brought his presentation to a conclusion with one of his own poems in Caithness Dialect. Thurso Intereact members, assisted by the audience, concluded the evening with carol singing.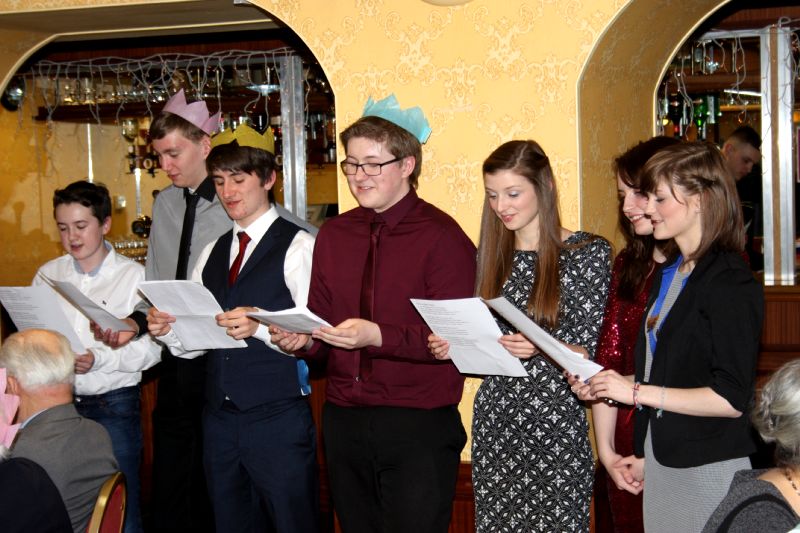 Thurso High School Interact and Thurso Rotary Carol Singers
Thurso High School Interact Club and Thurso Rotary Singers, along with Santa, are out and about on their annual carol singing at Pentland View, Bayview and Achvarasdal Care Homes. After singing a fine selection of carols Santa distributed gifts to the residents of the three establishments.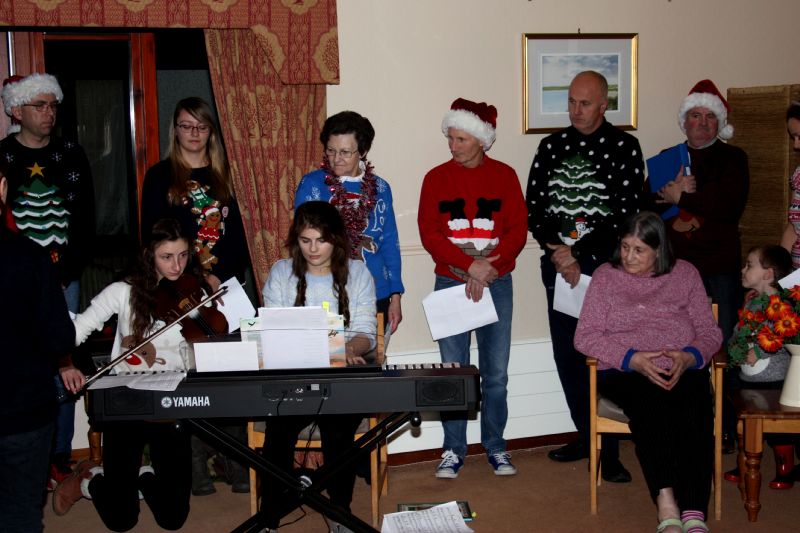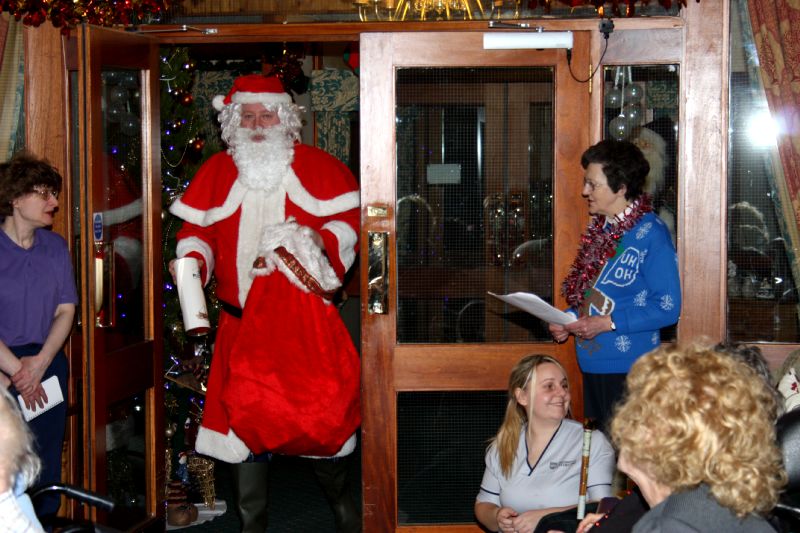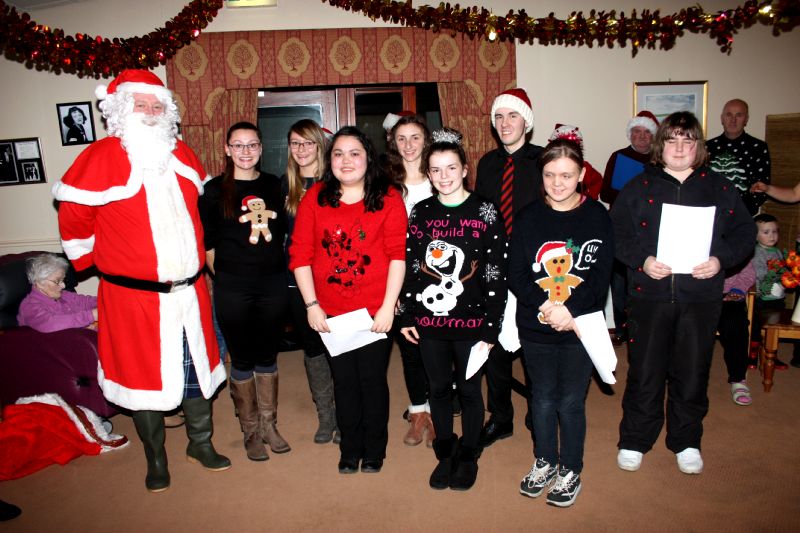 Rotary Auction Cheque Presentation
At the regular Thurso Rotary Club meeting on 19th November, President Heather McLean presented Gus Mackay of the Thurso Branch of the British Legion with a cheque for over £5000 as the Legion's share of proceeds from the recent joint fundraising auction held in the Legion Hall. The picture shows Rotarian Simon Middlemas, who organized the auction, and Rotary Treasurer Graeme Dunnett looking on while Gus receives the cheque from President Heather McLean.
Relay for Life
Rotary Club of Thurso prides itself on the work it does to support local charitable and voluntary organisations and the support it gives to the local sections of national organisation in fundraising efforts. Relay for Life comes into the latter category and Club members enthusiastically supported the 2015 event.
The pictures show the Thurso Rotary Team.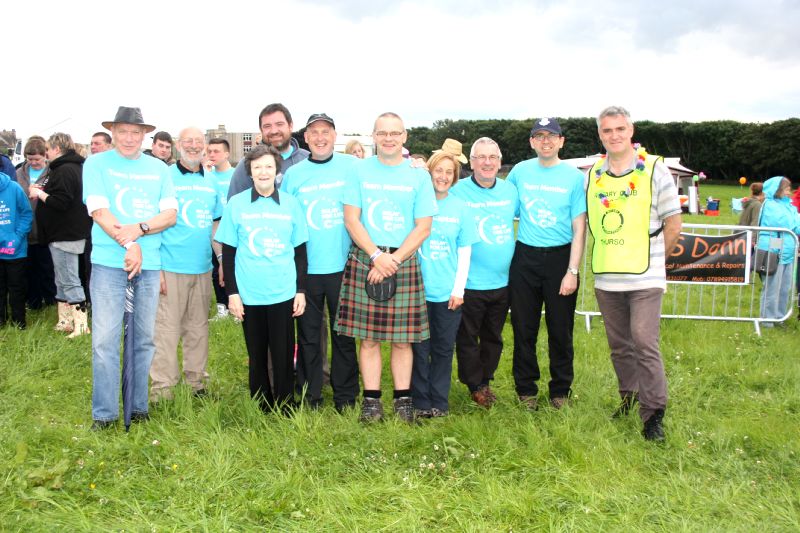 Ben Nevis Climb Training
Thurso Rotarians taking part in a climb of Ben Nevis are now into serious training mode with a group of three 'cutting their teeth' on home territory ascending Morven. Their challenge next month will be more severe!
They are left to right: Sandy Cumming, Graeme Dunnett and Sandy Sutherland.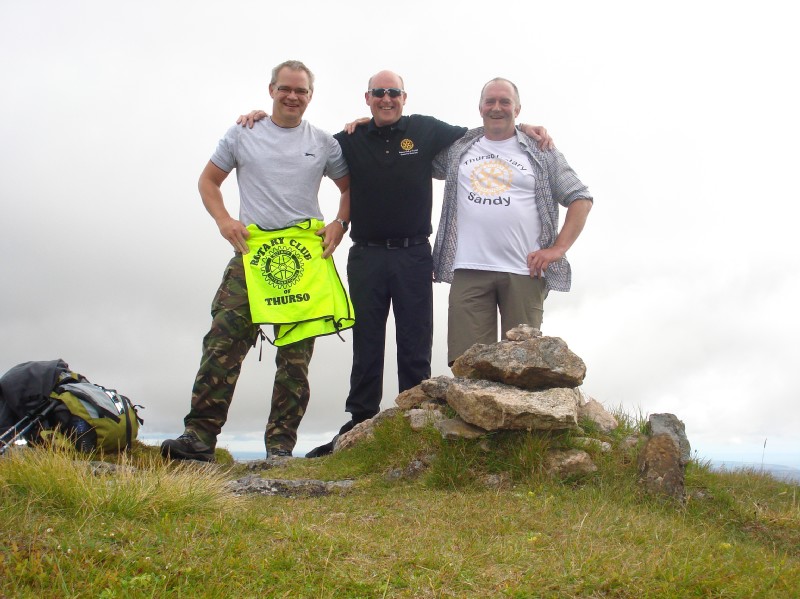 Thurso Rotary's First Lady President
Rotary Club of Thurso is delighted that Heather McLean is our new club president. This represents the changing face of Rotary as she is our first woman president. In the photograph she is being congratulated by retiring president Colin Chessor along with new Senior Vice-President, Charles Findlay.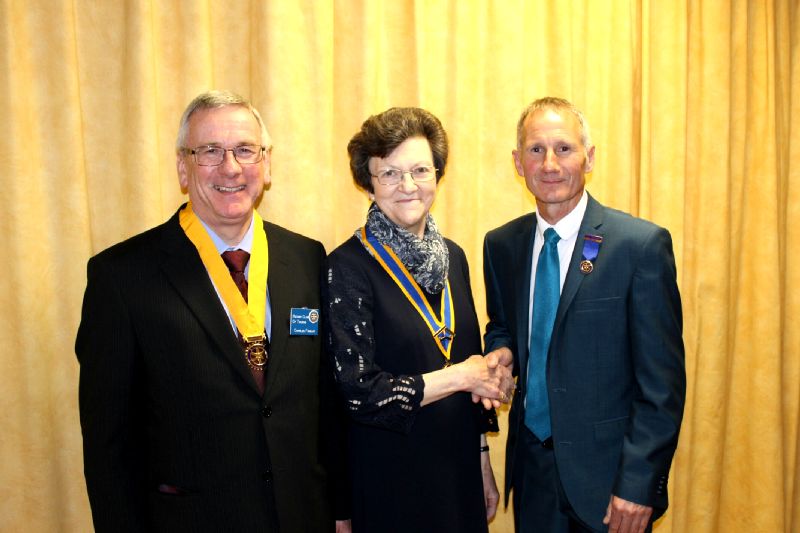 Thurso Rotary Club Prostate Cancer Cycle
Thurso Rotary Club took part in a nationwide sponsored cycle event completing the first section from John O'Groats to Wick, raising money for prostate cancer.
Thurso Rotarians cycling were Colin Chessor, Sandy Cumming, Sandy Sutherland, Ken Wilson, Charles Findlay and Ritchie Shearer. Support members were Heather McLean, Kevin Sutherland and Alan Sparling.
The group met up with Orkney club members in the evening at the Northlink Ferry the Hamnavoe at Scrabster. Five Orkney Rotarians cycled over on the Hamnavoe and touched base with Thurso......then immediately sailed back on the return ferry!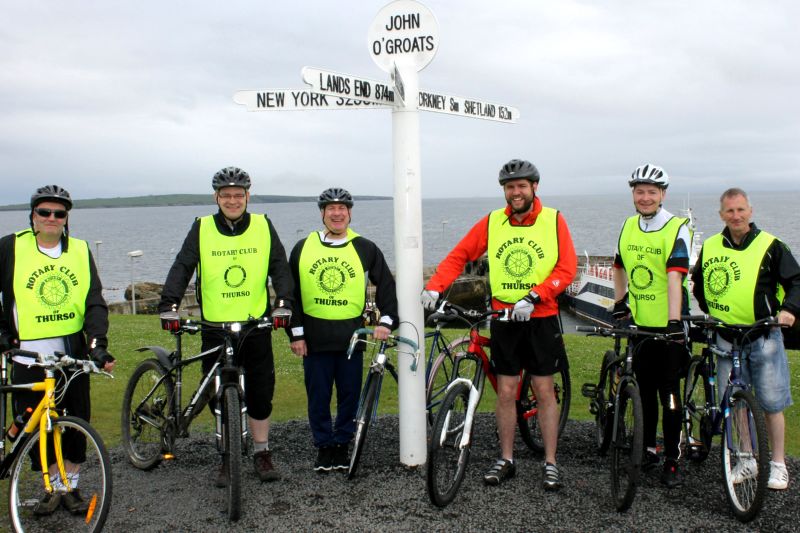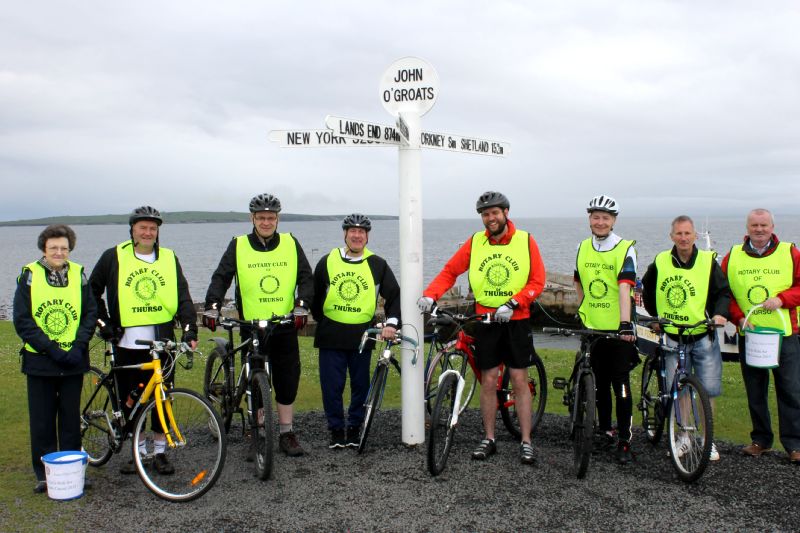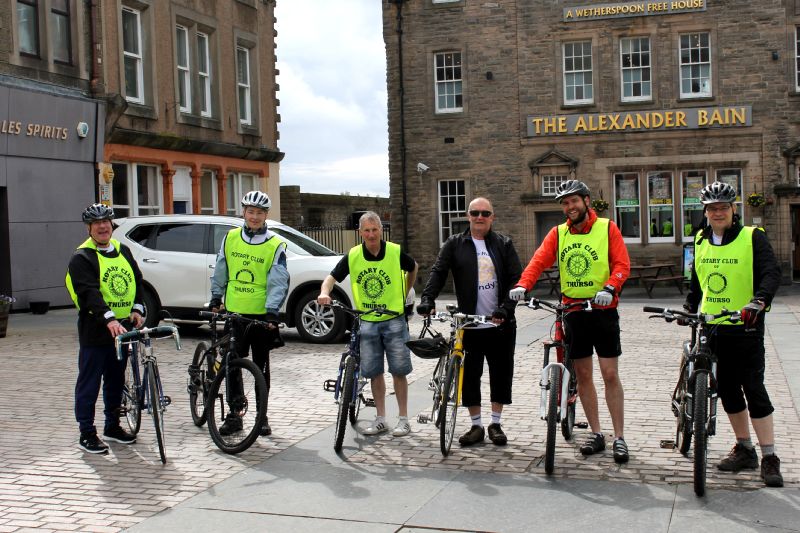 Guest Night 2015
Thurso Rotary Club's Annual Guest Night 2015 was held in the Pentland Hotel on 30th May. On this occasion it was decided to change the meal format and to take advantage of the hotel's carvery meal.
Entertainment after the carvery was provided by the three young musicians from the Young Musician Competition 2014: Stephanie Kozlowski (winner of the Thurso Rotary Club Daniel McLean Shield for the Best Instrumentalist ); Rhianna Urquhart and Iain Fishenden.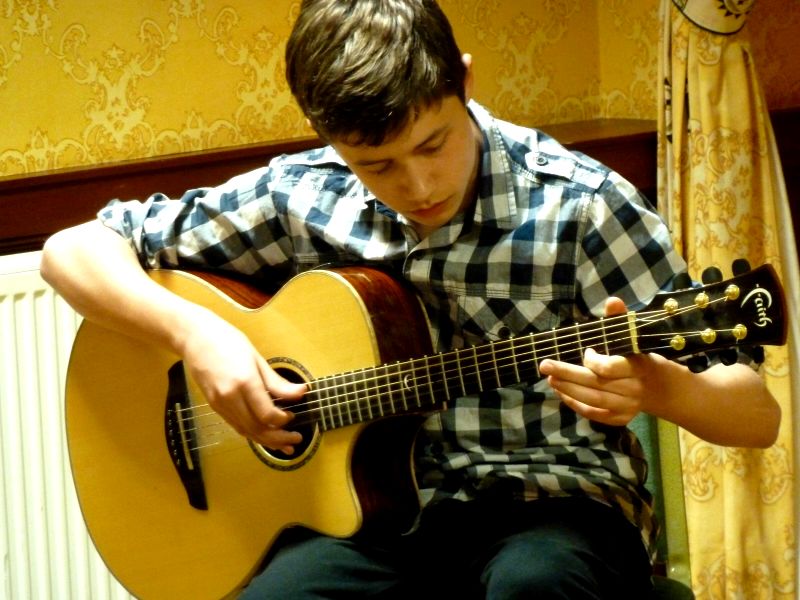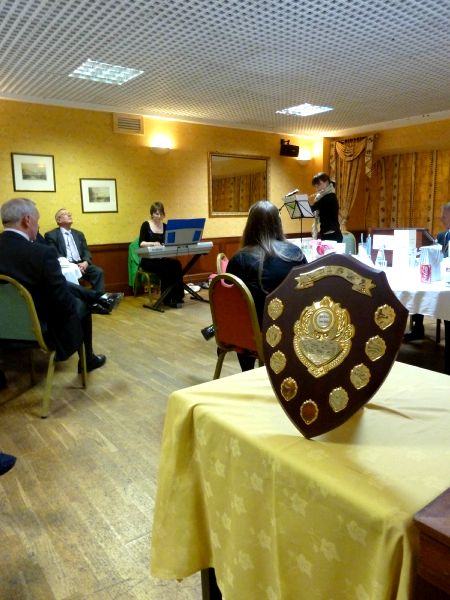 Classic Car Tour: Coast to Coast
Rotarians John Hook and Sandy Sutherland completed the East Sutherland Rotary Classic Car Tour 2015: Coast to Coast on Saturday 23 May 2015. They joined 55 other classic cars in a 1973 MGB GT and completed the 170 mile round trip from Dornoch in the East to Ullapool in the West. The reality was with Strath Halladale - Thurso - Dornoch - Ullapool and back it was a total of 370 miles. They raised and submitted £465 to the overall charity event with much appreciated sponsorship support from Friends, Family, Thurso Rotarians and Colleagues.
The MGB ran very well, John's driving was steady and Sandy's navigating skills with detailed knowledge of the route and roads was invaluable. The weather was superb and they soon arrived in a very busy and bustling Ullapool. This combined with a fantastic range of other classic car enthusiasts with cars ranging from 1932 Lagonda to modern Aston Martins made for a great event and all credit to East Sutherland for organising.
There will be full details on the overall event on the East Sutherland Rotary website in due course.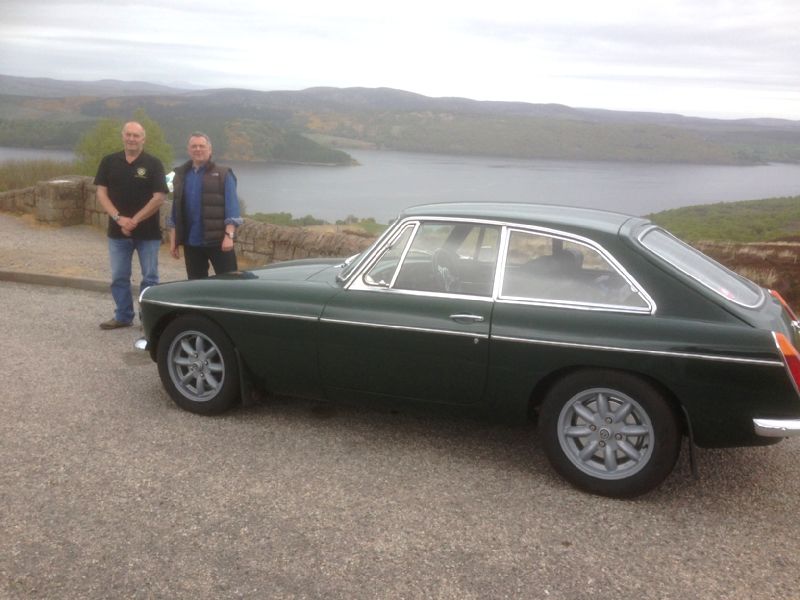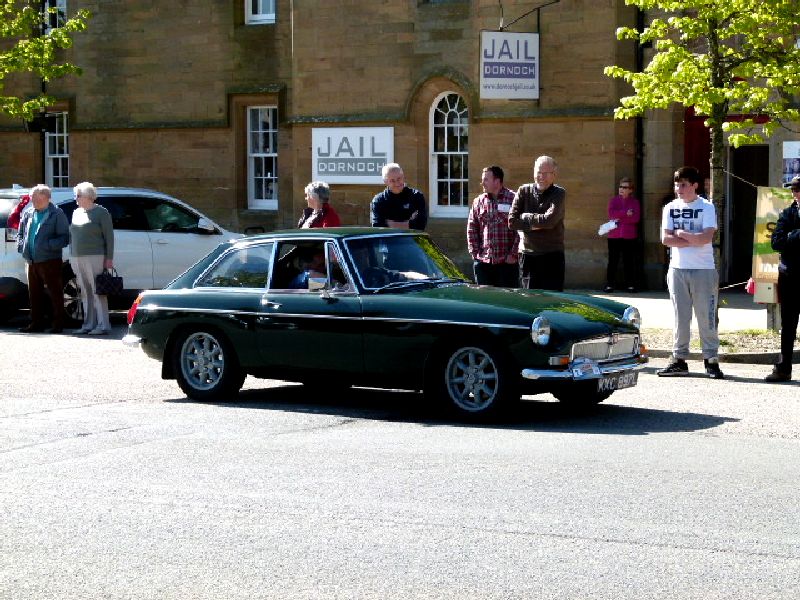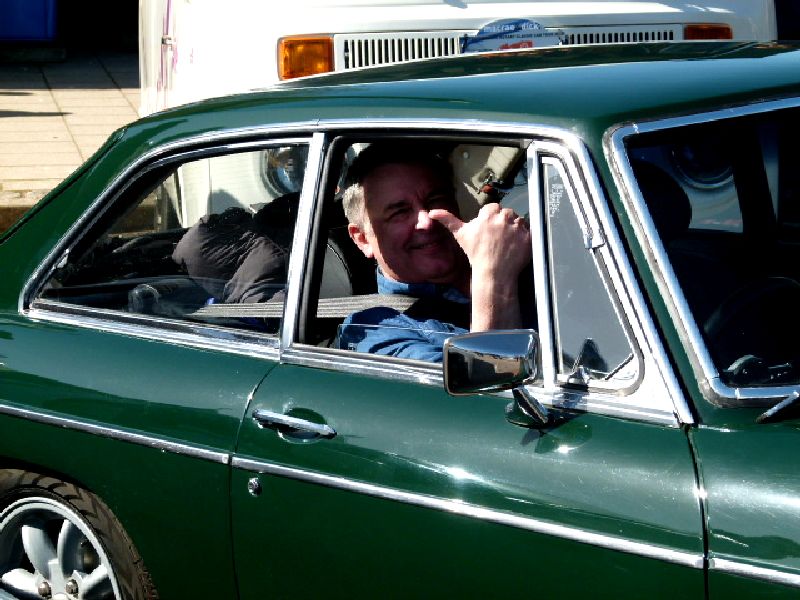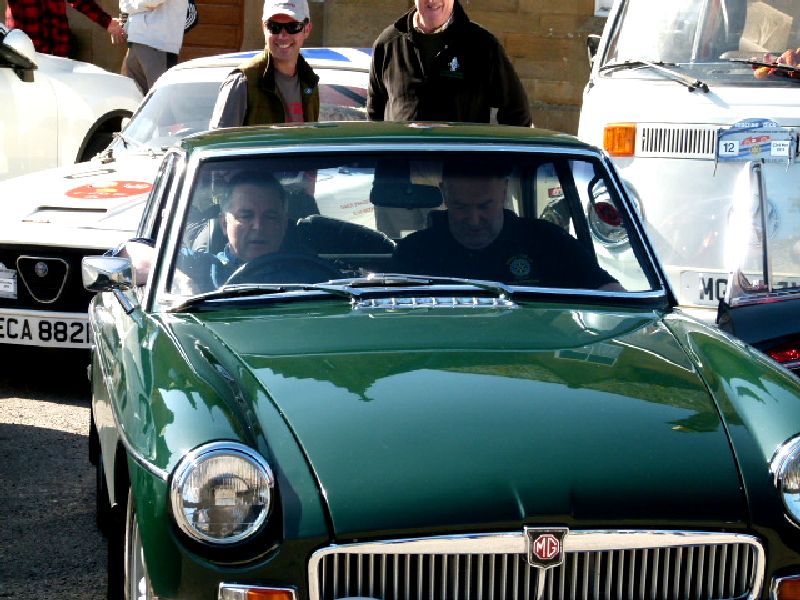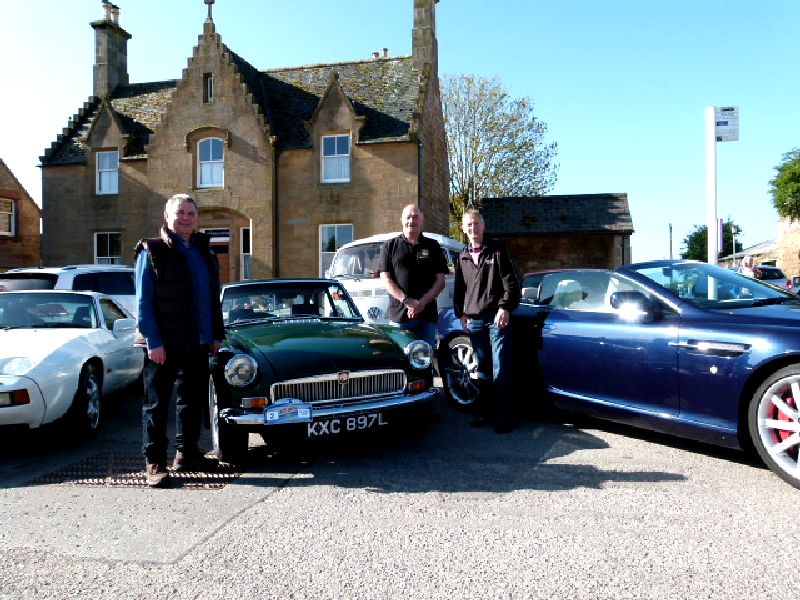 Thurso Rotary Club's Speechmaking 2015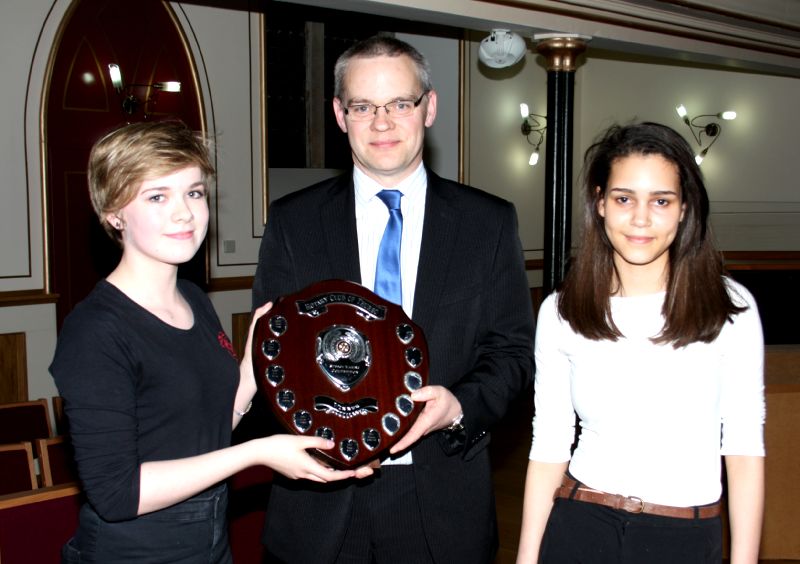 Thurso Rotary Club's Speechmaking 2015 saw eight students from third and fourth years at compete for the Rotary Shield. After eight accomplished performances in the glare of an audience of teachers, parents and Rotarians 14 year old Frances Grant came out on top. In the picture above Rotary Past President Sandy Cumming is shown presenting Frances with the trophy while watched by Esmeralda Jardine, the runner up in the competition. A full group picture can be seen on the Speechmaking Page of the website.
Thurso Rotary Club's Primary School Quiz 2015
Thurso Rotary Club's Primary School Quiz 2015 was as keenly fought as ever by teams from Mount Pleasant, Reay, Halkirk, Miller Academy, Pennyland and Castletown. All the teams scored well with just a few points separating top from bottom but in the end held the lead they had for most of the contest to pip Pennyland for the Rotary Shield.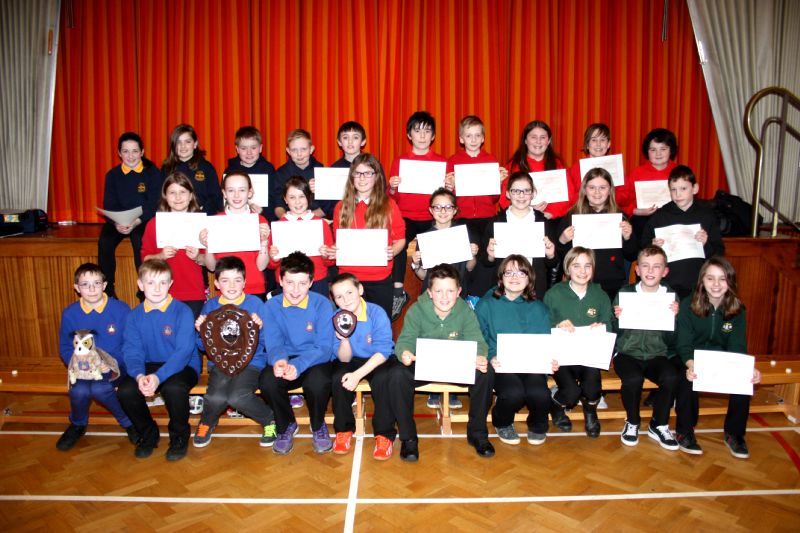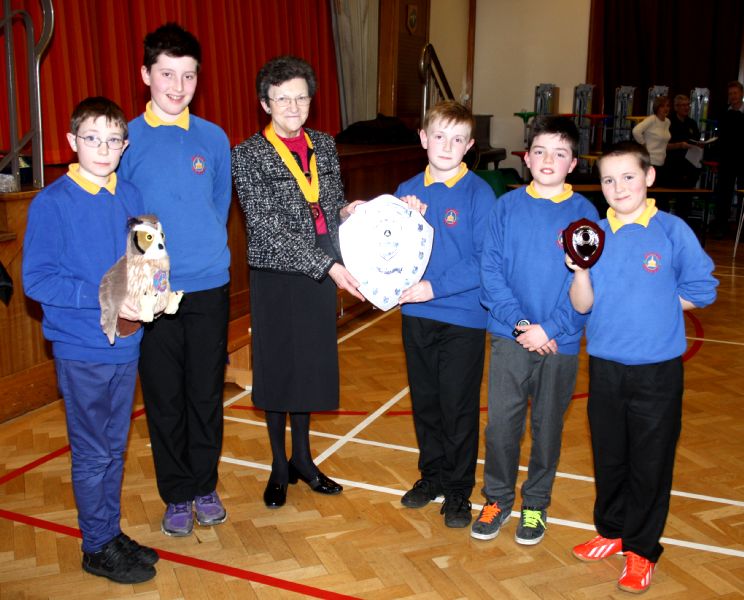 Burns Supper 2015
Thurso Burns Supper is considered one of the premier events in the Burns calendar and the 2015 event did not disappoint. A large group of Rotarian and friends enjoyed an evening of varied and ejoyable entaertainment from talented speakers, musicians and singers. The evening was ably conducted by President Colin Chessor.
The first photo below shows the top table participants, the second the Haggis arriving, the third picture shows Rotarian Alan Sparling giving a spirited Address to the Haggis and in the fourth President Colin Chessor gets the proceedings underway.
Front row left to right:
Carol Gunn (Reply to the Toast to the Lassies), Kenneth Wilson (Toast to the Lassies), Rotary President Colin Chessor, Simon Moodie (Immortal Memory of Robert Burns) and Alan Sparling (Address to the Haggis).
Back Row left ti right: Gus Mackay (Recitation of Tam o' Shanter), Round Table Chairman David Barrowman (Selkirk Grace), Alan Plowman (Piper) and Kelly Davidson (Vocalist).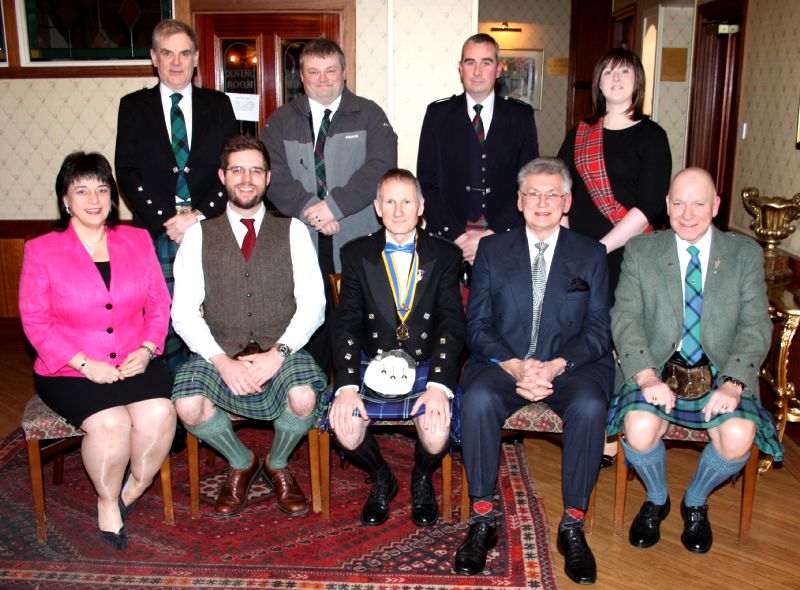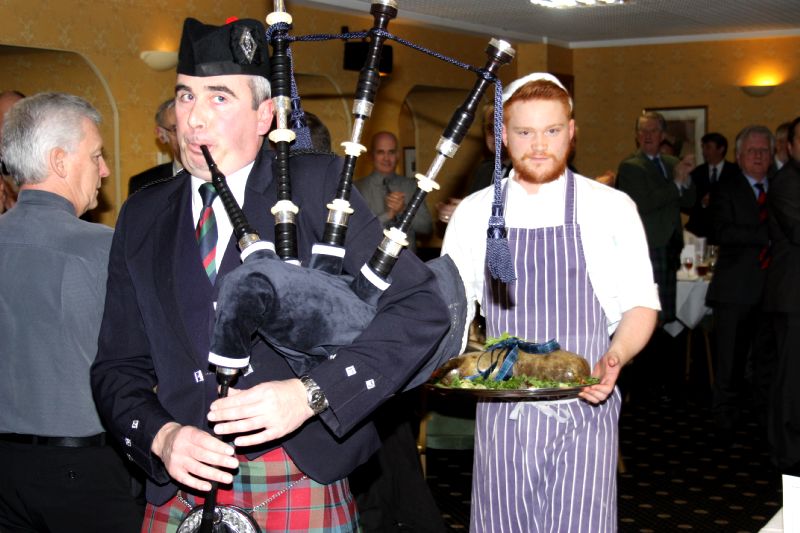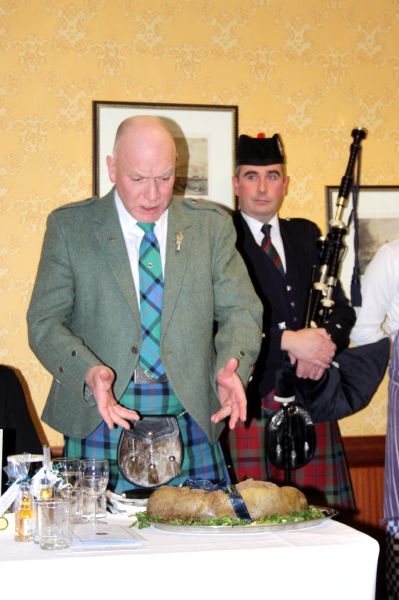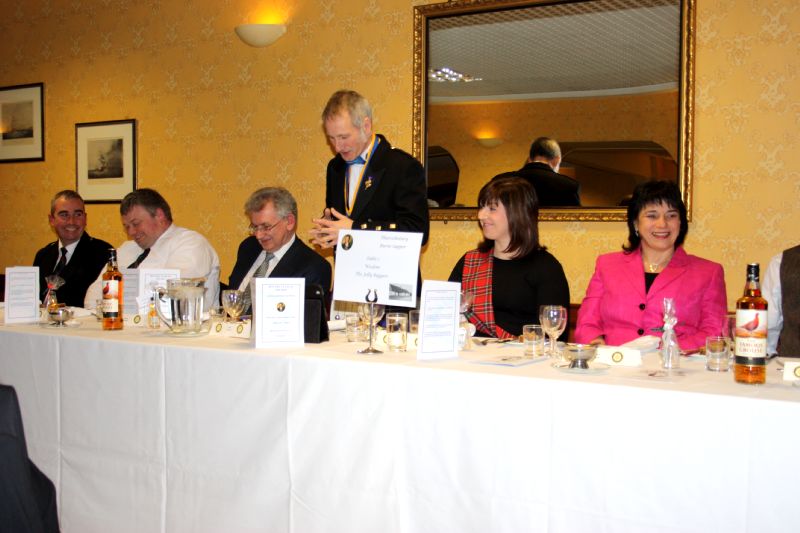 Interact 2014 Da Doonie Group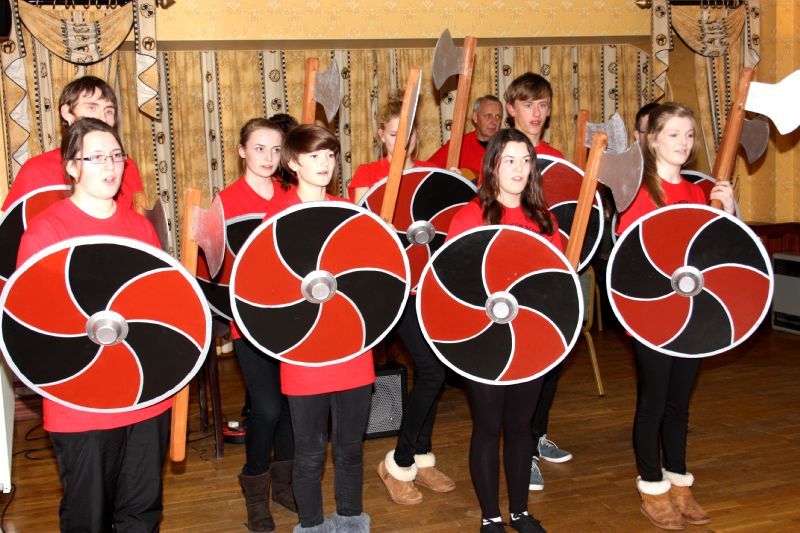 This year's Interact Da Doonie Group of 'Vikings' entertained Rotary Club members at their regular Thursday meeting with three of their Viking theme songs. The group were using the event as a rehearsal for a visit to the Thurso primary schools the following day. The group will also have a prominent role at the Club's Bonfire and Fireworks night on 1st November when they march to the Bonfire site with their lighted torches.
RYLA 2014
Following the first meeting in October the Thurso Rotary Club RYLA 2014 candidates, Anja Johnstone and Jack Ambrose, received their RYLA certificates from Club President Colin Chessor. At the meeting Anja and Jack were the principal speakers and gave a comprehensive outline, using DVD and photographs, of their activities and experiences at their respective camps.
Thurso Rotary Club Young Musician 2014
Young Musician winner Stephanie Kozlowski from Castletown is shown below receiving the trophy from Senior Vice-President Heather McLean.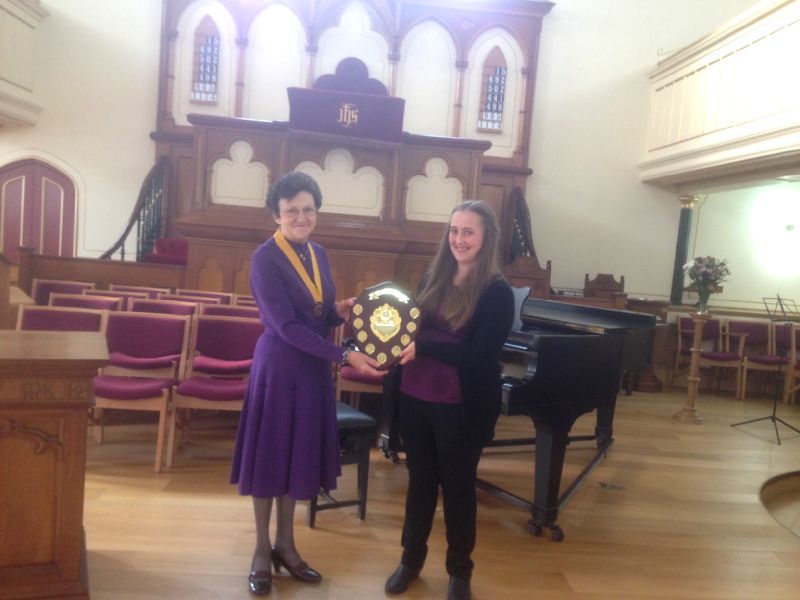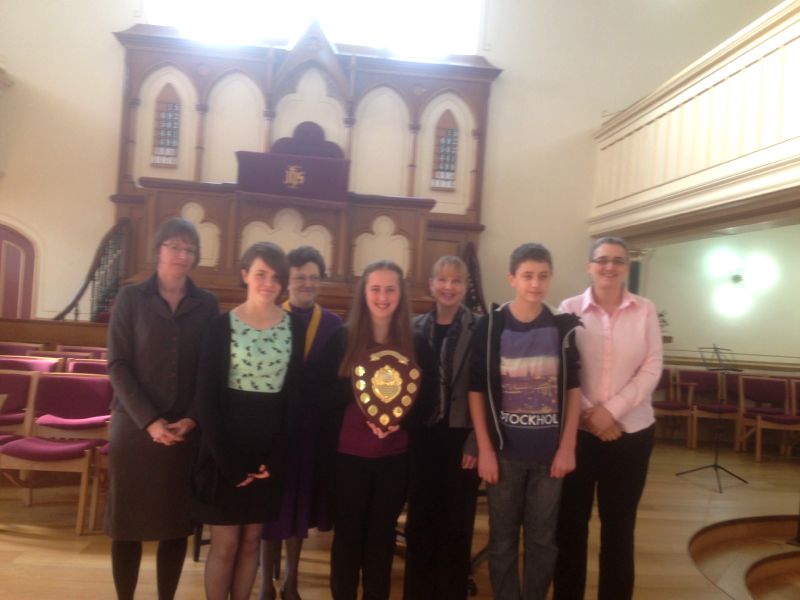 On a wet and windy Sunday in August 6 couple enjoyed (we think!) a Club bowling day.
Club members erected a tent at the Halkirk Highland Games and collected donations for the Shelter box Fund.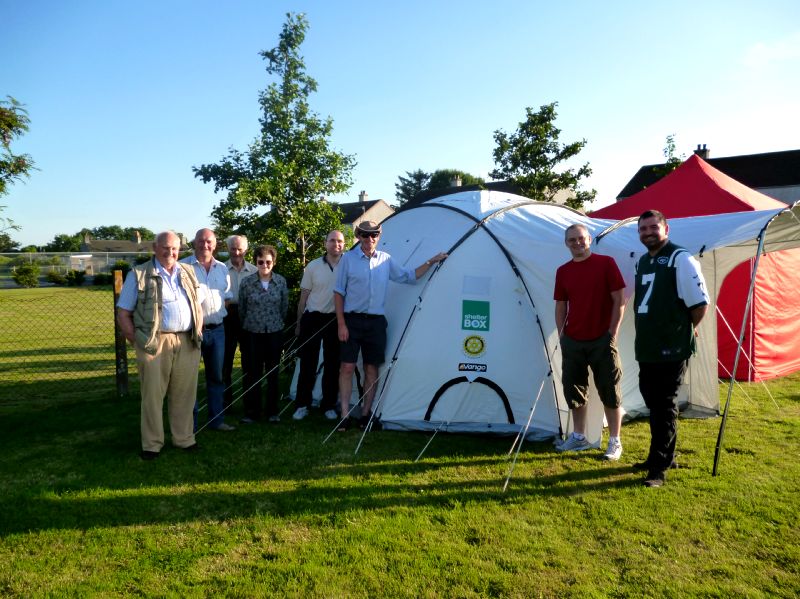 The Club supports many community groups and as usual support was provided at the RNLI Fayre at Scrabster.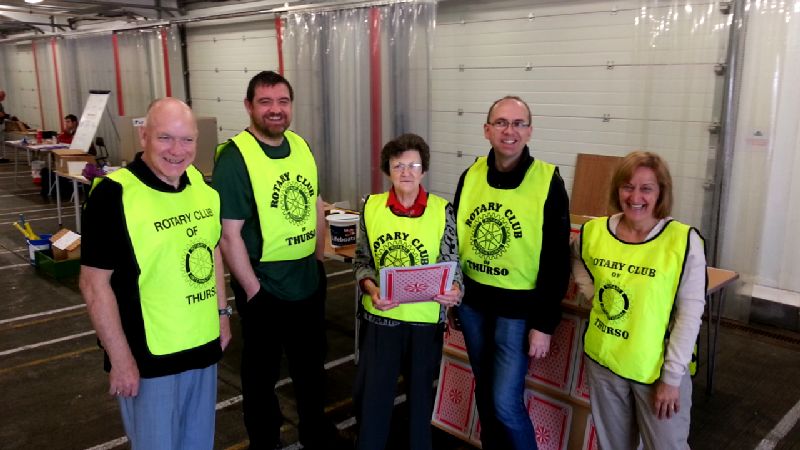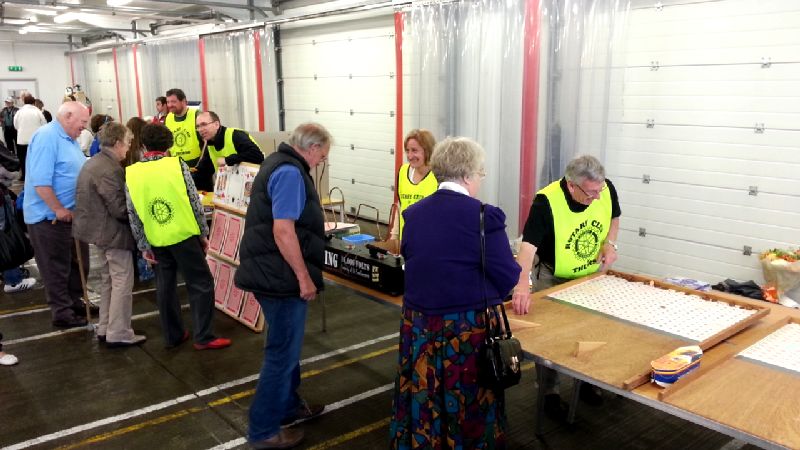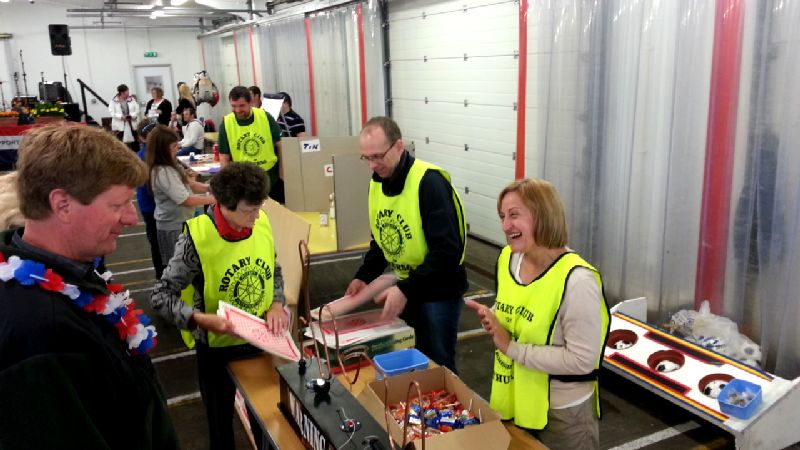 Thurso Firewalk organised by Thurso Rotary Club takes place on 19th October 2014.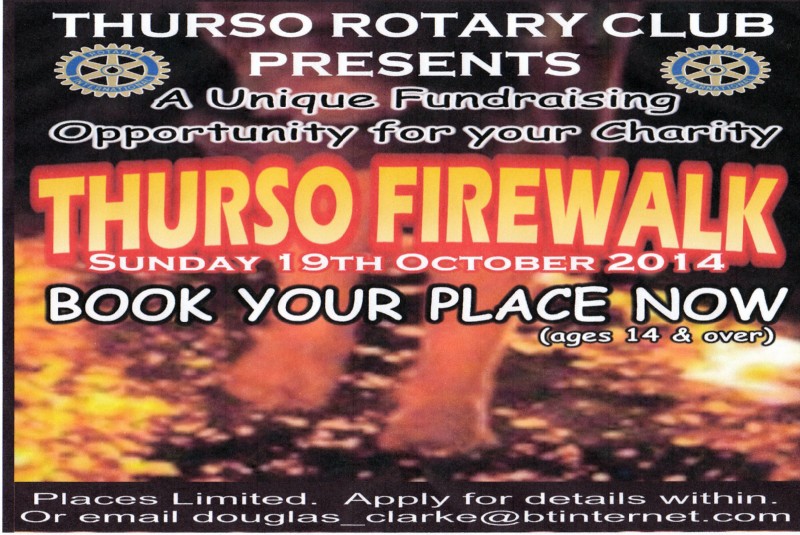 Rotary Presidential Changeover for year 2014-15
Another very successful Rotary year comes to an end and Past President Sandy Cumming presents incoming President Colin Chessor with the chain of office while new Vice-President Heather McLean looks on.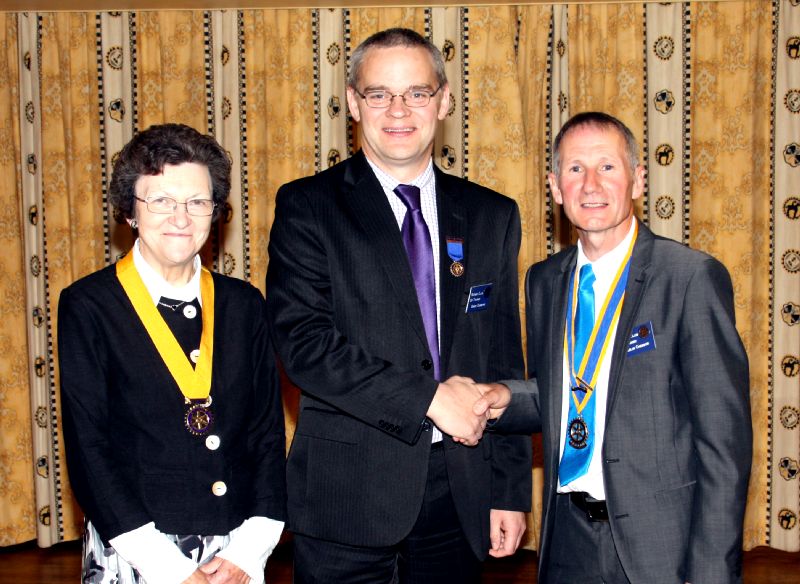 Coast to Coast Classic Car Tour
East Sutherland Rotary Club organised a Coast to Coast Classic Car Tour on Saturday: 17 May 2014.

Dornoch on the East Coast to Lochinver on the west coast of Sutherland- around trip of 170 miles.

42 cars completed the tour, some from as far as London attended, including Thurso Past President John Hook and President Sandy Cumming in John's 1973 MGBGT. John driving and President Sandy navigating.

The event raised 10,000 for RNLI and Rotary Charities.

John and Sandy were very pleased to join in on the run, sponsored to 380 representing Thurso Rotary Club and had a great drive round. Really looking forward to doing it again next year.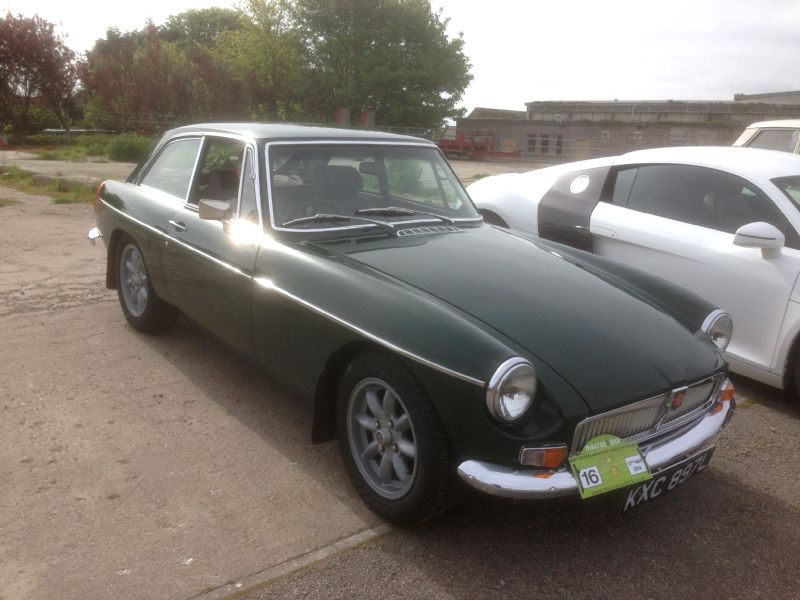 The Mey 10k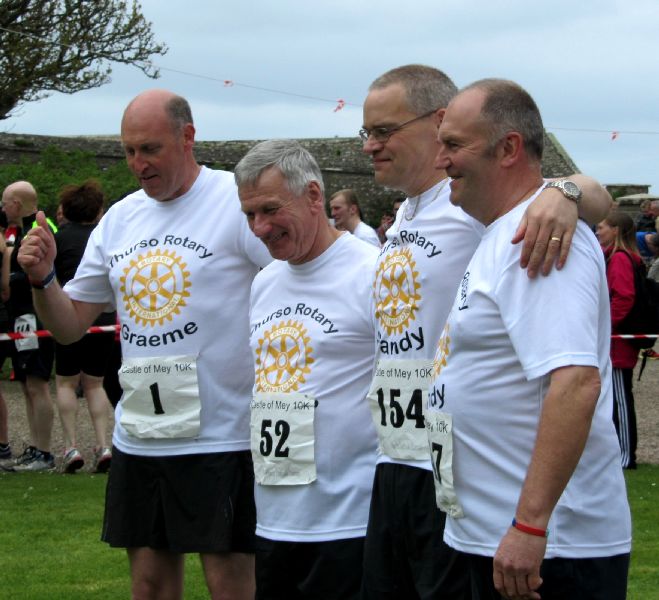 Graeme Dunnett, Charles Findlay, Sandy Cumming and Sandy Sutherland, the Thurso Rotary Team, are ready for the off at the Mey 10k Race. All finished and in good health!
The Club had a team of helpers at the event and one group are shown below.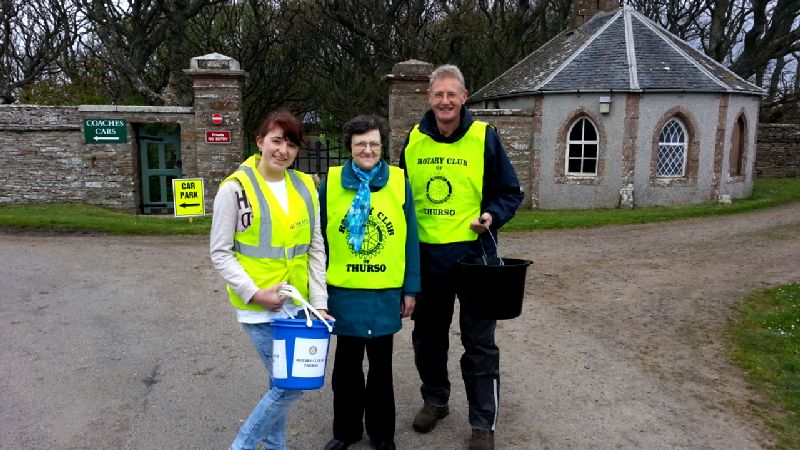 Mall Tree Planting
Despite the hard work of Rotarians in trying to improve the environment around Thurso some people seem to take pleasure in diminishing those efforts with acts of vandalism. Five of the newly planted trees on the Mall walk adjacent to Janet Street were damaged in one a night act of destruction. Not daunted Thurso Rotary has replaced the affected trees and hope they can be left to grow as an asset to this lovely walk and enjoyed by locals and visitors alike.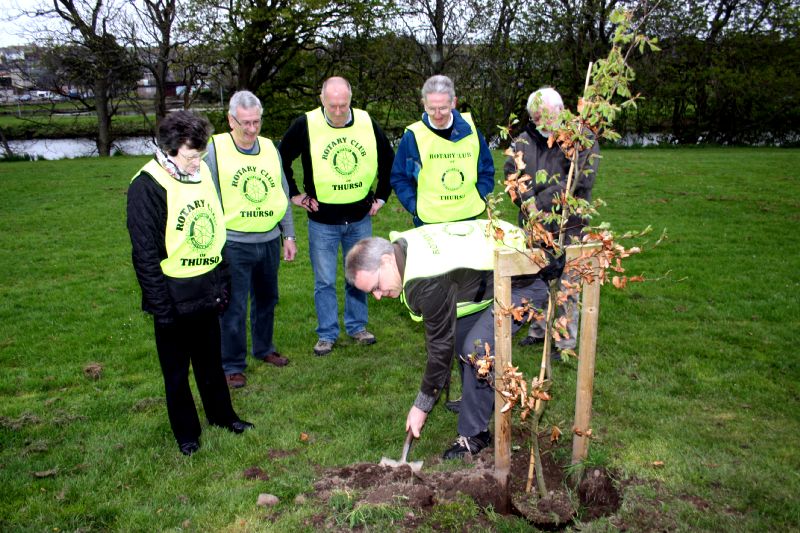 President Sandy Cumming puts his back into the job of ensuring one of the trees is soundly anchored.
Rotarians on the Run!
Four hardy Thurso Rotarians getting 'fit' for the Mey 10k!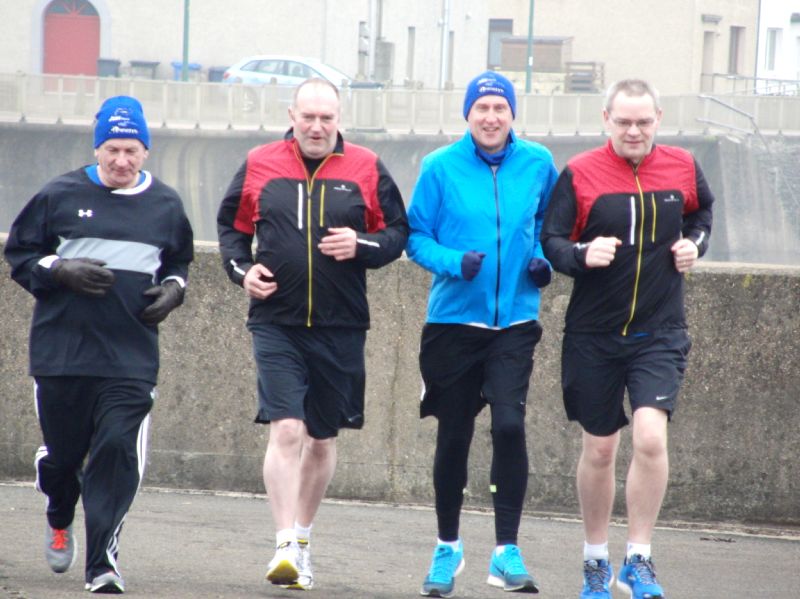 Left to right: Charles Findlay, Sandy Sutherland, Graeme Dunnett and Sandy Cumming
Rotary Speechmaking 2014
Thurso Rotary Club's annual Speechmaking Competition for pupils from Thurso High School took place in Thurso West Church on Wednesday 19th March. Seven students spoke eloquently on a variety of topics giving the three judges a difficult task in selecting a winner. After much deliberation Rhianna Urquhart, with her topic 'Poetry', was placed in first place and received the Rotary Shield from President Sandy Cumming.
The competitors were Yasmin Campbell (Homosexuality), Meegan Anderson (Curriculum for Excellence), Andrew Mackay (Tesla), Rhianna Urquhart (Poetry), James Doherty (Space Exploration), Saul Stevens (Technology) and Eilish Noble (School Uniform). They are shown in the group photograph in this order with President Sandy Cumming.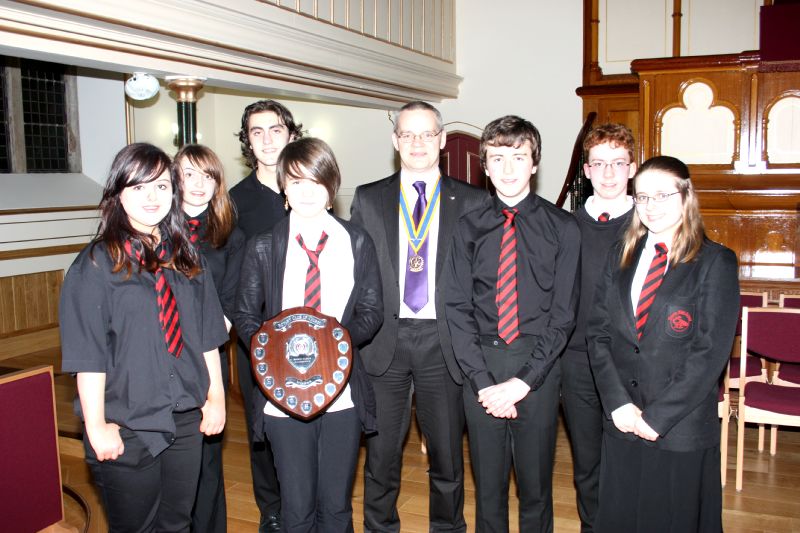 ---
Spring Is Here!
It is a clear sign that Spring is here when Rotarians are seen on their Litter Picks. The first one of the season took place on 1st March in the Thurso River area. More tidy up activities will take place throughout the coming months.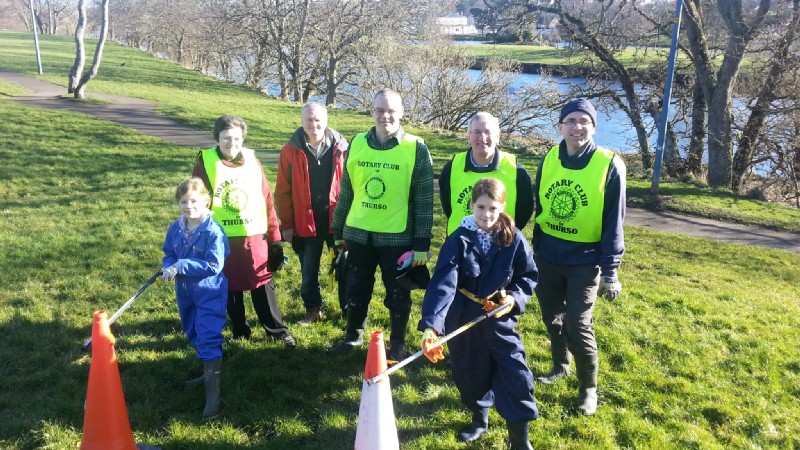 Primary School Quiz
The Club's 2014 quiz was held in Harkirk School with six schools from the Thurso area competing - Miller Academy, Pennyland, Mount Pleasant, Halkirk, Reay and Castletown. In a keenly fought contest Castletown came out on top for the second year in a row. Miller Academy and Mount Pleasant came equal second though it has to be said there was not a lot between all the teams and all the participants aquitted themselves well.
The pictures below show the winning Castletown team and all the competitors.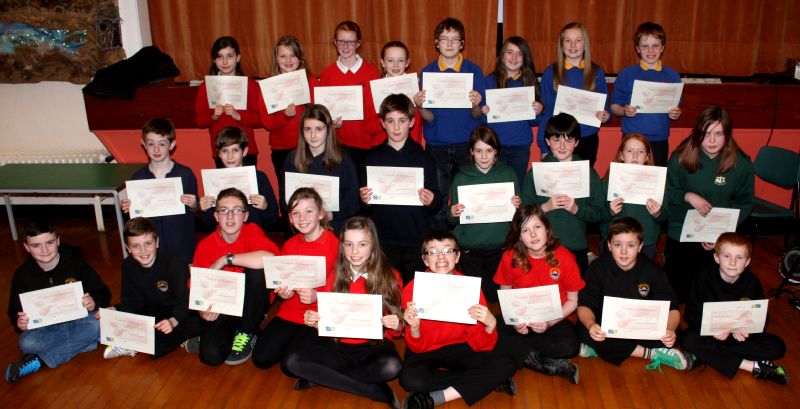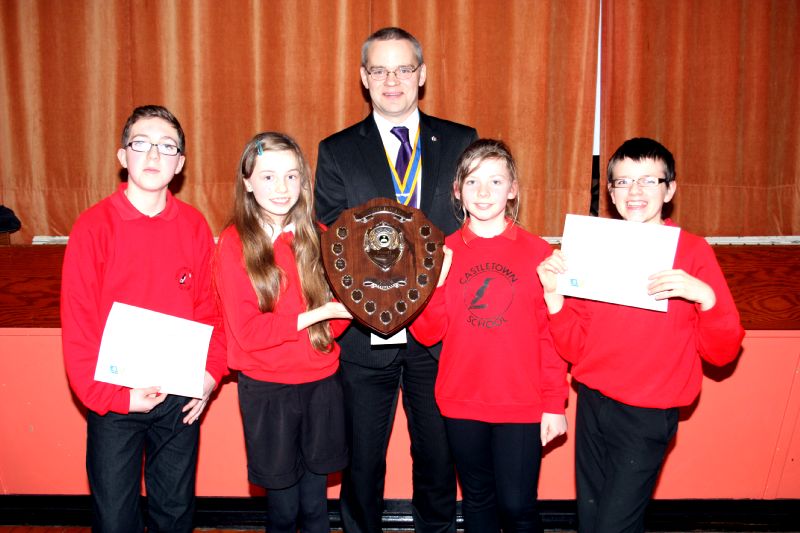 Burns Supper 2014
The Rotary Club of Thurso Burns Supper is recognised as one of the premier events in the Rotary and community year. The 2014 supper did not fail to live up to expectations and was enjoyed by over 90 Rotarians, friends and invited guests. The proceedings were ably introduced by President Sandy Cumming and got away to a good start with the Selkirk Grace from Round Table Chairman David Kelly and an energetic Address to the Haggis by Past President Alan Sparling. The Immortal Memory was given with excellent style and presentation by Kenneth Wilson, Bryan Dods toasted the lassies in verse and with the occasional jibe at the fair sex which was well countered by Nancy Swanson. Music and song of the highest quality came from the pipes of Laura Mennie and the vocals of Kelly Davidson. Not to be outdone Past President Peter Murchison lead the company with the Star of Robbie Burns and Auld Lang Syne. The whole evening was summed up in an entertaining voted of thanks, in verse, by Past President Ronnie Johnstone.
In addition to the picture below a range of photos can be found on the Rotary Fotki Albums by clicking this link or by taking the link on the Photoarchive page.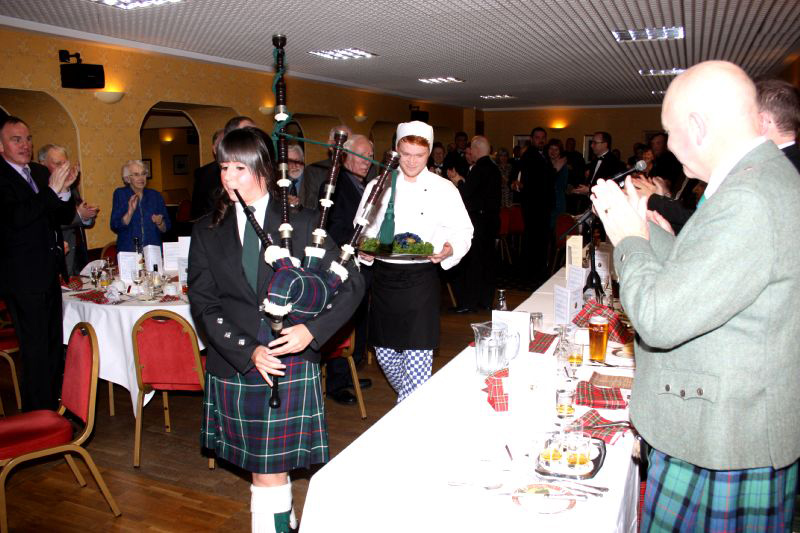 A recent event was the 2013 Christmas Dinner in the Pentland Hotel with guest speaker Stephen Sutherland giving an informative and humorous speech to the large company. At the well received meal and social occasion the club inducted new member Alan Gerrard. Alan will be an asset to the club with his wide experience in voluntary organisations and his long service to Round Table.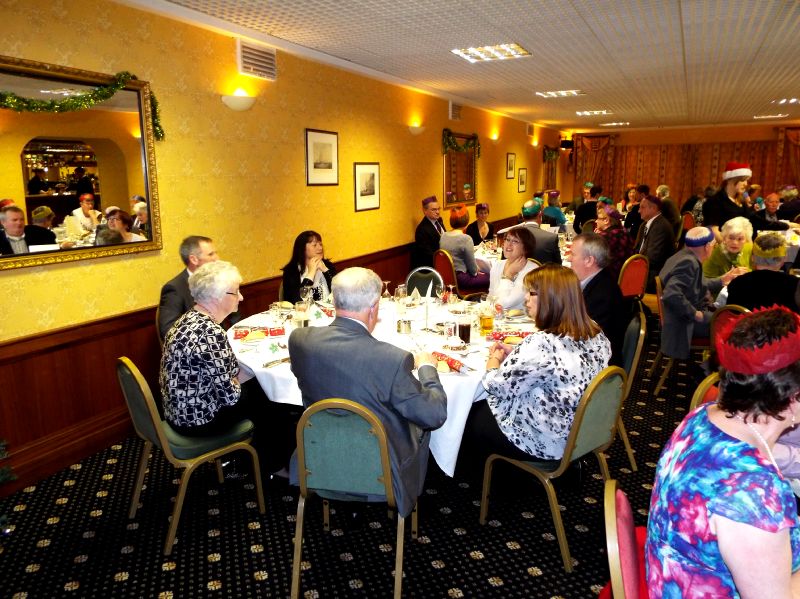 Carol Singing
Rotarians, Interacters and Friends completed their series of Carol Singing sessions in Thurso area care homes with an enjoyable evening at Achvarasdal Home, Reay.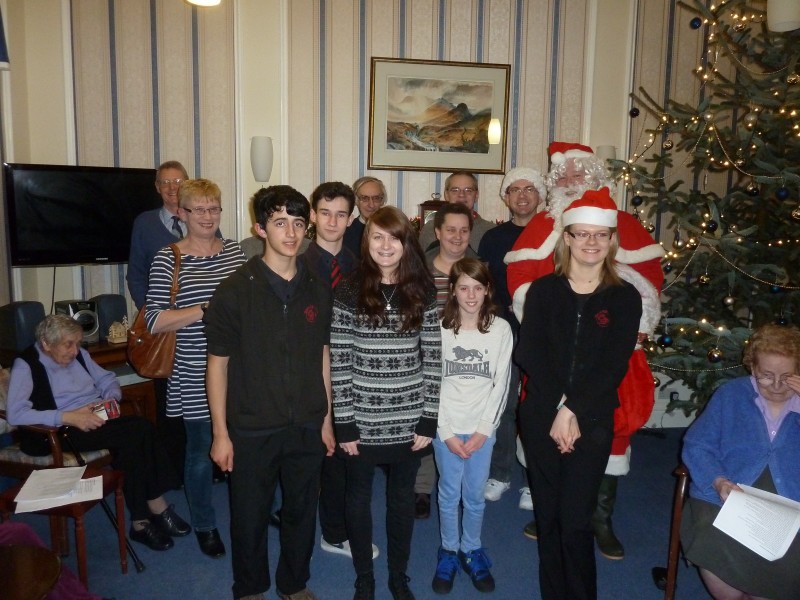 ---
Santa's Helpers
A group of Rotarians collected money for TTIA at the switchin gon of the Thurso Christmas Tree and lights.
From Left to right:
Christopher Pearson, Colin Chessor, Sandy Cumming, Santa, Roger Saxon, Carol Rosie and Daryl Pickering.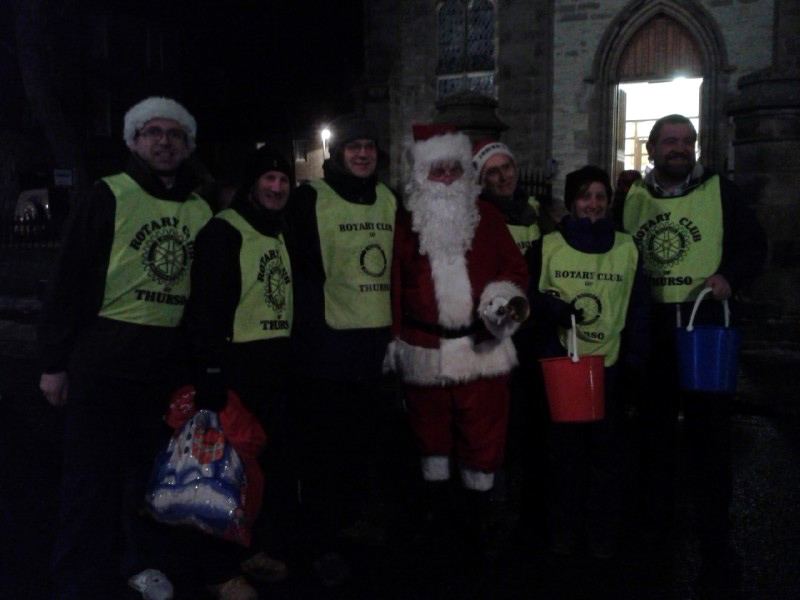 ---
Bonfire and Fireworks Night
A large crowd enjoyed a spectacular fireworks display on Thurso Esplanade and were kept warm by a blazing bonfire. This was the first time in a number of years that there was a bonfire at the event and it added greatly to entertainment.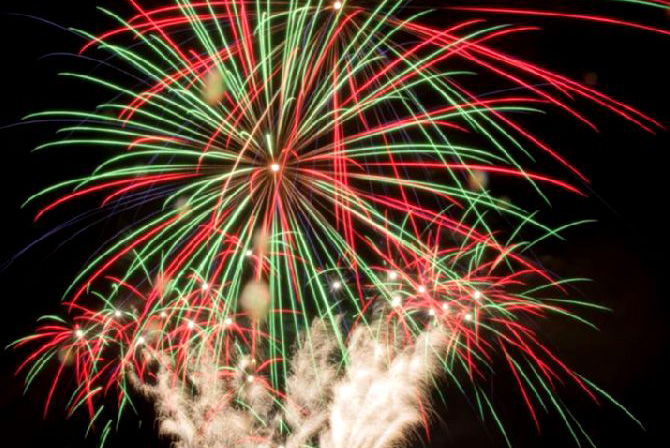 ---
District 1010 Rotary Conference
Four couple from Rotary Club of Thurso attended the 63rd Rotary District Conference. It was a good weekend very informative and socially enjoyed by all.
Photo left to right: Colin and Hazel Chessor, Alan and Lorna Sparling, Sandy and Caron Cumming and Graeme and Sophie Dunnett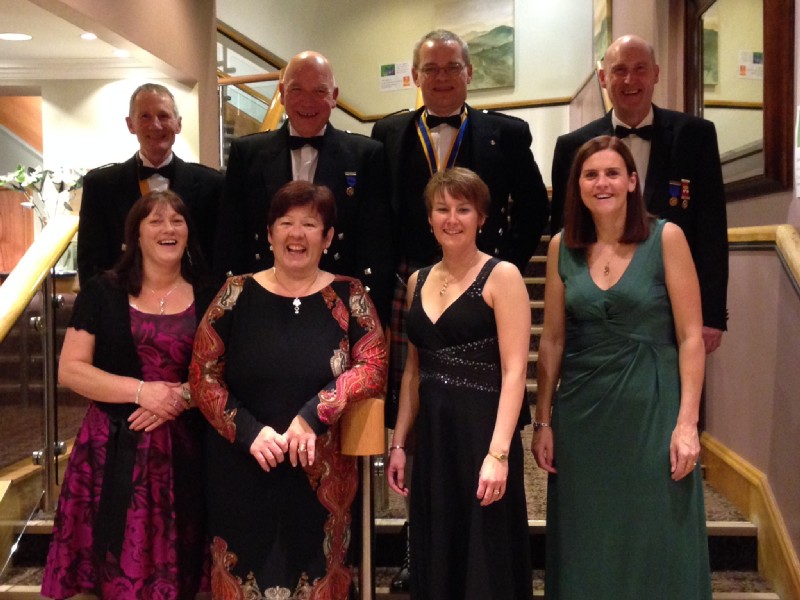 ---
Cheque Presentation to Thurso Rotary Club
Thurso Rotary Club received a cheque for 200 and a Caithness stone commemorative medal for undertaking car parking stewarding at the inaugural Turbine 10K run at the grand opening of Baillie Wind Farm. Tom Pottinger handed out the cheques at the presentation to local charities/groups which had helped at the event and also do valuable work in the Caithness Community.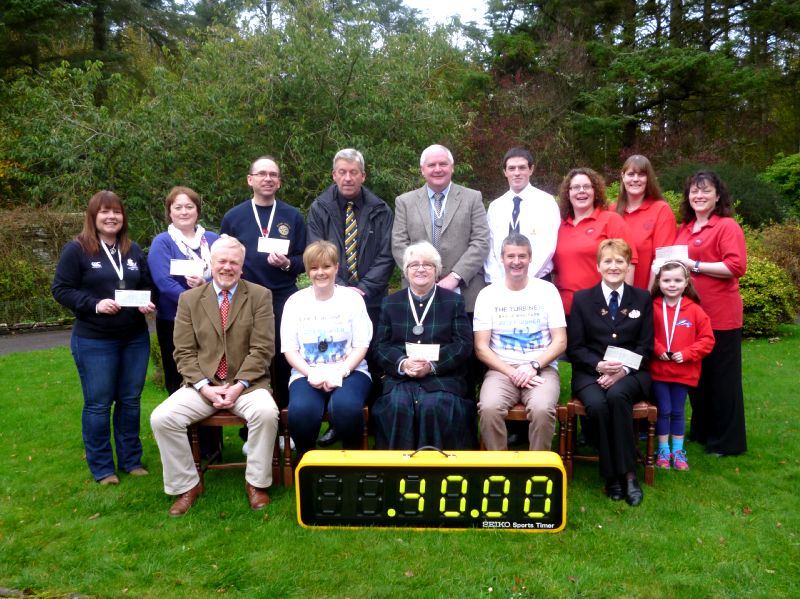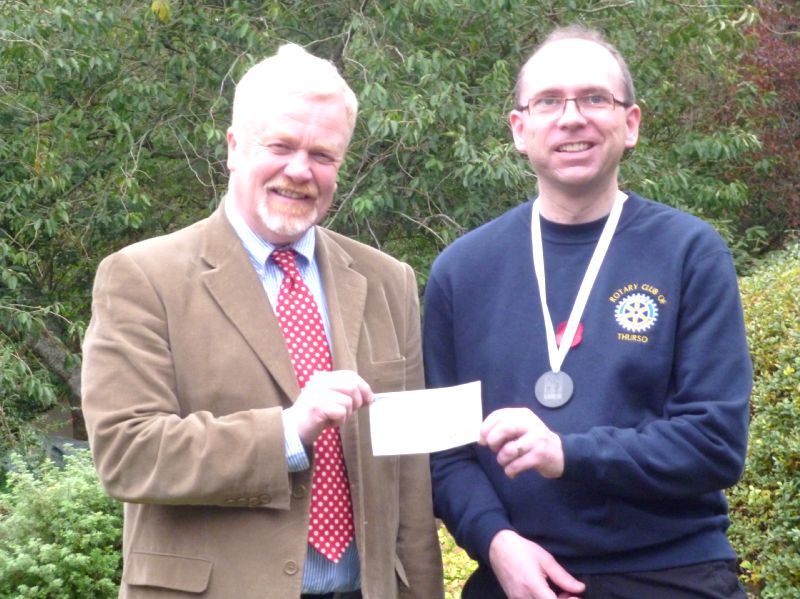 ---
Donation to Lorna McDermid
Lorna McDermid of Thurso Bowling Club received a cheque from Thurso Rotary Club to enable her to participate in the Scottish Bowling Finals in Ayr.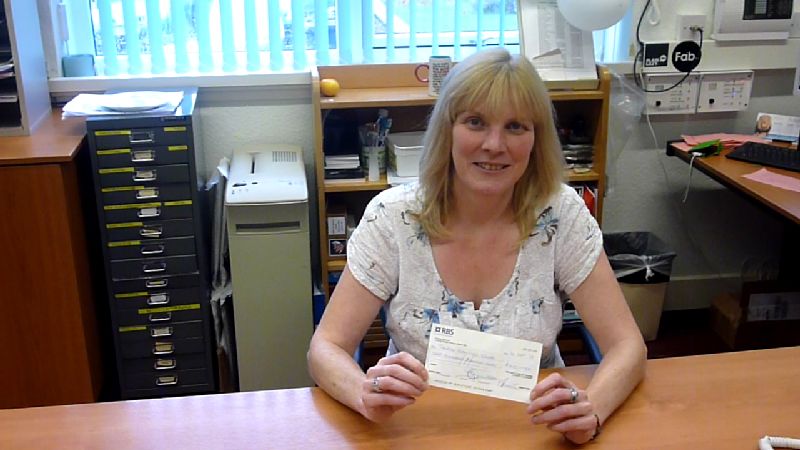 ---
Bonfire and Fireworks 2013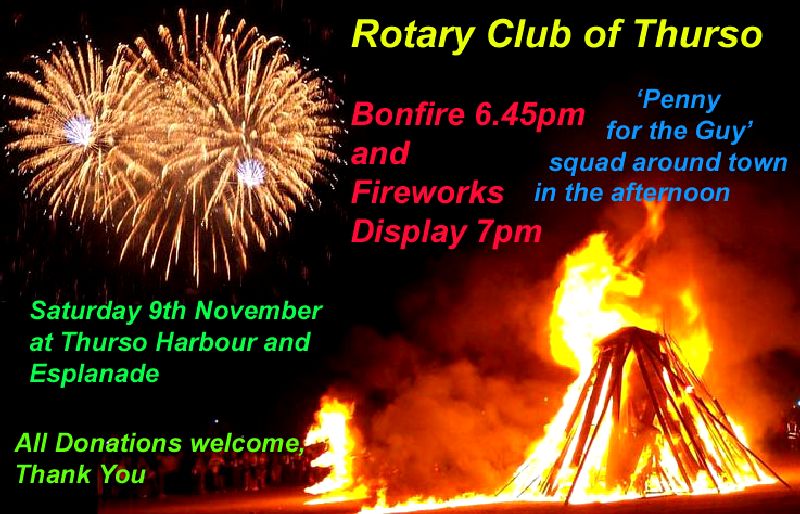 RYLA 2013
After an informative and very well presented talk by Thurso Rotary Club's RYLA sponsored students District Governor Jim Houston presented certificates to Monika Carson and Iain Cameron. The picture shows the two recipients of the Rotary Youth Leadership Awards with Jim and Thurso President Sandy Cumming.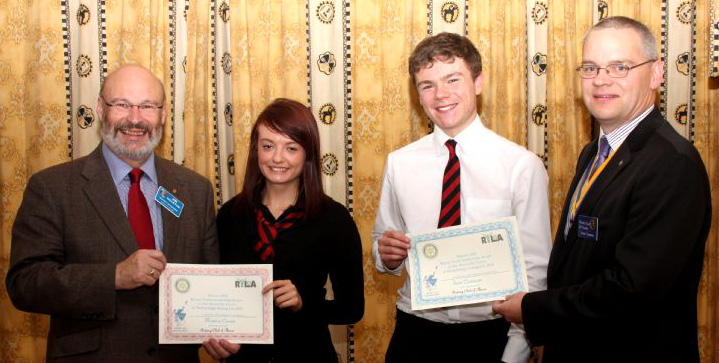 ---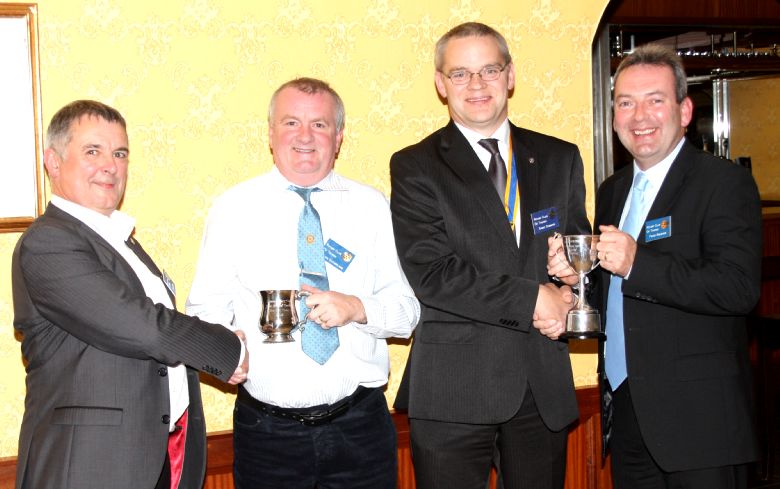 Past President John Hook presents the Hook Hoskins Trophy for the biggest fish caught at the recent Rotary fishing outing to Past President Kevin Sutherland while President Sandy Cumming hands over the Lesley Crawford Cup for the biggest catch to Past President Frank Bremner.
---
A gift of 2500, from the Rotary Club of Thurso Community Fund, was handed over to Johanna Geddes of the Thurso Boys Brigade to help continue work on their their newly renovated hall. The BB have, over many years, provided a wide range of activities for the youth of Thurso the Birthplace of the Boys Brigade founder William Smith. The photograph above show Johanna receive the cheque from President Sandy Cumming as Christopher Doake of the BB, Rotarian Treasurer Graeme Dunnett and Rotary Secretary Christopher Pearson look on. The headless individual in the picture remains unidentified!