Easy Fundraising
Help us raise funds for free when you shop online!
EasyFundraising is a brilliant way to raise money for the
Rotary Club of Kilrymont St Andrews
How does it work?
Easyfundraising.org.uk provides a FREE service where you can shop with your favourite online stores and at no extra cost, raise funds for Rotary. You still shop with your favourite retailer as you would normally, but simply by using the links from www.easyfundraising.org.uk first, each purchase you make will generate a CASHBACK DONATION to our Rotary Club.
You can shop with 2500+ well known retailers and each will donate a percentage of what you spend. For example, Marks & Spencer will donate up to 6%, WH Smith will donate up to 5%, Body Shop will donate up to 5% and so on. There are literally thousands of retailers out there waiting to donate money! To donate via Amazon, sign up for Amazon Smile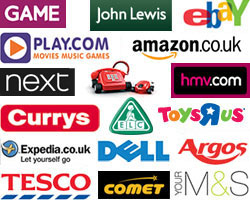 There's no catch
Easyfundraising is an organisation that generates funds for good causes. It does this by agreeing with retailers a small rebate for every customer that it brings to them online who buys a product or service and the rebate is in return for the increased business it brings them. Rebates vary between 0.5% and 30%, with the average being between 2 and 3.5%.
The Rotary Club of Kilrymnt St Andrews has been registerd with Easyfundraising as a worthy cause and any rebates provided by the retailers go straight to the Club's funds, to be spent on people who need help, whether they be local, national or international, including those affected by natural disasters worldwide.
Sign Up Now
Support the Rotary Club of Kilrymont St Andrews every time you shop online. Remember it's FREE to register for both you and your supporters - get your friends and family to sign up too. Just go to www.easyfundraising.org.uk now to start fundraising for the Rotary Club of Kilrymont.St Andrews. It's really easy to register. Happy Shopping!