The Ramsbottom Rotary Club Annual Duck Race 2018

Sunday 27th May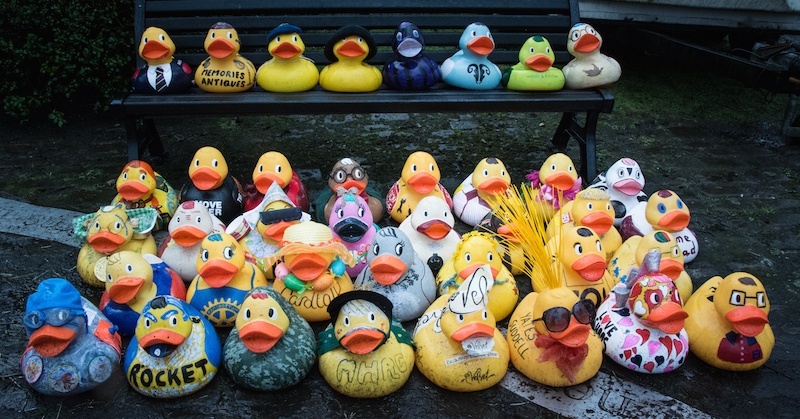 There are a number of options for buying Ducks.
1. If you have a giant Giant Duck from previous years you can re-enter your Duck for £10, or you may buy a giant Duck for £25, which you can decorate and bring along the Duck on the day. The Giant Duck Race is at 1.00pm. We like the Giant Ducks well in advance as they make excellent photography. We can deliver Giant Ducks locally.
2. Small Ducks are for sale on line for £2, and are also availble to buy on the day. Buying on line, you will receive a number of a duck, which will be entered in one of the races on the day, which is Sunday 27th May. We will notify you if you win a prize.
3. You can choose to buy up to 5 small ducks in one transaction.
4. Kiddies Boat Race tickets are £2 each & limited to 50 boats.
Use the drop down arrow to select the Duck(s) you want (or the re-entry option) or the Kiddies Boat Race tickets, and then pay for it/them using the Buy Now button - where you can use your PayPal account (if you have one) or you can use your debit/credit card if you prefer.

Select the duck(s) required & then click on the "Buy Now" button.
Thank you for taking part, all proceeds go to local, national & International causes
Buy here, scroll to the one you wish to purchase, first there Ism the Giant Duck, then below that small ducks, then the tickets for the Kiddies Boat Race.
Would you like to donate to Rotary charities?
If so, use the "Donate" button below. You can use your PayPal Account or debit or credit cards.