A NEW MEMBER FOR RUSHDEN ROTARY!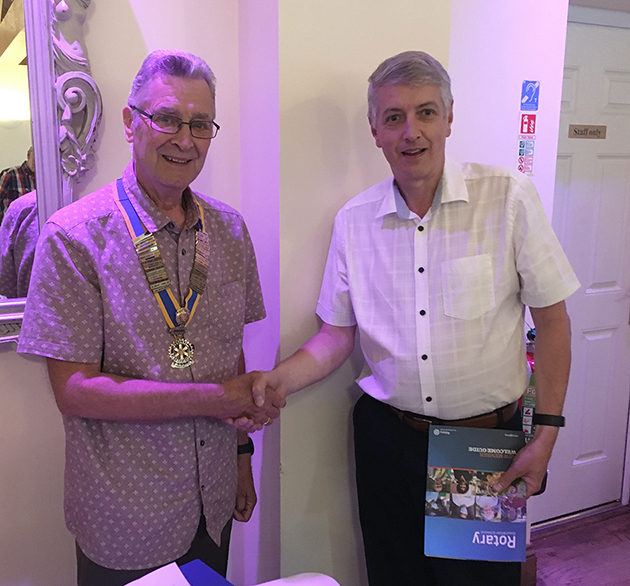 On August 10th at our Business Meeting at the Stanwick Hotel, our newest Full Member, Kevin Bird, was inducted into the Rotary Club of Rushden. President John Curson formally welcomed Kevin who has progressed from Associate Membership and we are delighted that he has chosen to become a fully accredited Member of our Club. John outlined that this was a really positive start to the Rotary Year. Kevin is someone you would certainly want on your Quiz Team and he has already been signed up as the Quizmaster for the Schools Quiz at Rushden Academy on March 14th 2023. Welcome Kevin!
You may be just what we are looking for!
We are looking for people of action. Becoming a member of Rotary opens doors for you to get actively involved in an organisation that supports others locally, nationally and internationally.
In return, we can offer you an opportunity to socialise with others like you, to form lasting friendships and also to enjoy the rewards of giving back to the community.
The Rotary Club of Rushden offers the following levels of Membership
Full club individual membership
This entitles you to attend our regular fortnightly meetings (Wednesday evenings at the Stanwick Hotel, Stanwick, NN9 6QY) and to be an integral part of the Club and its activities. Socialising is a big part of the Club's activities along with giving back to the community through charitable works and projects. But it is much more than that. Along the way, you will also make some great friends and have the chance to meet members of other clubs across the Rotary movement. You will also bring your own skills and expertise to the Club to ensure it remains vibrant with fresh ideas and enthusiasm.
Corporate Membership
We invite local companies to join us with a corporate membership offer that gives the opportunity for a number of your staff to enjoy being part of our club, without individual commitment. This is an excellent way for your company to play a part in all the charitable and social celebration events that make up the Rotary year and to demonstrate your commitment to the local community. You can also benefit from regular advertising in our quarterly newsletter which is distributed within the Club and to a significant number of "Friends of Rotary"
Associate Membership
This is a way for those people who want to be involved with our club but maybe cannot play a full part as a full member. For a small fee, you will enjoy receiving our newsletter and will be invited to join us in many of our events throughout the year. A great way to get the taste of what Rotary can mean for you.
Please contact one of our membership committee to learn more about one of these options;
Committee Members are: Anton Rudgalvis (Chair), Mark Darnell, Rick Nunley, Jon Sidey, Prospero Girardi, Greig Marshall, and Sam Brett.
Contact Anton Rudgalvis about this page anton.rudgalvis@btinternet.com 07542 822385