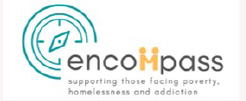 For some years, Rushden Rotary Club has been supporting The Rushden Foodbank or East Northants Community Services (ENCS) or East Northants Faith Group (ENFG). Confused? Well I was when I was asked to become a Trustee some 4 years ago! Why one charity with two names and then often just referred to by one or more of its projects? Finally, after much consultation with our beneficiaries, staff, volunteers and outside bodies, we came up with Encompass – one word, one name! Success!!
Hopefully the strap line tells you what we do, but, in case it doesn't and you are interested, we operate the Rushden & Higham Foodbank and support the foodbanks in Raunds & Thrapston, we run homeless provisions (night shelters) in Rushden & Corby and we have Recovery House, a residential alcohol and drug addiction programme.
We are incredibly proud of what our team of staff, volunteers and supporters achieve and, because of their hard work, dedication and passion, we have been able to prevent people sleeping on the streets; given some the tools to tackle their addiction and rebuild relationships with their children; provide food and fuel to families who have lost jobs or had an unexpected bill, and so much more.
In 2021 we gave out 3,500 food parcels across the 3 food banks, supported 175 people who were homeless or at risk of being homeless, started 13 on their journey to addiction recovery and saw 8 move from addiction recovery into independent living.
In Rushden and Higham Ferrers, we gave out over 2,000 food parcels to over 450 people, with the biggest single reason for seeking help being benefit delays and changes, followed by illness/unable to work and unexpected bills.
At Recovery House, 70% completed the first phase of the recovery course, and of those, 88% completed the full programme and of them 92% are still addiction free.
65% of the 60 people who accessed our residential homelessness provision were moved into housing of their own, a further 44 homeless people were supported with paperwork, phone use, washing facilities and food.
'Tom' writes: "I was unreliable, dishonest, untrustworthy and was slowly killing myself. Now my confidence and self-worth are growing and the best thing is that I now have my beautiful daughters back in my life."
'Felicity' says "I arrived in a bit of a mess but now I have got a place to live and am happier."
"I was broken and depressed" shared 'Robert' "they got me to engage, helped with my housing and now I am my own man, have my own place and am more confident."
'Darren' said that he "felt broken with no future" and our homeless accommodation helped him "realise I did have a future."
Richard Massey.
Encompass can be contacted at 19-21 Church Street, Rushden.
Tel: 01933 733001 Email: info@encompasscharity.org.uk Registered Charity No. 1154210
The Rotary Club of Rushden
Community / Youth Services Committe 2021 – 2022
John.garley09@my.northampton.ac.uk
We have pleasure in announcing the results of the Young Artist Competition for 2022.
Top Award per School
Whitefriars
Joana Lamkaj
Henry Chichele
Nia
Southend
Jaimee May Tarr
Denfield Park
Lila Rose Pointer
Highly Commended per School
Whitefriars
Sebastian Lamkaj Freddie Kingston
Henry Chichele
Hannah Kyla Poppy Stringer Elsie
Southend
Ava Zorin Chapman
Denfield Park
Ella Hurren Darla Byles Isla Mortimer Ella Reynolds
The Adjudicator found the entries of good standard and although a difficult task of selection made the following top overall awards –
First Prize overall Joana Lamkaj (Whitefriars)
Second Prize Overall Nia (Henry Chichele)
Third Prize Overall Hannah (Henry Chichele)
Well done to the three prize winners and to all those taking part – The top entries will be on display in Rushden Hall on Saturday (9th July) at the Party in the Park Celebrations!!
Results of the Young Writer Competition –
Top Award per School
Denfield Park
Luca Saxon (Poem)
Southend
Evan Lathall (letter to humans)
Henry Chichele
Imogen (good grasp of problem)
The following come highly commended-
Denfield Park
Leeann Thomas Luke Thomas
Southend
Owen Puddiford
Henry Chichele
All entries are very good and all with good grasp of 'Climate Change'!
But for his conclusion alone Toby made it to the commended stage!
The Young Achiever Award will be discussed with the Schools in 2022.
Kids Out has taken place on Wednesday June 8th .
Junior Choir Event was very successful this year!
Prison Me No Way took place and is proceeding again in 2023.
The Peace Pole has been erected near to the Rotary Wall.
RUSHDEN ROTARY GARDEN
During the pandemic period many things were set back or neglected, through no fault of our own.
One of these was the garden area in front of the "RUSHDEN' sign on the corner of Duck Street in Rushden.
It was getting close to the Queen's Platinum Jubilee. And it was thought that to commemorate this auspicious occasion it was time we did something, and also to bring some cheer to the people of Rushden.
Rotarian, Carol Bliss, a garden designer and horticulturist, was asked to design and organise the planting. At this stage lots of other people had the idea to plant red, white ,and blue plants in their gardens.
But a visit to Bosworth's Garden Centre solved the problem. They were very helpful and sourced and suppled the plants we wanted ,and even delivered them to the roundabout on a busy Friday morning.
A team of Rotarians planted up the bed, and since then have diligently watered and weeded the flower bed.
We have had many admirers of the planting and I think most people agree that it is a welcome addition to the site.
Committee Members are: John Garley (Chair), Carol Bliss, Ian Smith, Robin Allen, Anton Rudgalvis, Richard Massey, Carol Massey, Pat Bird, Mark Bird, Deborah Hynes,